Moderators: scimjim, Roger Pennington, philhoward, Lukeyboy46, erikscimitardemon, nickkeyser
RSSOC Member
Posts: 15360
Joined: Tue Aug 22, 2006 5:13 pm
Location: Shrewsbury, Shropshire
Contact:
pretty sure that was lower down Phil, the bank gave way due to flooding/landslide. Initial thoughts are LH rear suspension failure apparently, although could have just bottomed out through low ride height/downforce pressure and lost rear end imho. All the big single seaters run a 3rd spring at the rear (some front too) which allows a softer (relatively...) rear suspension in bump and roll to give excellent mechanical grip on the slower parts of the track, but when the downforce loads start to add up, the 3rd spring basically comes into play and adds rate to both sides of the suspension so the thing doesn't drag it bum along the track
Racing is life, everything before and after, is just waiting--Steve McQueen
6 time Class Champ, 2006 & 2014 SSSC Champion
RIP Batmobile, await the Rise of Dark Knight 8)
Sabre 'Light Sabre' 360hp!!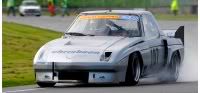 ---
CNHSS1