Moderators: scimjim, Roger Pennington, philhoward, Lukeyboy46, erikscimitardemon
RSSOC Member
Posts: 15361
Joined: Tue Aug 22, 2006 5:13 pm
Location: Shrewsbury, Shropshire
Contact:
Much as would love to rip into Ben suggesting it was his lack of finesse at driving, only being used to those 'van-like' GTE bread Van's, it pains me to say I cannot. Almost the whole field started on slicks, the right tyre for the conditions, a few were more road based and ran road tyres, but the first lap saw the pole sitter swap ends at Old Hairpin and be avoided by everyone. Approx 70% of the field went off, some of them such as Honda Civic Typr R, Clio Cup car and an MR2, enjoyed the experience so much they did it multiple times, sometimes on same lap!! A 4wd impreza went off too, so shows the lack of grip. To be fair, most of Donnigtons track furniture is away from harming the cars, Ben was a little unlucky as when he exited stage right, the barriers actually came back toward his angle of trajectory, collecting him up as he tried to steer the car gently away. Nearly got away with it, but downhill on sodden grass meant near zero steering and no retardation. Anyway enough of not being able to take the p155 out of him! Finn, Danny and I watched the impact, and were relieved to see BG hop out and be walked to the ambulance where they checked for signs of brain damage and found the level was the same as prior to race start
so was allowed to go to walk back to the car and stand in the rain watching everyone else slither off--good of them I thought.
Danny was concerned for his mate, I was worried how much tank tape it would take to get the car back out, and if the track side shop had the correct shade of blue...
We arrived back in the paddock just before the low loader brought back the car and pilot. Once unloaded, I was reasonably sure we could straighten bits out, once the panels were off, even a tweaked trailing arm giving too much toe could be adjusted out with the rosejoints
unfortunately a twist in the steel under the cage foot would stop the Scrutes allowing it to run in Race 2 so Danny suggested loading up and getting back to his workshop, but then the damaged brake pipe along with the trailing arm adjustment needed, just meant even 3 of us couldn't do it in the 2.5hrs till next race. Had it been 2nd race sunday instead, Danny would've had it back out I'm sure
Racing is life, everything before and after, is just waiting--Steve McQueen
6 time Class Champ, 2006 & 2014 SSSC Champion
RIP Batmobile, await the Rise of Dark Knight 8)
Sabre 'Light Sabre' 360hp!!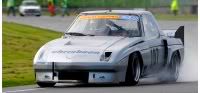 ---
CNHSS1