Moderators: scimjim, philhoward, Lukeyboy46, erikscimitardemon, Roger Pennington, nickkeyser
RSSOC Member
Posts: 14192
Joined: Tue Aug 22, 2006 5:13 pm
Location: Shrewsbury, Shropshire
Has thanked: 331 times
Been thanked: 265 times
Contact:
Little request Chaps.
We may be a few assistants short on Saturday and as we don't know how it'll all work, can I beg your indulgence. We will have a number of experienced compies from CM joining us, but they won't know the score when it comes to the tests. I suggest if us scim guys can.lead the way (same way as it'll be on Sunday of course
) and line up in the paddock road down to the stop go lollipop 10mins before the end of the preceding batch, with all your kits and any trinkets required, fuel can, spanners, water etc etc to take to start waiting area. I will have someone on the paddock with a list of whos running when but as we don't know all the visitors by sight if we can have a friendly word and coax them all along.
In theory it'll run like clockwork leaving Nick and I on timing and sweeping duties. Nick will also be running so if someone in an earlier or later batch than Nicks running could assist with timing duties in the paddock office too that would be great.
We all need to ensure drivers are all signed on and off for each batch please, no one can run without having signed the waiver handing over their house and estate to me in the event of an accident
I'd like to let cars go as soon as they cross past the timing but so reasonable pace on the return but not silly or I shall give give you a wedgie in ya race suit
that should ensure speeds are sensible
Any other ideas on the day for tweaks to improve batch to batch will be useful. If we can make this work this year, hopefully it can be a feature in years to come and we can polish year on years
Racing is life, everything before and after, is just waiting--Steve McQueen
6 time Class Champ, 2006 & 2014 SSSC Champion
RIP Batmobile, await the Rise of Dark Knight 8)
Sabre 'Light Sabre' 360hp!!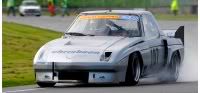 ---
CNHSS1