The "Holly"
Birkett
6-Hour Handicap Relay race was run for its 59th year on Saturday 25th October at Silverstone. It was originally conceived to give cars of differing performance the oppurtunity of competing on 'equal' terms in a long distance race. Each team consists of between four & six drivers, and the event is based upon a free relay system, with the handicappers calculating which team they consider will complete the most laps. This becomes the "Scratch" team, and all the other teams are given credit laps according to their estimated performance in comparison to the Scratch team. There were a total of 55 teams competing on the International circuit this year.
I was in the RAF Motor Sports Association "Help For Heroes" team, consisting of a Scimitar SS1, 2 Metro GTi's, a 205 GTi, a Singer Chamois and a Locoblade. There was also another RAF Team, "Flywheel", the 2007 trophy holders
http://www.helpforheroes.org.uk
The plan was to have one of the Metro's do the start and first 30 minutes, with me in the garage on standby for the second stint. But after the second lap the Metro failed to appear (gearbox failure) and I was frantically waved out of the garage. I crossed the pitlane speed limit line and nailed the throttle round the right hander to get onto the track, only to have the back end slide right around on me and nearly spit me off into the safety car!
I came out into a nice quiet bit of track and tried to get everything warmed up as fast as possible. I could see an E30 BMW about 200 yds ahead so set off after him, catching and passing by the time I crossed the start/finish line. After that it's all a bit of a blur, so much going on, either passing or being passed. I had a bit of a battle getting past a Mk2 MR2 which looked like Lightning Mcqueen, taking about 3 laps. At one point I tried to go up the inside of him going into Abbey hairpin and locked the brakes. Luckily he was very observant and left me room
Once I'd passed him I managed to open up a gap and put a few other cars between us. At one point I had my first contact of my racing career, coming out of Abbey again with a Caterham on the inside, he dinked my right rear quarter. Not hard, but enough for me to give him a flash of the new headlights!
A few laps later I was given the "IN" board and pulled into pitlane, passing my garage to release the Singer.
I was told I'd be going back out again so we refilled the car (fuel and oil) and I took on some water. I collected the 1 1/2 hour result sheet from race control and we were in 22nd, with the other RAF Team, Flywheel, in 35th (on Handicap). I was put back in the car and sent out after the Metro came in, with light drops of rain falling on my windscreen. Thanks guys, I love it when it's greasy!
I eased myself back into it, expecting it to be slippy, but after 2 laps I was up to full speed as grip was unaffected. I was making good progress and putting in consistent times. After I had been out for about 30 mins it rained a little heavier and suddenly it was an ice rink and I was lapping 7-8 secs slower! I slithered around for 2 or 3 laps before, unsurprisingly, being shown the "IN" board
The Pug 205 took over, which was a great choice as he's a very good wet weather driver and wouldn't lose time in the same way as the powerful RWD's.
I re-fuelled and re-oiled the car and was then told to get my wets on. We changed the wheels in 5 minutes flat and was all ready to go back out again. We waited and waited, then suddenly it was drying and I had to put the race tyres back on again!
Then news came through, we were running in 2nd!
Brian, the team manager, took responsibility for the final stint in his Locoblade. No pressure Brian, just get us from 2nd to 1st please! I was sat in the car, strapped in on standby in case of an incident. He put in some great consistent laps in drying conditions and when the race finished, we weren't sure what the result was! We had the whole team, including the guys on the pit wall, the observers, the helpers, the "Help For Heroes" tin-rattlers, all posing for a photo in pit lane. Just before the last photo was taken, the chief timekeeper shouted out the results:
"Team Flywheel, a great effort against a strict handicap landed you in 5th place! Help For Heroes, you've only gone and bloody won it!!!"
I still can't quite believe it
Who would have thought that in one year I would go from an observer to race driver in the winning team? From mechanical DNF's at Mallory and Croft to running 2 x 40 min stints in the
Birkett
without a hitch?
My favourite quote is from our chief timekeeper:
"Having dropped some 3 mins in the first lap with Johns break down this would appear to be unrecoverable. however with RAZ putting in 25 or so laps within 1,5 secs of each other and several secs under target the tide turned. "
Personally I have to thank all the SS1 experts for their help and opinions in prepping the car, but especially Craig Hughes, without whom I could not have robbed most of the ideas for mods
The car was great!
Raz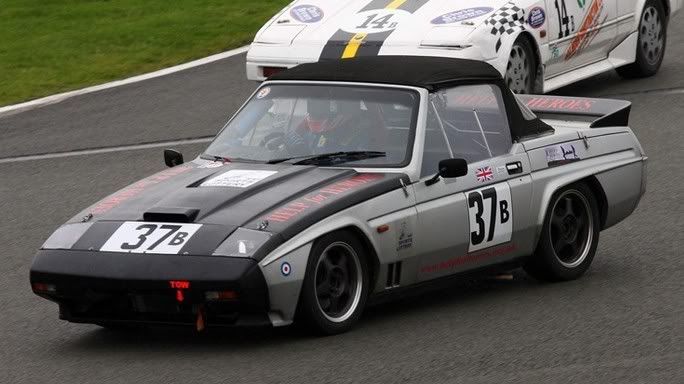 http://triumph-motorsport.fotopic.net/p54496563.html
http://triumph-motorsport.fotopic.net/p54495129.html
http://triumph-motorsport.fotopic.net/p54495799.html
http://triumph-motorsport.fotopic.net/p54496188.html
http://triumph-motorsport.fotopic.net/p54494563.html
And after it started to rain:
http://triumph-motorsport.fotopic.net/p54495899.html
http://triumph-motorsport.fotopic.net/p54496424.html
http://triumph-motorsport.fotopic.net/p54496701.html
http://triumph-motorsport.fotopic.net/p54496904.html