Recently my electric window switches on the Yellow Peril started to become erratic and intermittent in their operation, so I decided to squirt in some electrical switch cleaner. This seemed to have the effect of causing them to seize up completely! Not what I wanted, so having nothing to loose, I decided to take them apart. I thought I would also document the process as I know switches are often a problem area, due to their design which allows dust and dirt to get in.
So, to start with, here's the switch as it looked when removed from the car:
First, gently lever up the top and bottom of the outer housing, where it overlaps paired lugs on the inner part; this allows it to be slid off, revealing the rather foul looking insides:
Next, remove the operating lever part, by gently easing it's legs off the studs on which they pivot. You can see that this has a couple of spring-loaded plungers in it (white). The switch itself consists of a couple of copper "rockers" which rest in pivots and are rocked in one direction or the other by the plungers in the lever, making or breaking the contacts as required. In the photo I've lifted one of those out, and you can see the dirt and muck all over it.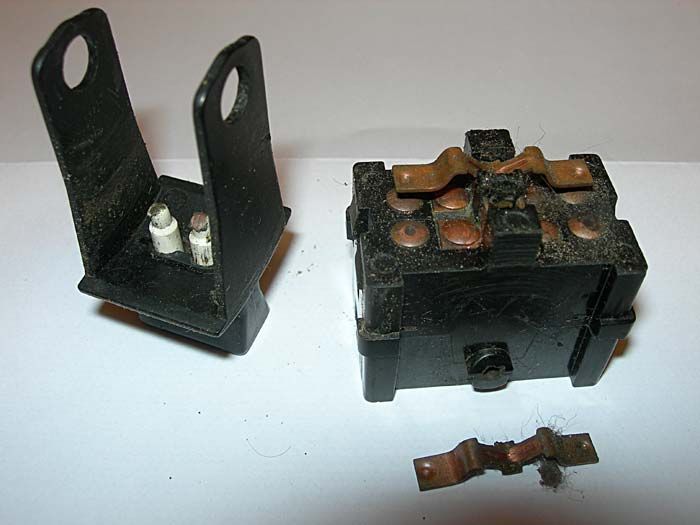 So then it's just a case of carefully cleaning all the parts and reassembling. Here are the parts ready to go back together. Note that you need a light smear of lubricant on the centre "V" of the rockers, to allow the sprung plungers to slide over them when the lever is operated (I think that's why the switch seized after spraying in contact cleaner!). Reassembly is just the reverse of dismantling (to coin a phrase)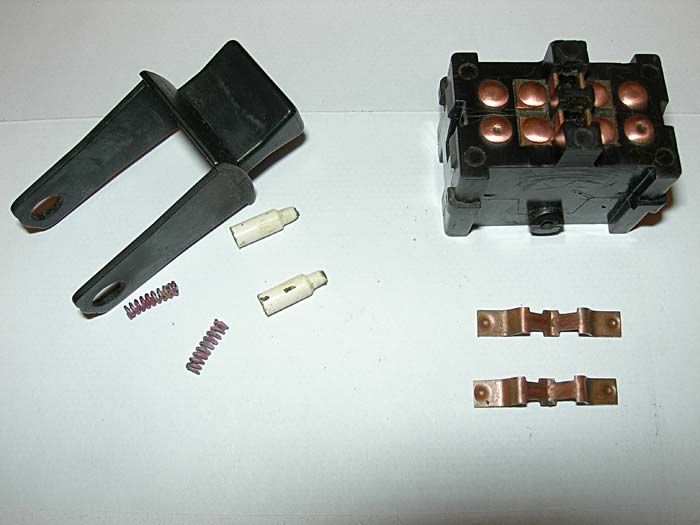 And that's it, job done. Cost zero (just a little bit of time). The switch works better and more smoothly than it's done for a while. Hope that helps somebody, if yours need doing it's worth having a go as a little care and cleaning can both save money, and save the time and hassle of trying to find a replacement switch. The basic principles should be transferrable to the other switches as well.
....Roger
(usual disclaimers, etc........)