Maybe my project progress would be better suited in this section of the forum rather than in a thread I started asking about how to get the body shell off
I'm Adam, live in South Wales, 20 years old and heres what I'm up to at the moment...
Id been casually browsing ebay and this site for about a day before I found this car in the Classifieds section of the site. Not to sure why I was looking, with no money it wasn't as if I could get a road going one! But... Free to a good home read the advert! Bargain! But the seller/donater/giver? was pretty sure that as it had been standing for 4 years it would only really be good for spares. Being only 25 miles away I rung up and arranged to go see it the next day.
At the time I didn't know the differences between the Scimitars nor really which one Id prefer. Luckily for me this is an Se5a with an over drive box, not quite tax excempt but other than that its the ideal Scim for me!
This is what I went to see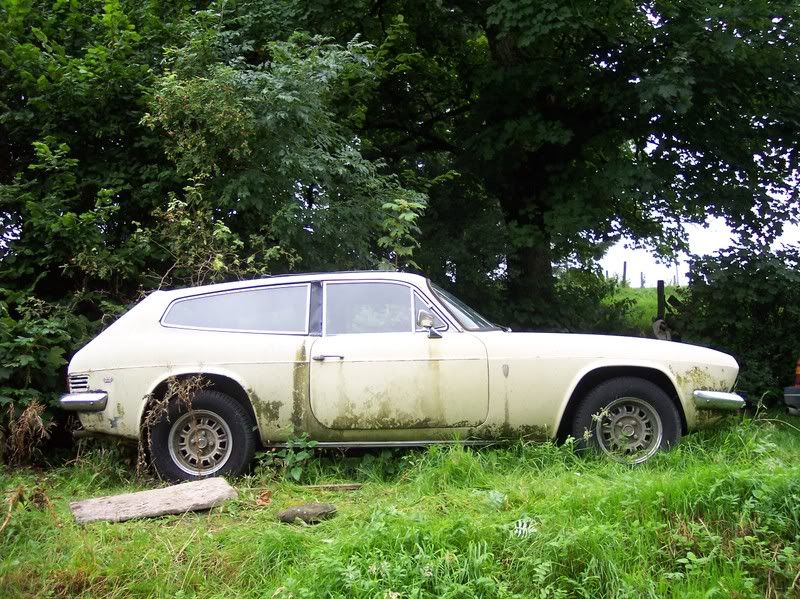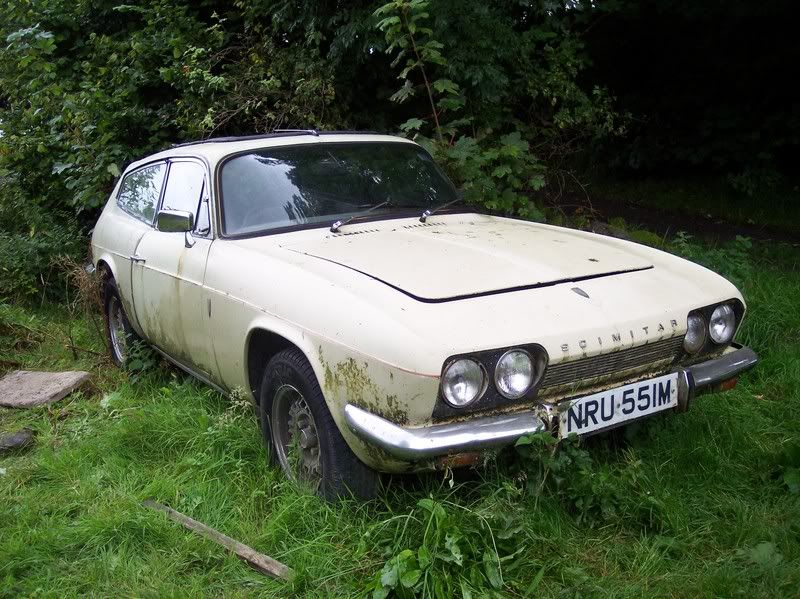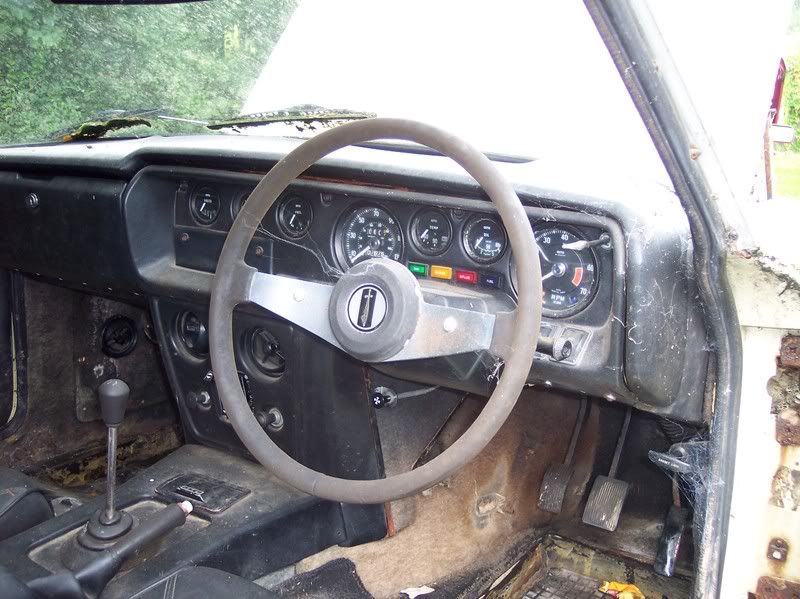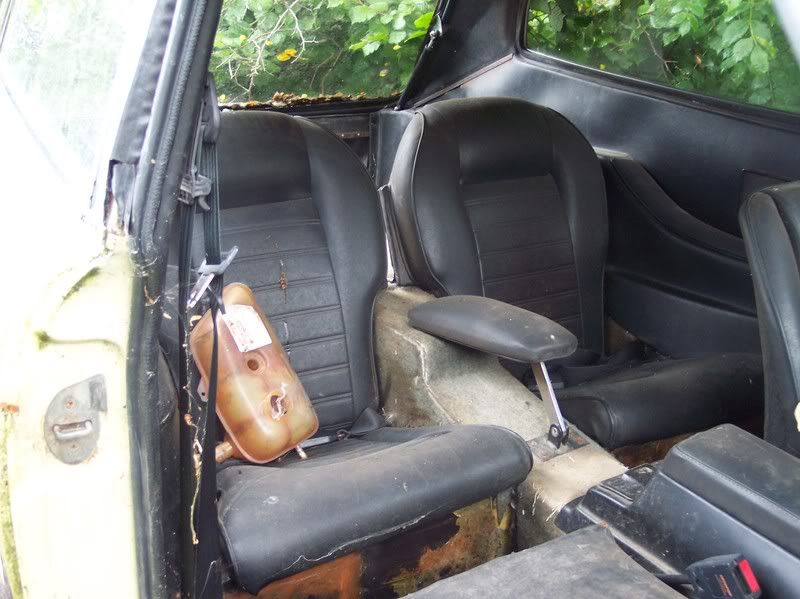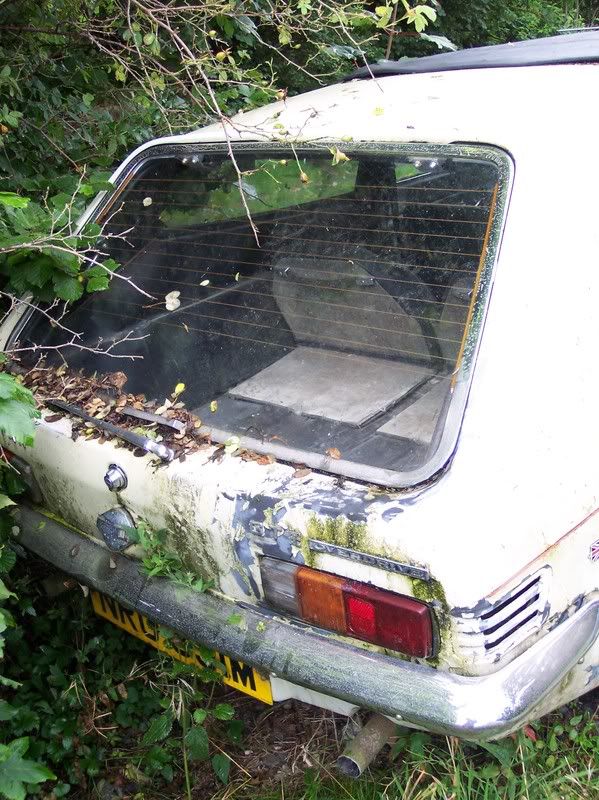 My initial thought was "Bloody hell! Good clean and a polish and this thing is done!" Had to keep reminding myself that a fibreglass body wouldnt reflect the state of the chassis!
I decided I'd have the car, feeling pretty confident that even if it was beyond saving I could atleast make my money back from selling the bits off it. Got it picked up the following weekend and gave it a good jet wash.
Cleaned up alright I think, needs paint but looks 10 times better than it did!
Engine had fresh oil in it and took a pint of water to bring it up to level, put a fresh battery on it, fuel line from the pump in to a jerry can of fuel, cleaned up the points and cap and it started!
http://www.youtube.com/watch?v=ss3i1_pmtTw
What a noise!
Amazingly the car still had brakes! It has braided flexis and must of had new lines not to long before it came off the road. The clutch seals were shot though. Orderd some new seals and before long I managed to drive the car around the block! Its first drive in 4 years! The next day I drove the car in to work to get a 'good look' of the underside of it. Fuel tank was holed, some of the metal work surrounding the tank had fair amounts of rust on it and I noticed one of the out riggers needed a patch about 4 inches long.
Drove the car back home and put it on the driveway and begun cutting out the old metal ready to put the new in... That is when I realised a 'good look' isn't the best way to determine how rusty a car is! It needs a good prod!
Once seen how much welding was really needed I decided to take the body shell off. Me and my mate Richard took a few evenings to remove the bolts that hold the shell to the chassis then a few weeks back we got down to the heavy work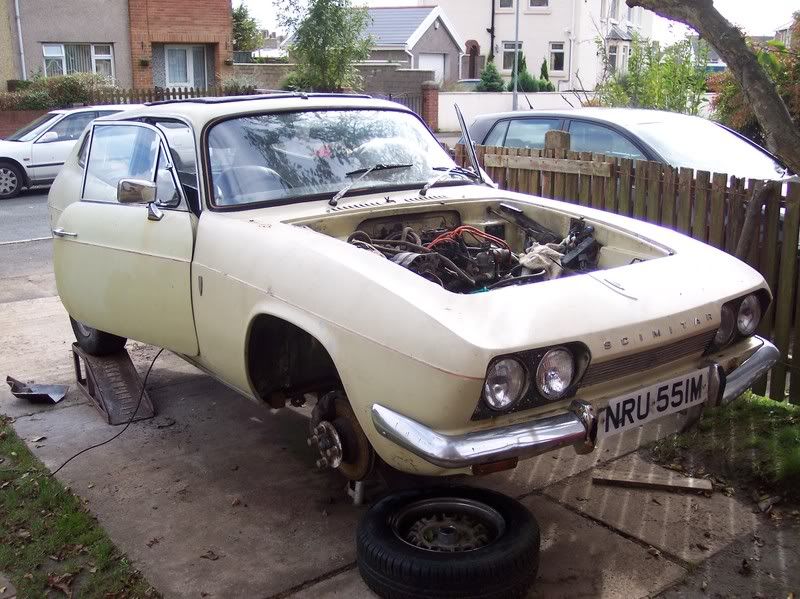 Roll over bar mounts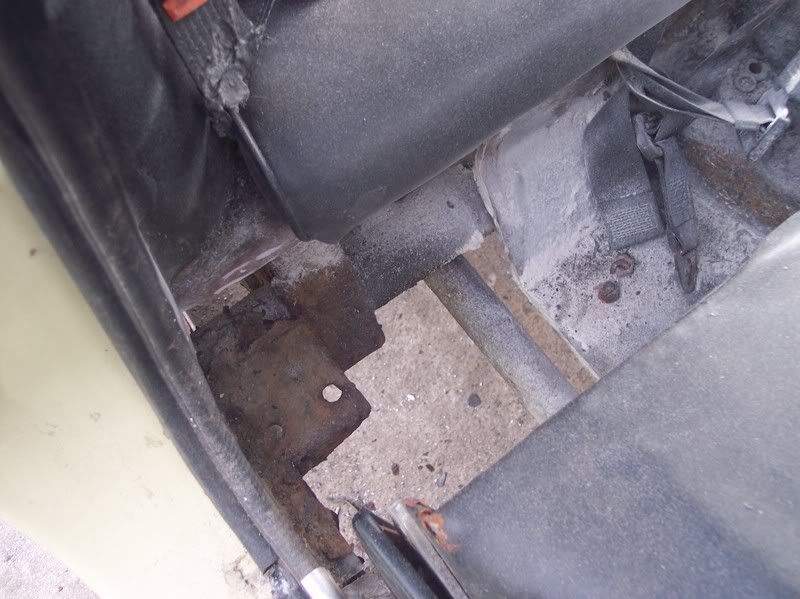 Using Mick's advice we put a scaffolding bar under the front inner arch section and attatched it to our trusty engine hoist, £109 off Ebay, bargain!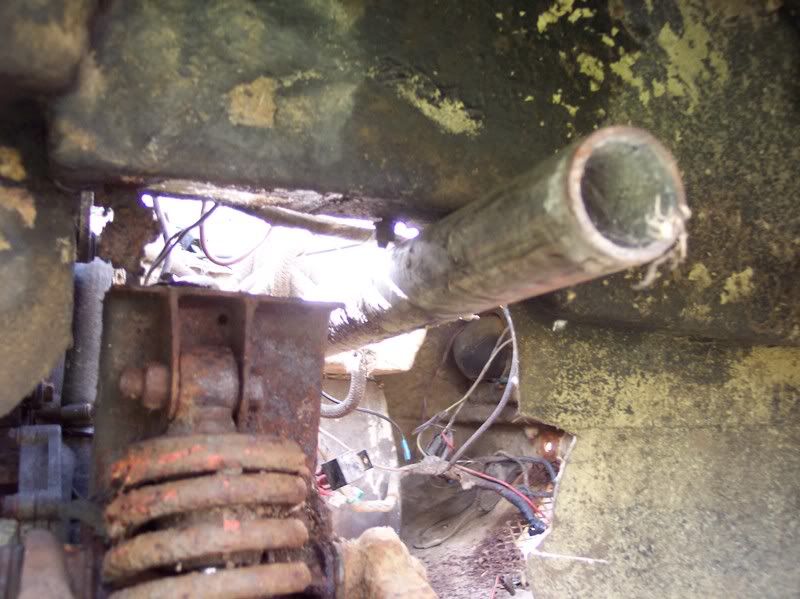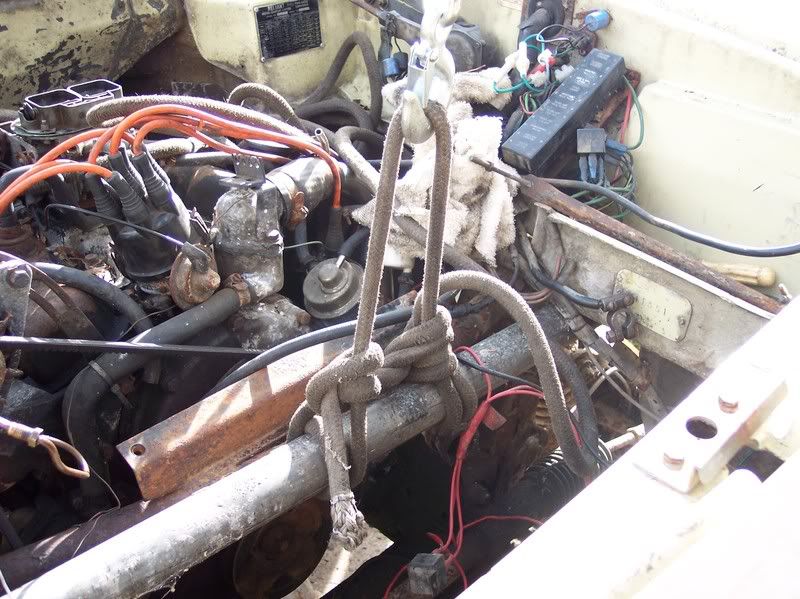 Then begin lifting!
Few hoses/earth straps still connected
Then with help of a larger mate and using another of Micks ideas of fitting a long bar through the rear inner arch sections we lifted the shell off.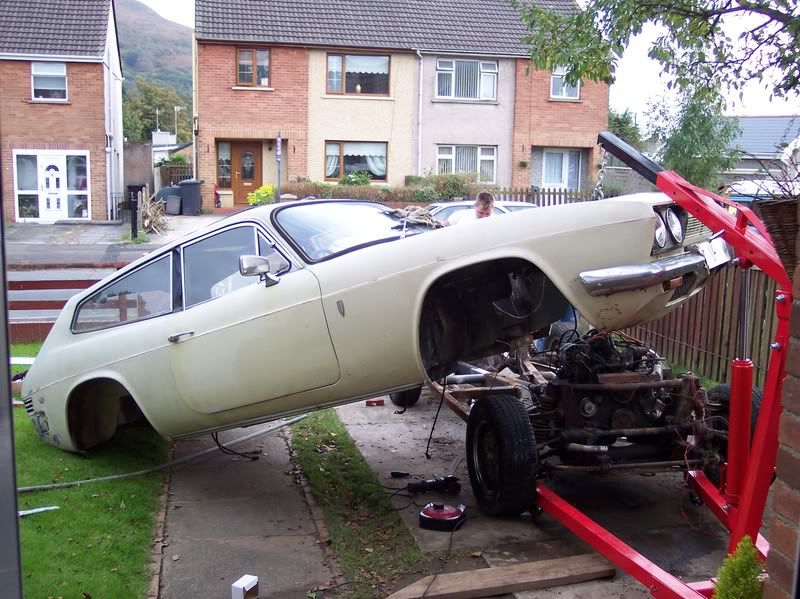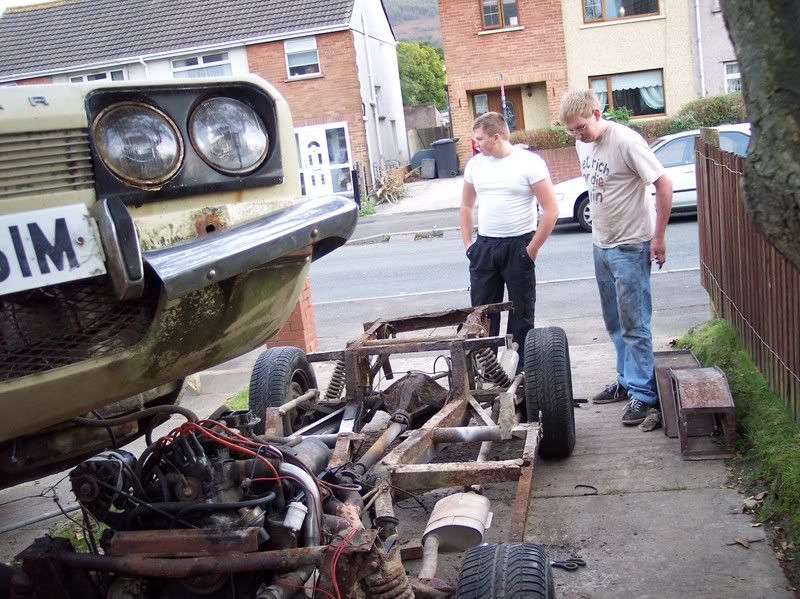 Luckily for me my parents were on holiday at the time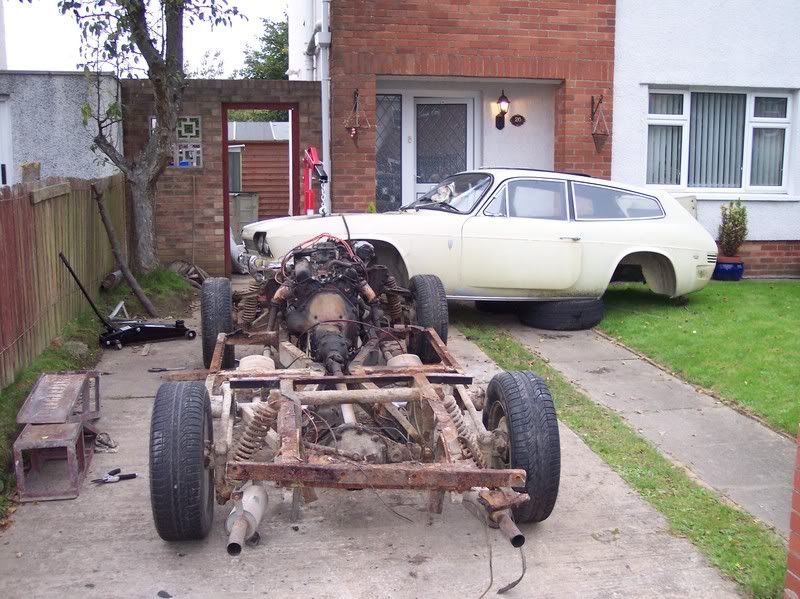 With the shell off the rust could be seen clearly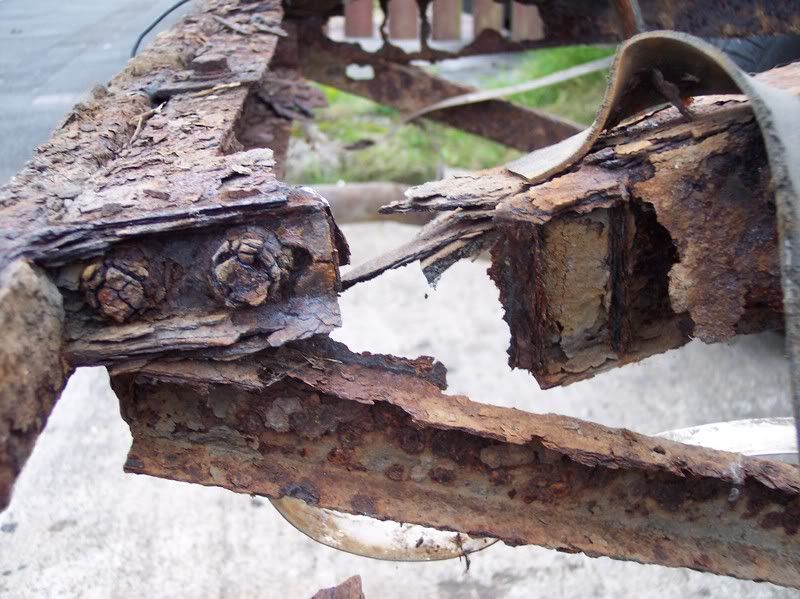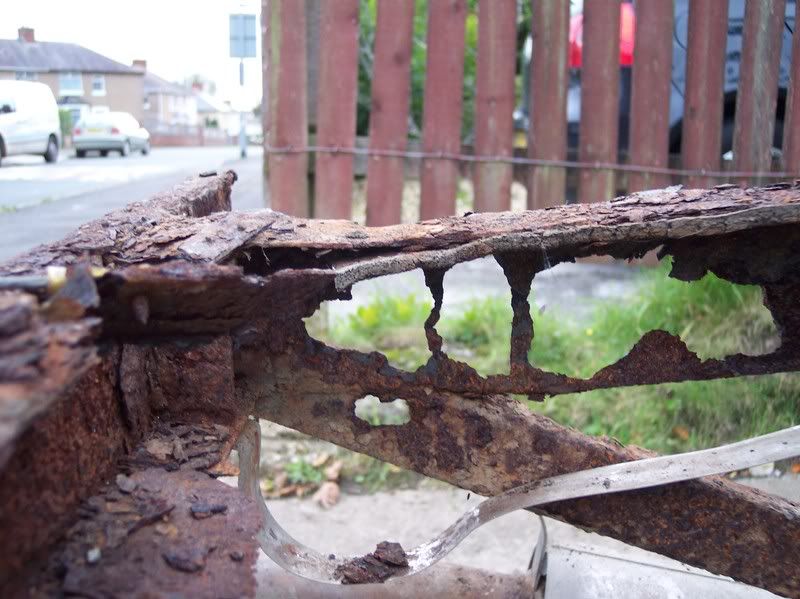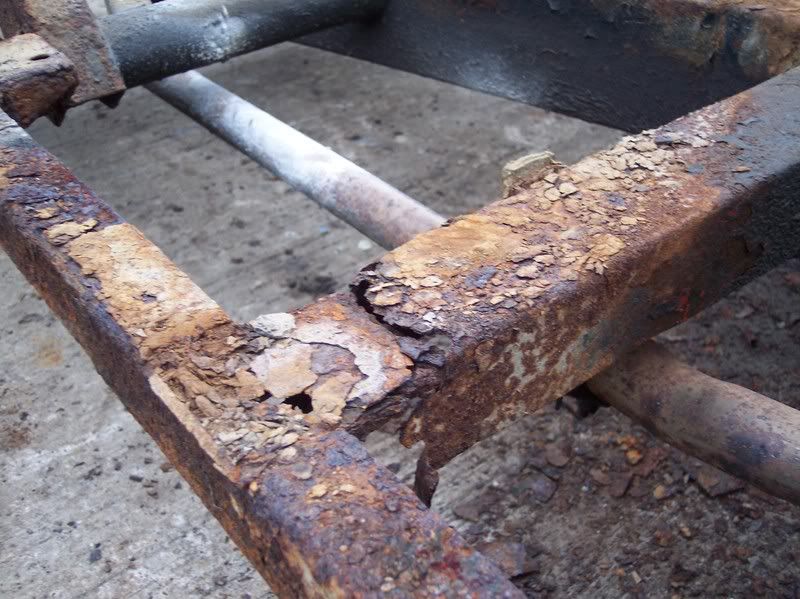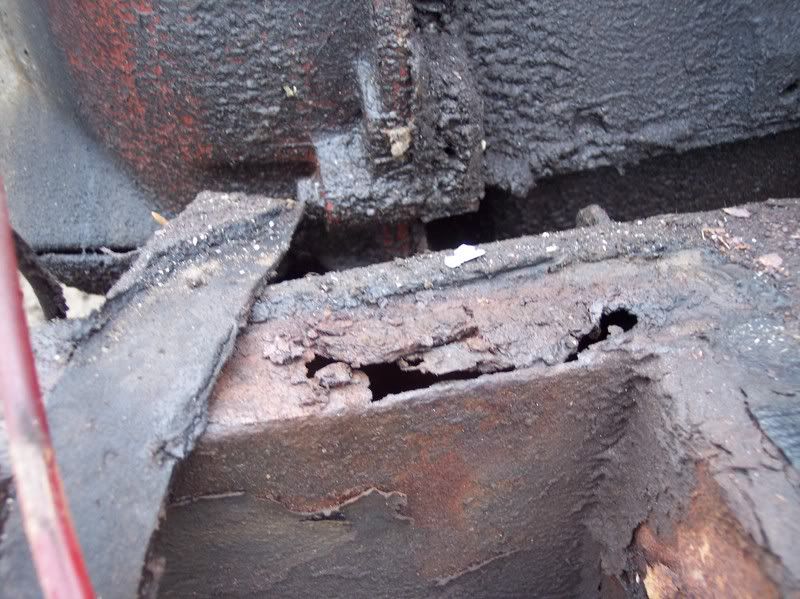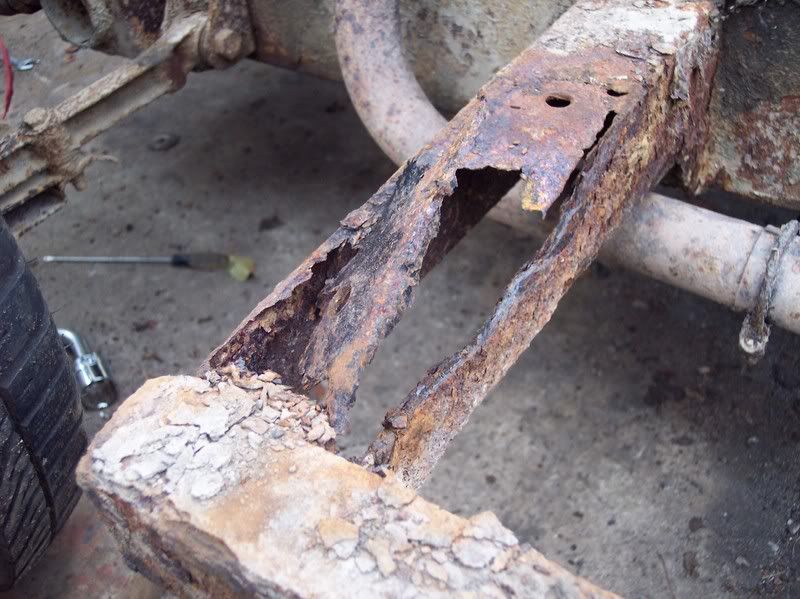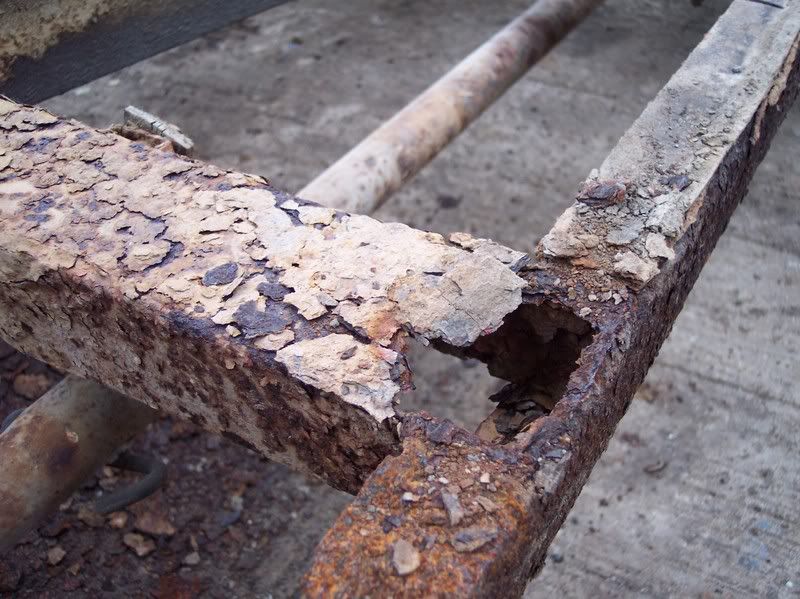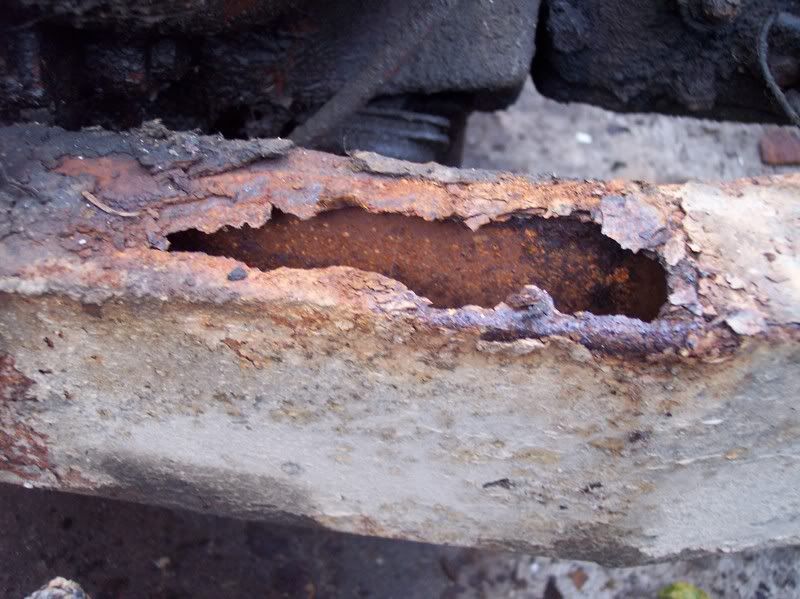 Not to be put off I orderd new Out riggers from Graham Walker and begun welding. The plan is to cut the back end of the chassis off as a whole and weld on a better one and to replace the out riggers with new. Smaller holes were ground back and patched.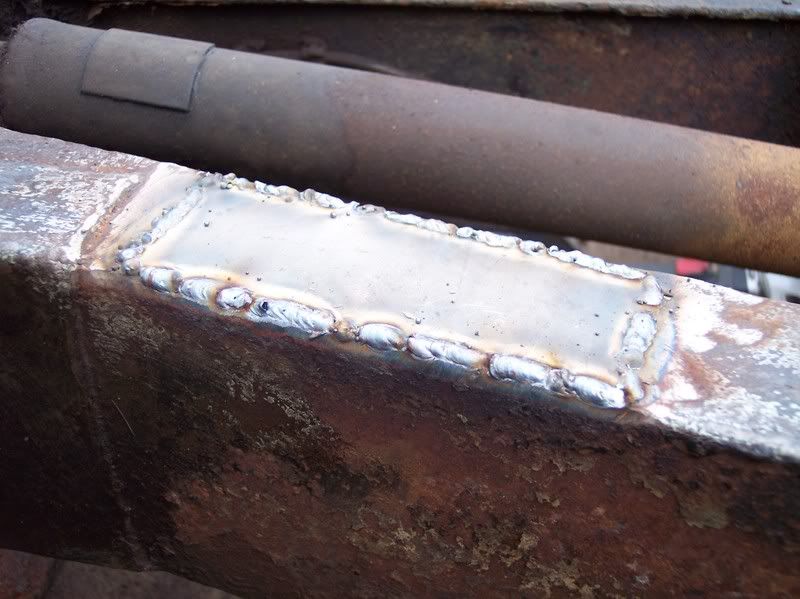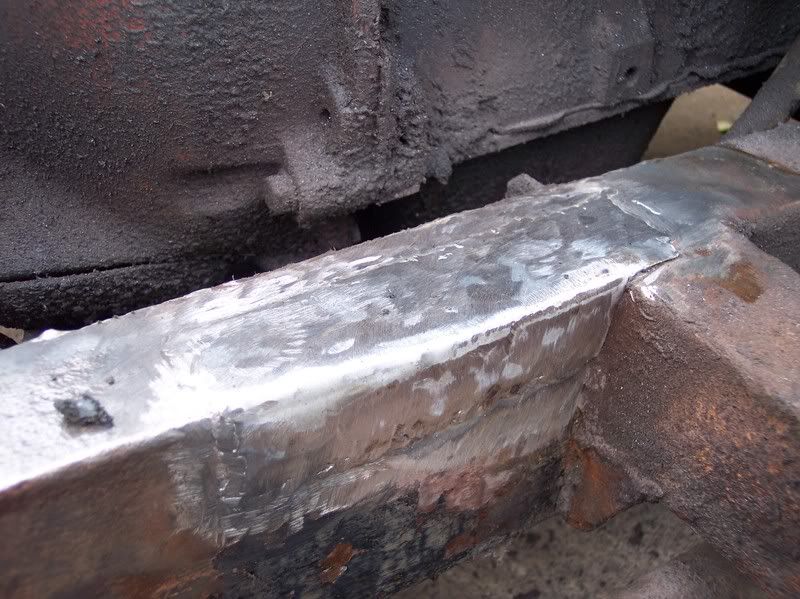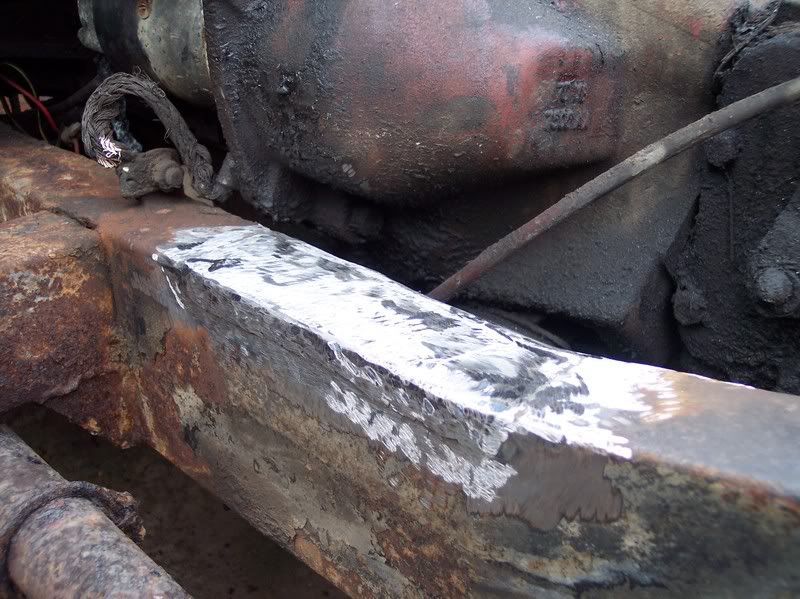 Whilst waiting for the out riggers to be delivered we removed the front and rear suspension and the engine and box.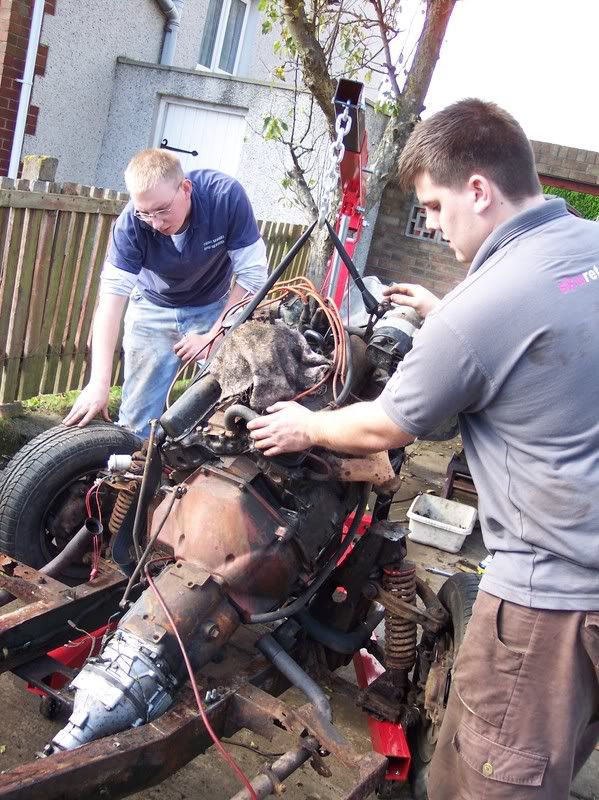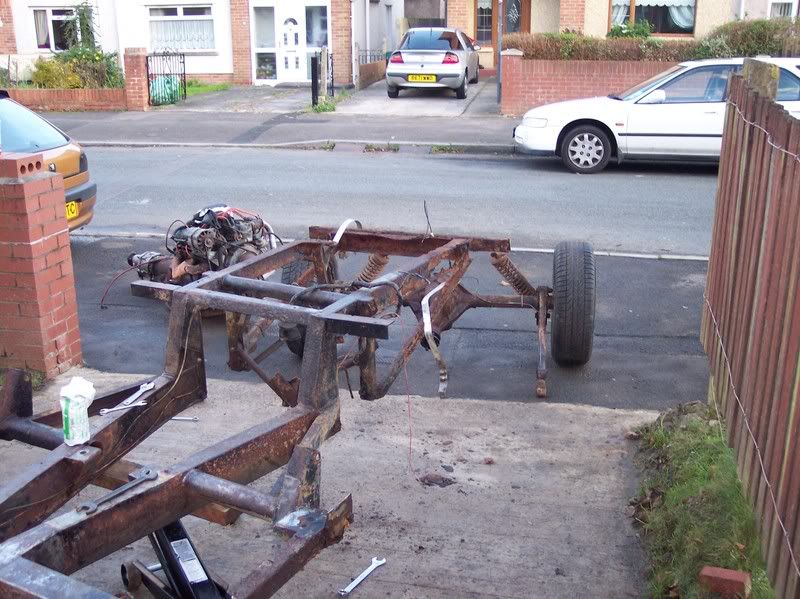 With the new out riggers here welding continued.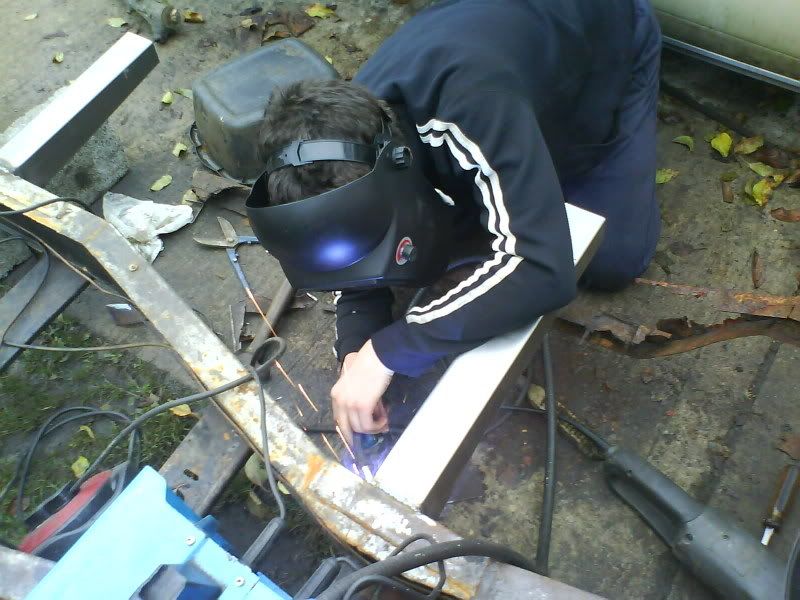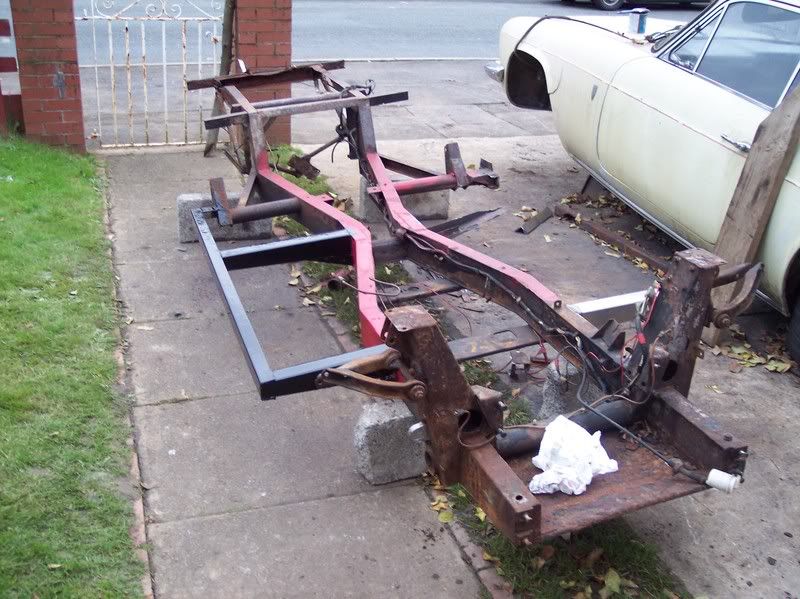 And with the parents home, the drive was a tad tidier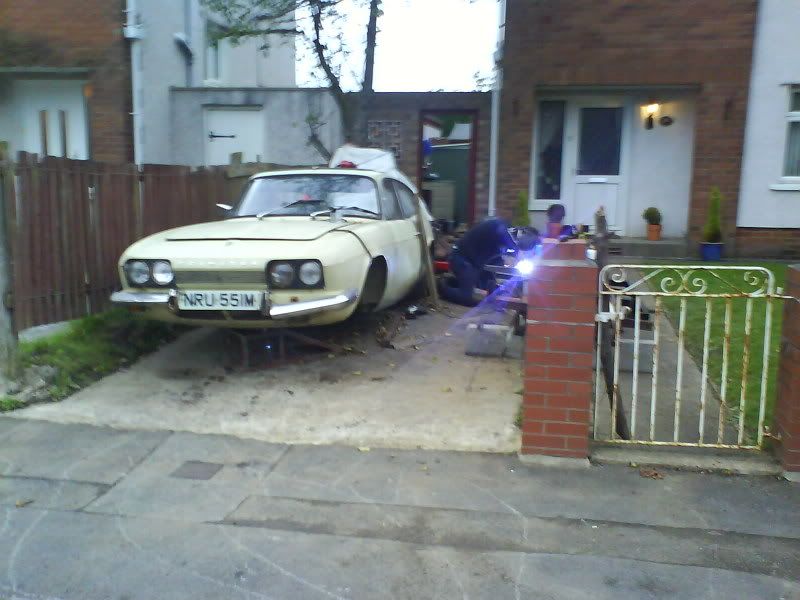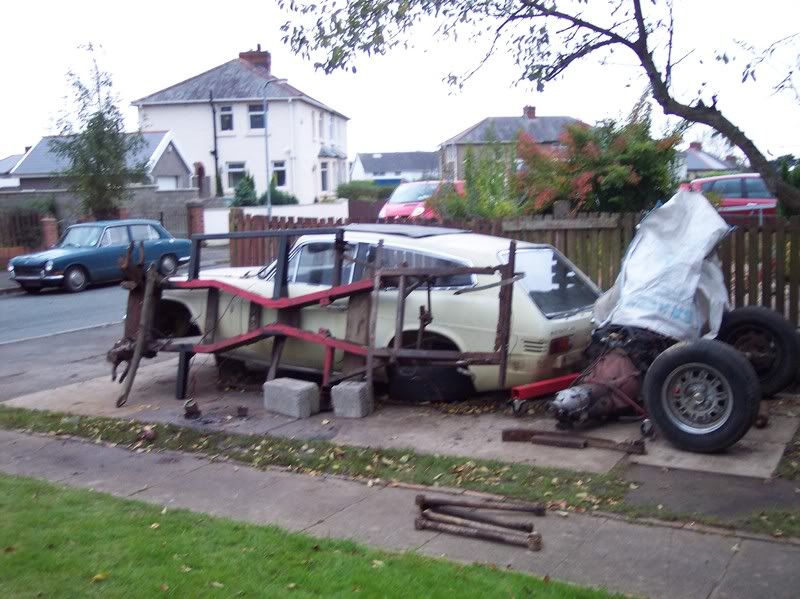 Thats where work is up to at the moment. Hopefully Saturday will be nice so I can finish off the other out rigger. But if it isn't I have £215 worth of poly bushes to be fitting
Updates to come