Continued from previous instalment;
Finalising EFI Conversion
With the engine management system now installed and wired, work will focus on getting the engine running.
This anticipated stage has been a long time in the making and will verify much about this custom EFI conversion.
At this stage of work;
All fabricated EFI hardware is yet untested,
The chosen electronics have yet to prove harmony with each other,
The mass of wiring is yet untested,
The ECU still needs to be mapped.
My most anxious concern though is with the recommissioning work carried out on the lower intake manifold; the success of this lengthy and involved job can only be verified with the engine running. Worryingly, there are still uncertainties requiring further investigation.
I decided test running the engine is best done on the test stand; this will provide easy and uninterrupted access to all parts.
As the engine has previously run on this stand (albeit with a carburettor and points ignition) all engine mounting requirements are already in place. Running it with EFI though will require making mounting fixtures for the complete engine management system, EFI fuel system and plumbing and EFI fuel tank; not a small job.
Work started by removing the engine from the car and refitting it on the test stand.
The lower intake manifold is still giving me grief and not yet mounted on engine. I next focused my attention on making this right.
As noted in a previous instalment, the recommissioning work carried out on this manifold has included much welding and machining of the mating faces; this has resulted in around 2.5mm missing from each manifold mounting face. The mating relationship between manifold and cylinder heads has now been disturbed, and the manifold seats too deep inside the engine valley.
My original plan was to use extra thick gaskets to make up for the removed material, but further consideration made me realise this is too much to make up with gasket alone. I have now settled on using aluminium spacer plates to make up for lost material; these can be screwed to the manifold faces to become one with the manifold. A thin gasket is all that will be required to seal the manifold to cylinder head face.
Heading down this path, I had the spacers drawn up on CAD and laser cut from 2mm aluminium sheet.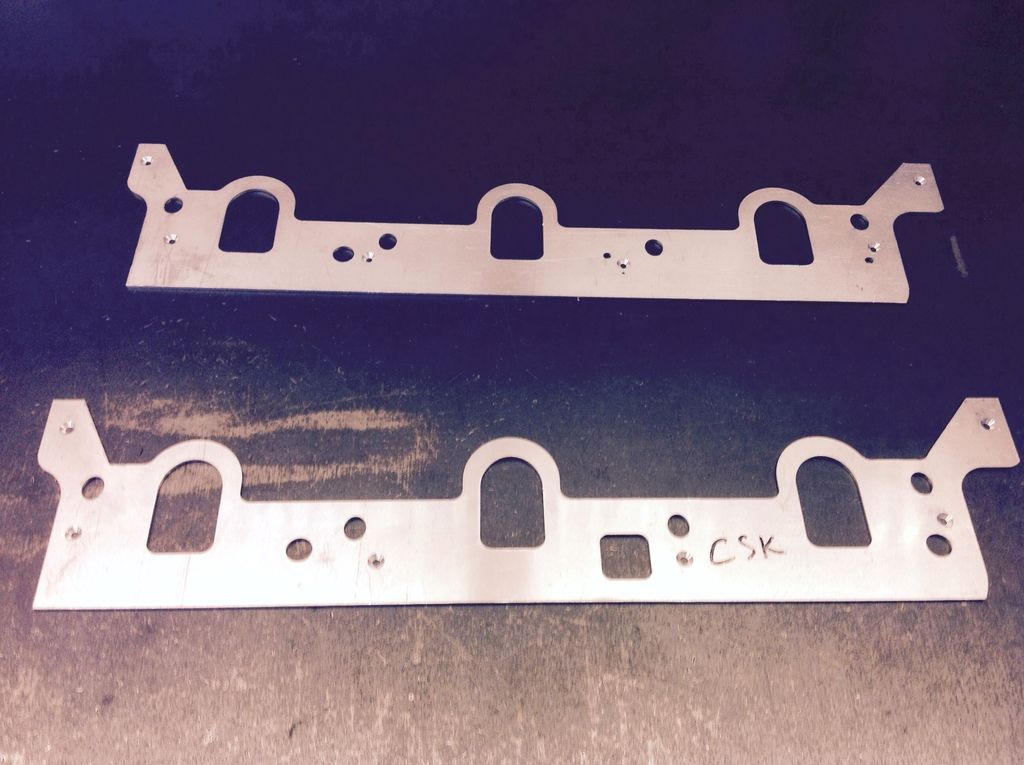 These were next attached to the manifold faces with countersunk screws.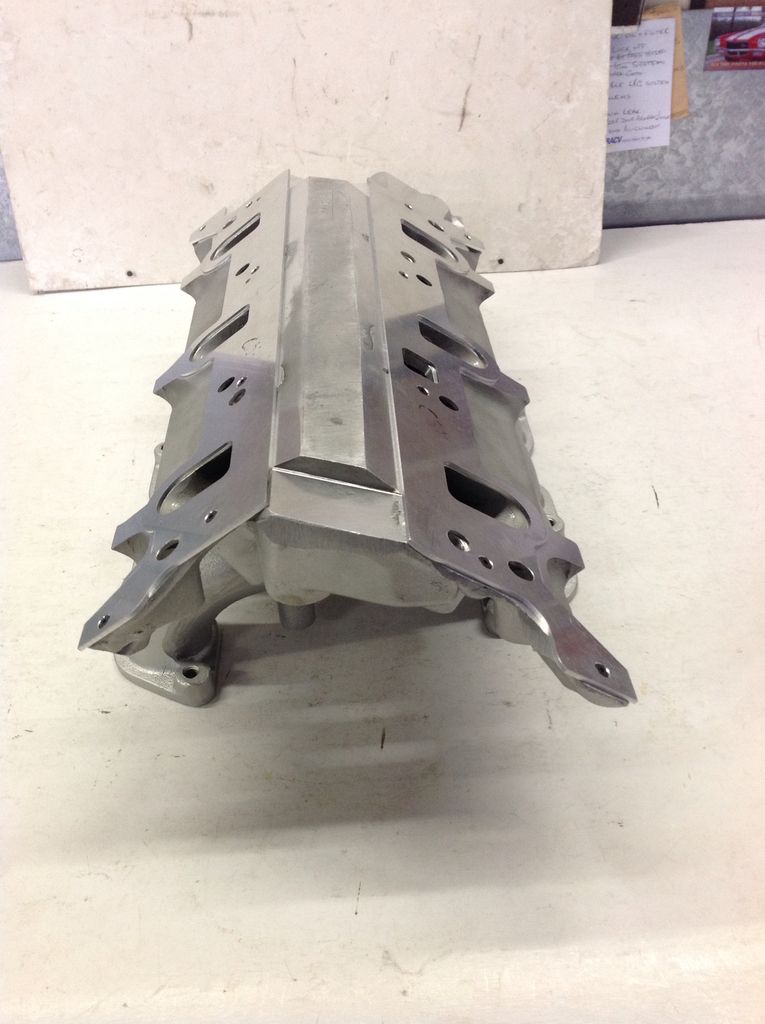 The complete assembly was next trial fitted on the engine confirming my long time suspicion that the re machined manifold face angles do not accurately match the cylinder head faces; this will effect manifold sealing and probably warp the manifold when torqued.
This will require re machining of the manifold faces to correct; a great PITA.
Next task was to measure the amount of discrepancy between mounting faces; this was accomplished by lightly tightening the manifold assembly on the engine, and measuring the gap variation between the top and bottom of mounting faces using feeler gauges. This measurement is carried out at all four corners of manifold for an overall comparison.
Measurements confirmed a gap of .005" exists at the bottom of manifold faces and zero at the top; this discrepancy will require an angle cut of .005" from top of manifold faces and zero from the bottom to correct.
Armed with this information I took the manifold (without spacers) to my trusted machinist and explained what needs to be done. Upon return I refitted the manifold assembly onto the engine and was most relieved to find a near perfect fit.
Next issue; reliably sealing the spacer plates so as to not leak vacuum, water or oil.
I decided to seal the manifold side of spacers with Loctite Flange Sealer; with the countersunk mounting screws tightened the spacers become one with the manifold and hopefully should never need to be removed again.
A thin .5mm gasket will be used to seal the cylinder head sides of spacers; this will require custom gaskets as the originals are normally around 1mm thick. I cut these by hand and fitted thin copper sheet around each water hole as per original.
Thinner gaskets will requiring very little if any retorque over time as there is little thickness to crush; this should provide a superior seal in theory.
The end seals were cut from cork gasket material.
The manifold was finally made ready, installed and torqued to specs; quality gasket sealer was used on all gasket surfaces.
Hopefully this now concludes all the repairs on this old chunk of aluminium; a big AMEN to that I say!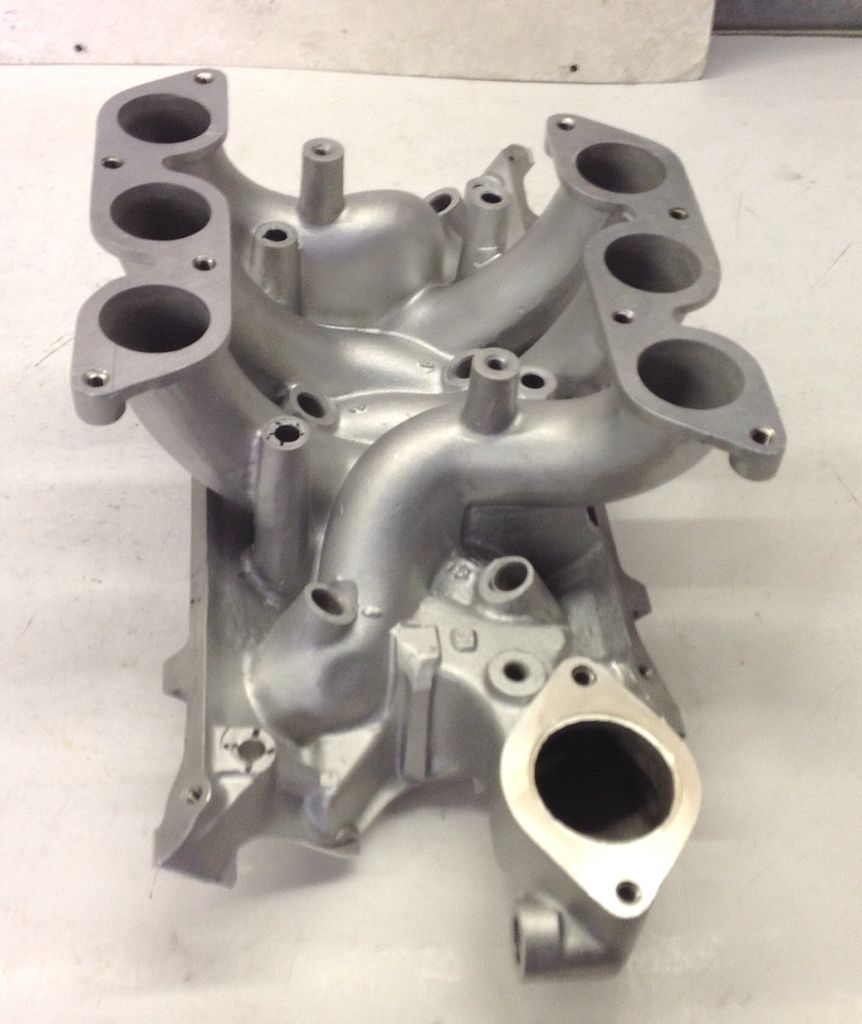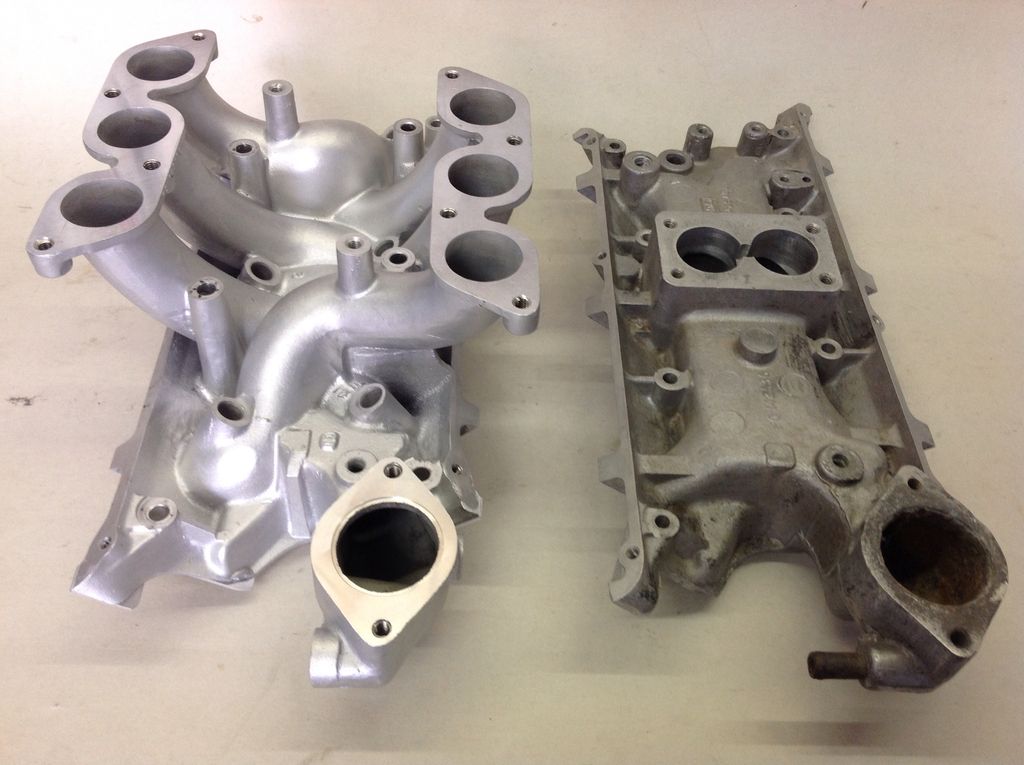 To be continued:
Victor Pace