Moderators: scimjim, Lukeyboy46, erikscimitardemon, Roger Pennington, philhoward
RSSOC Member
Posts: 15051
Joined: Tue Aug 22, 2006 5:13 pm
Location: Shrewsbury, Shropshire
Has thanked: 536 times
Been thanked: 466 times
Contact:
Electric superchargers are becomjng popular with OEMs, will be common place in 5years, but as 'torque curve fillers'not currently aimed to replace exhauat gas or belt driven 'chargers.
No idea if this ones any good, but one will be along soon that may make us all change our minds.
No surprises the essex mob dont like electrickery
anything post 1970s tech is to be regarded as witchcraft...
Racing is life, everything before and after, is just waiting--Steve McQueen
6 time Class Champ, 2006 & 2014 SSSC Champion
RIP Batmobile, await the Rise of Dark Knight 8)
Sabre 'Light Sabre' 360hp!!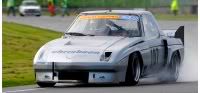 ---
CNHSS1