Hi,
I originally thought that I would put this under my thread
La Vie en Flying Sub
, but it turns out to be quite long, hence this dedicated topic !
Here comes the long awaited – at least for those who heard about our troubles – report about the 10-day trip that I had organized together with Viv on our French D roads … The idea was to convoy with other scimitars from the Paris area down to the Mont Ventoux for the
Sortie SouthoFrance organized
by Phil & Ros Mason, then keep touring around Haute Provence, Camargue, Ardeche and join yet other Scimitars in Morges (CH) before heading back to Fontainebleau.
Well … such was the original plan at least, but life with a Scimitar is full of surprises and unpredictable quirks … and what should have been a long driving exercise on mountain roads turned into a full week of mechanical training for me !
Day 1 (Thursday 24th)
Viv had arrived from the UK in the late evening and I met him at his hotel in Nemours around 10:30pm … All pubs & restaurants being closed at this time, we headed back to Fontainebleau for a couple of beers at a terrace right at the heart of the city. Viv explained to me that
Kinky
had blown the exhaust on the freeway and that we'd need to have a look next morning before leaving the area … not to worry (yet).
Day 2 (Friday 25th)
mileage: 0 to 305
Rendez-vous was organized with Fred Hermand & his
Brownie
in front of the Fontainebleau train station, our usual meeting point. Dyna – the long 'legged sausage' as Fred is sometimes calling her – was part of the trip, looking forward to a long ride on the back seats of the Scimi
Mileage reset to 0. at the station !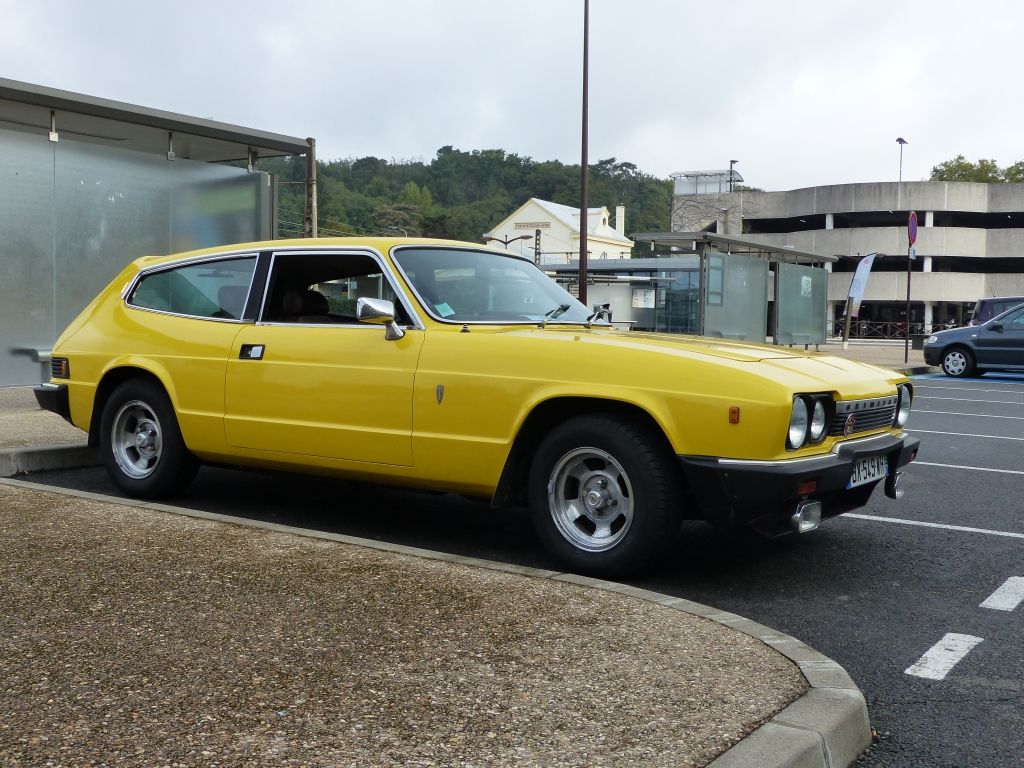 In Nemours we joined Viv at his hotel, who was already looking under the bonnet to spot the exhaust problem … hard to see with the shield protecting from the heat, but it looked like near the manifolds and/or turbo … oops. No choice but leaving as we did not have tools at hand to investigate further, and it looked like driving 'slowly' Kinky would be OK.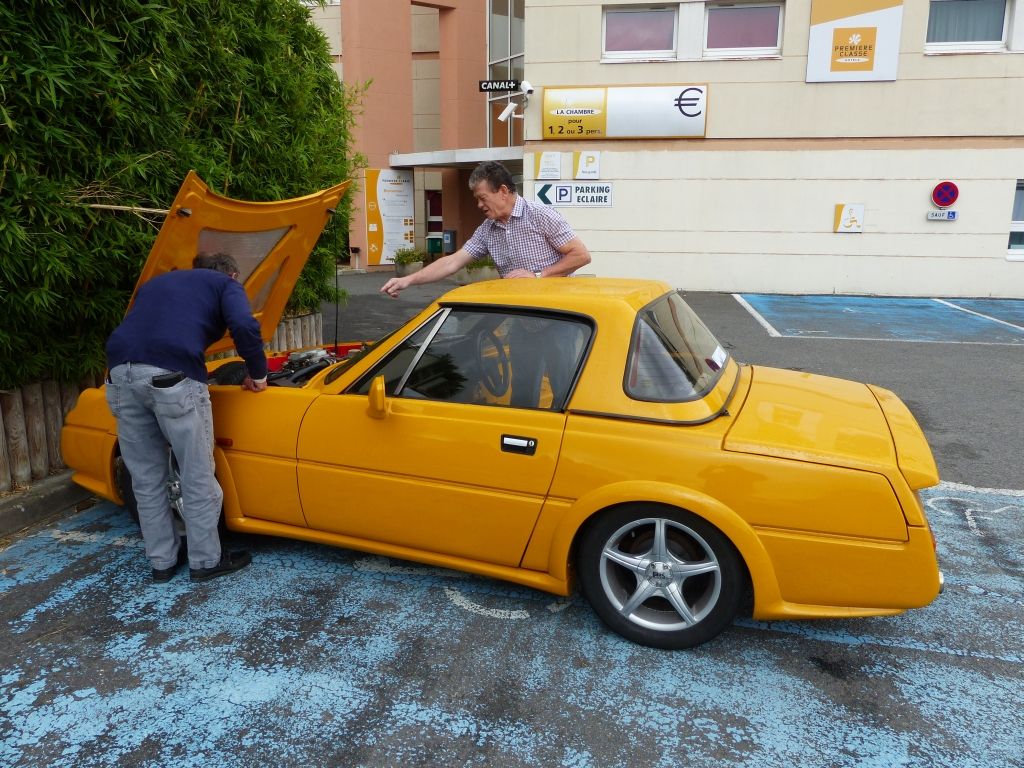 Our first trip was going through little D roads, from Nemours to the south of Ambert on the eastern side of Auvergne … two stops for lunch & dinner, both interesting in different ways, and one single stop for petrol. The final 80 miles or so in the mountain were most enjoyed as Fred was keeping a good pace and knew the roads by heart – fortunately as it was pitch dark when we arrived … in the middle of nowhere (!) All three cars drove nicely – apart from
Kinky
's noise – and I was happy to follow in the
Flying Sub
albeit its autobox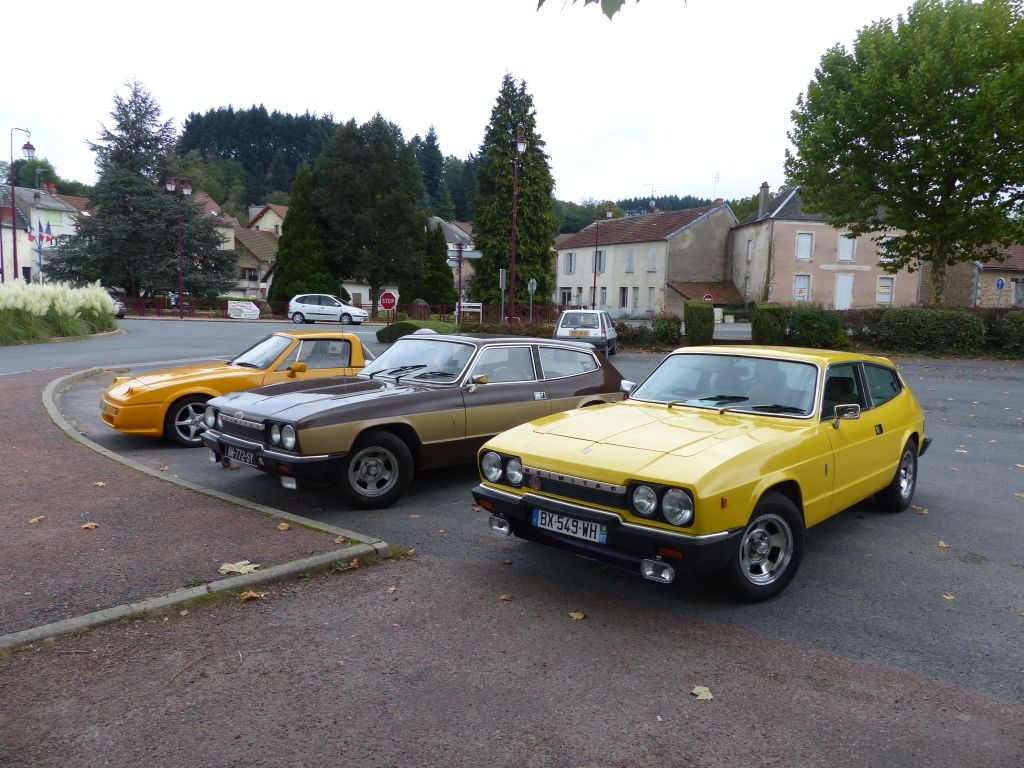 We stayed at the mountain house of some friends of Fred, a huge place and a marvelous viewpoint as we discovered in the morning mist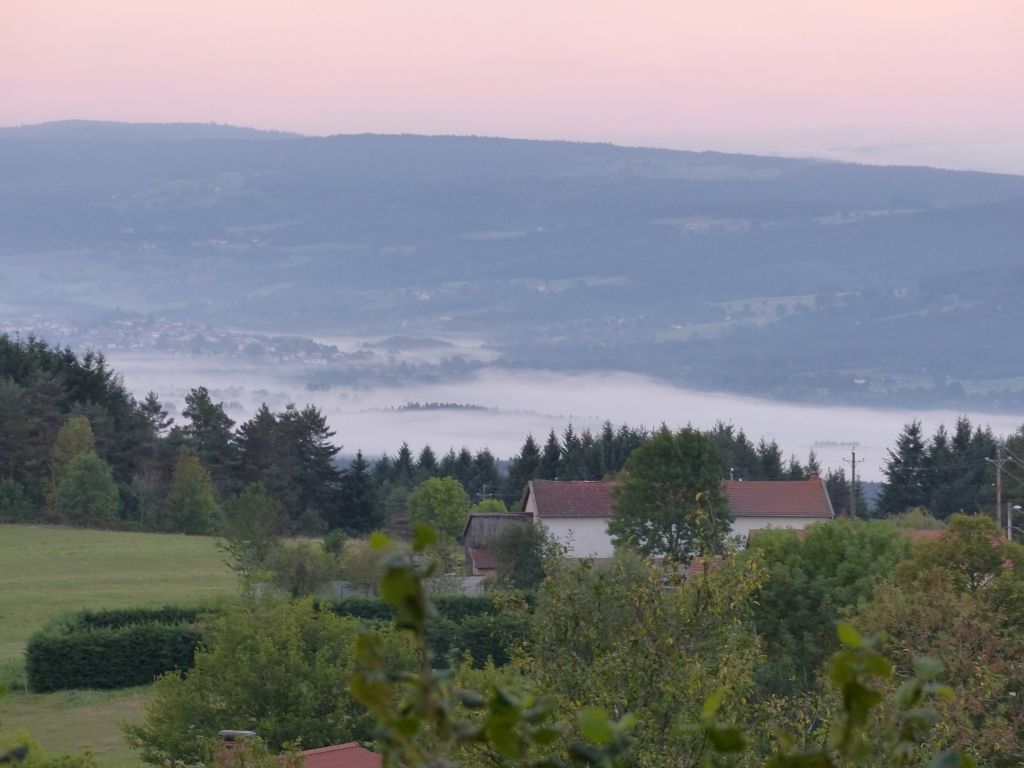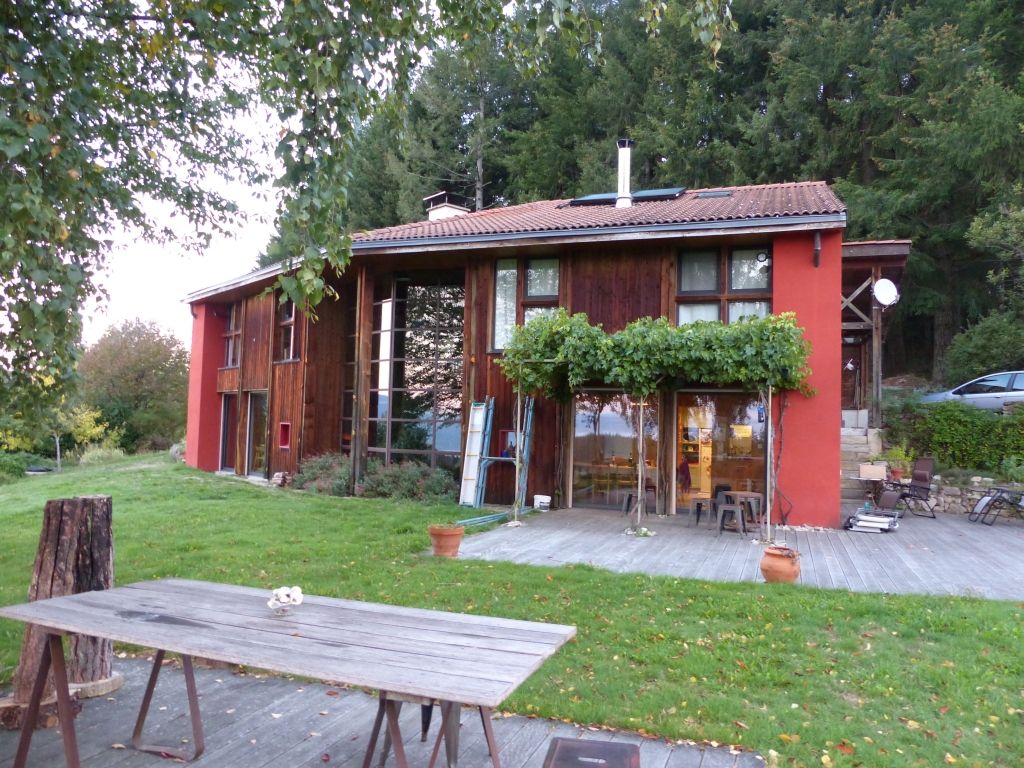 Day 3 (Saturday 26th)
mileage: 305 to 496 (191 miles)
After enjoying breakfast & coffee with our host, and much admired his house (he's an architect), it was time to leave as we had quite a bit of road to do in order to arrive safely at the rendez-vous in Piolenc near 14:30. Cars started fine, and drove well all the way down to the Rhone valley, with a nice descent along a canyon, a quick pit stop to refill the tanks … and a nice lunchbreak at a typical restaurant on the roadside … so far all good
We managed to arrive at the Musee de la Nationale 7 sharp on time – and we missed the entrance as expected -.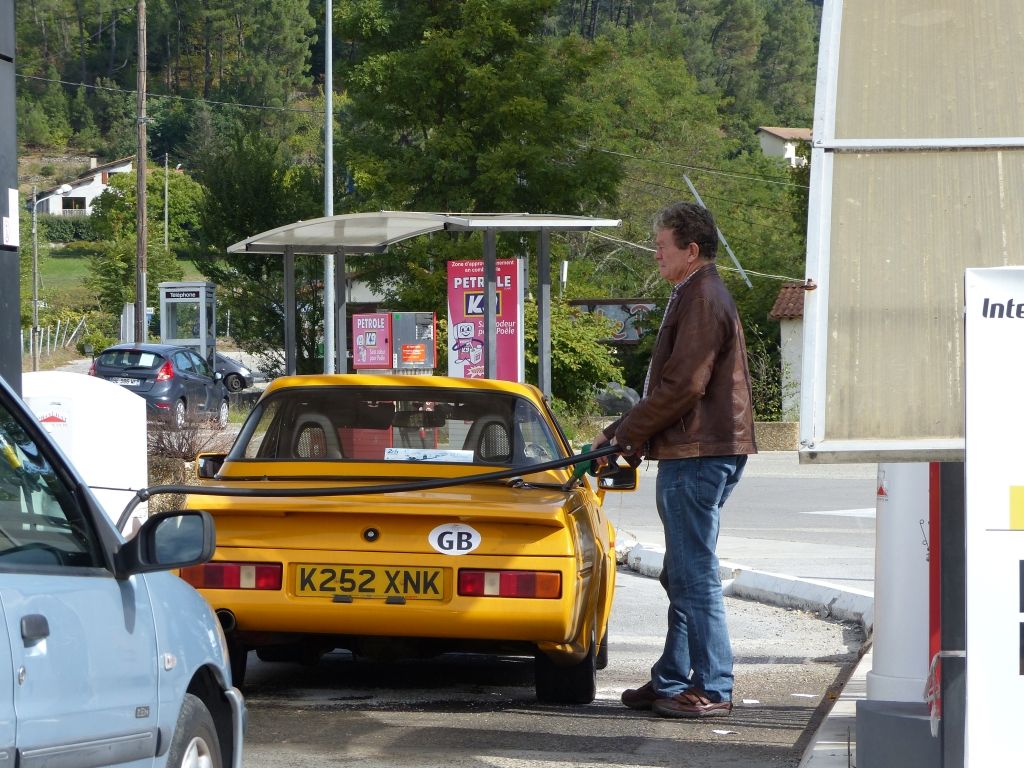 You already have the details of the happenings on that day in the
Sortie SouthoFrance thread
: visit of the museum, visit of the Cave des Vignerons near Gigondas … and arrival at our Hotel in Montmirail.
Kinky
, the
Flying Sub
(aka
Custard
in France) and
Brownie
were happy to have joined the herd of Scimitars and were impatient to climb up the Mont Ventoux on the next day !
Photo courtesy of Jorg Schumbert: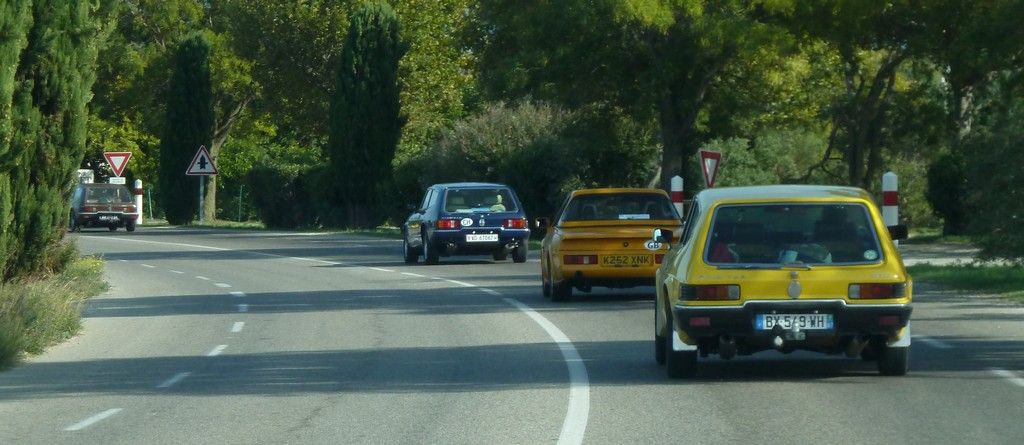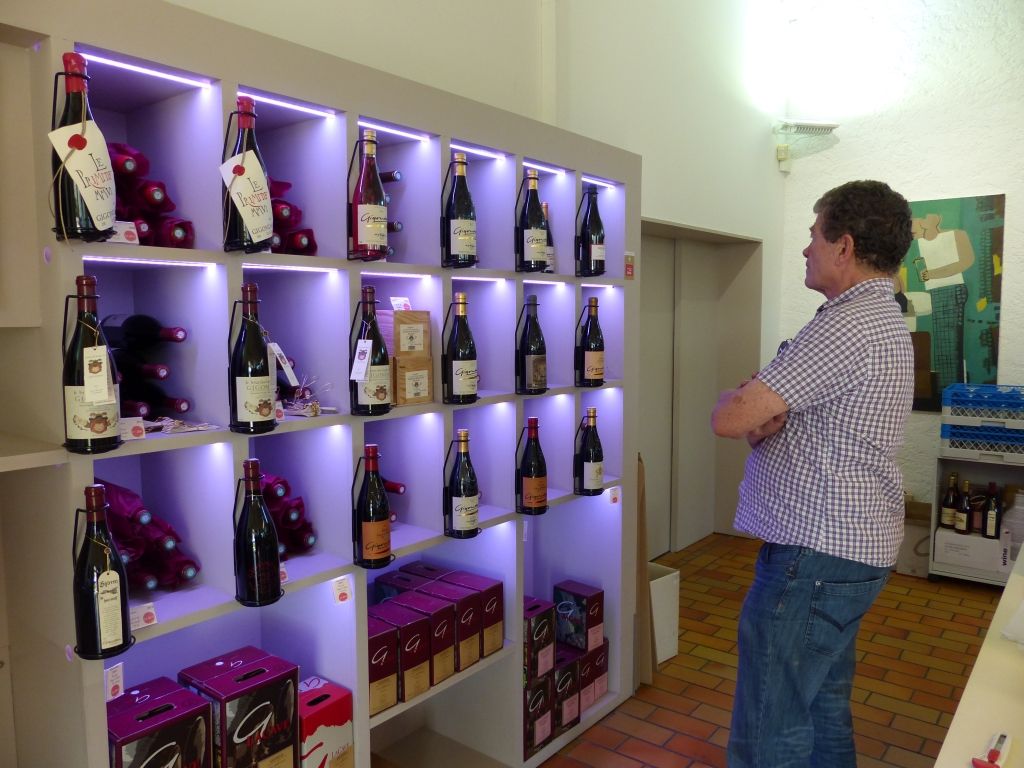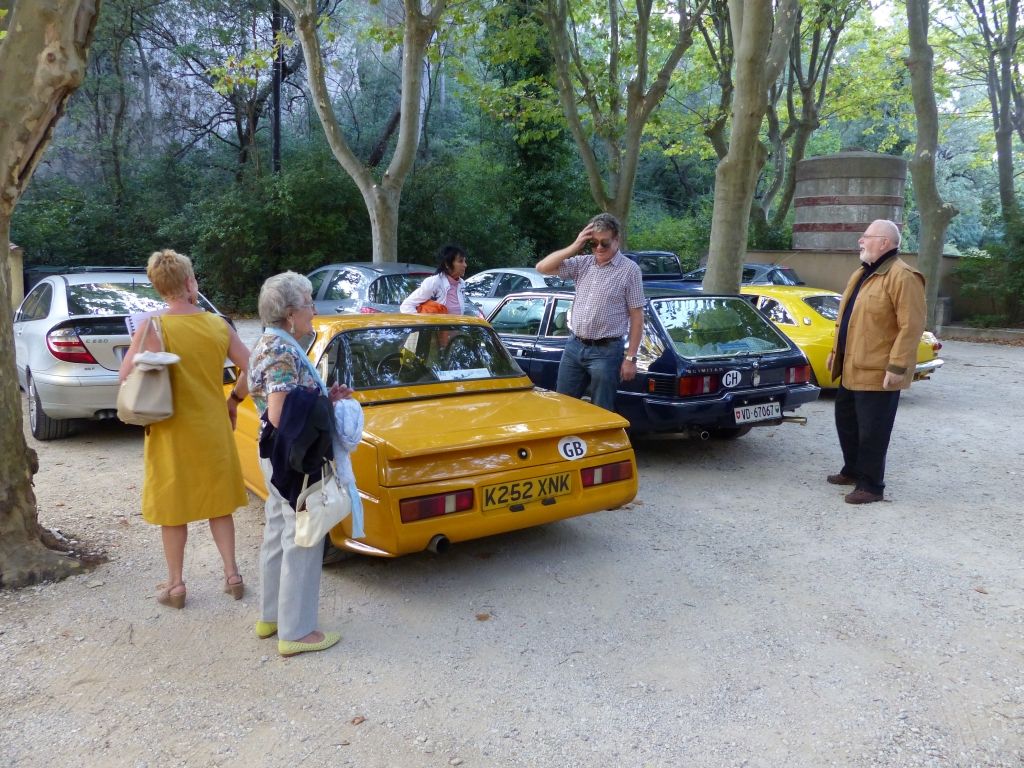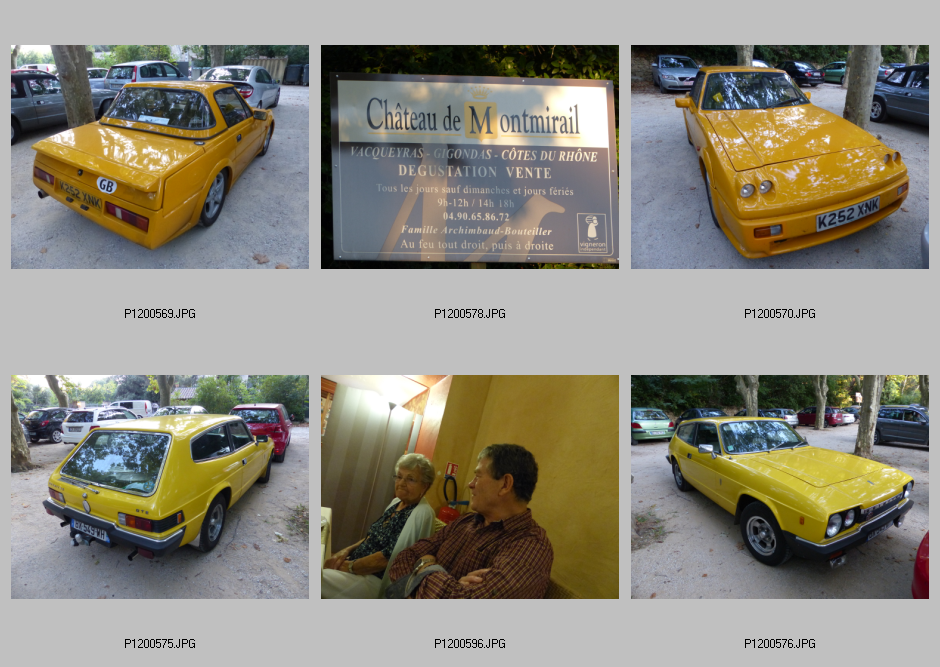 Day 4 (Sunday 27th)
mileage 496 to 660 (161 miles)
This was the big day, and the real beginning for troubles for both
Kinky
& the
Flying Sub
.
As witnessed by Jorg who was passenger onboard
Kinky
, the sabre started overheating a few kilometers below the submit, and Viv had to let it cool down a bit and refill with water … In the meantime
FS
was almost driving normally – well at least steadily – until reaching the very last stretch of road … where the traffic suddenly slowed down … and I had to halt a couple of times because of bloody cy***** stopped in the middle of the road
That was it,
FS
started to complain and I really had to fight it to restart and cover the last hundred yards until I found a spot to park (uphill …). While I was taking pics of the mountains & Caterhams, Viv & Jorg arrived and parked
Kinky
behind
FS
. Phew, we were all safely arrived – yet freezing – and enjoined the view and activity around the summit – which was already in the clouds –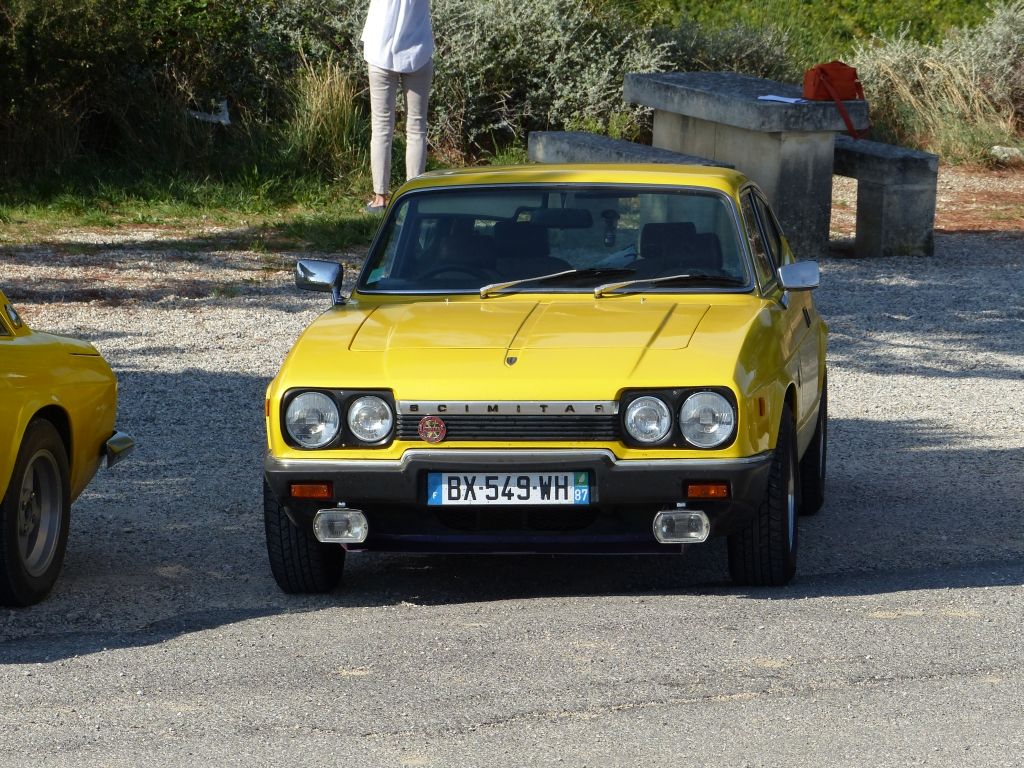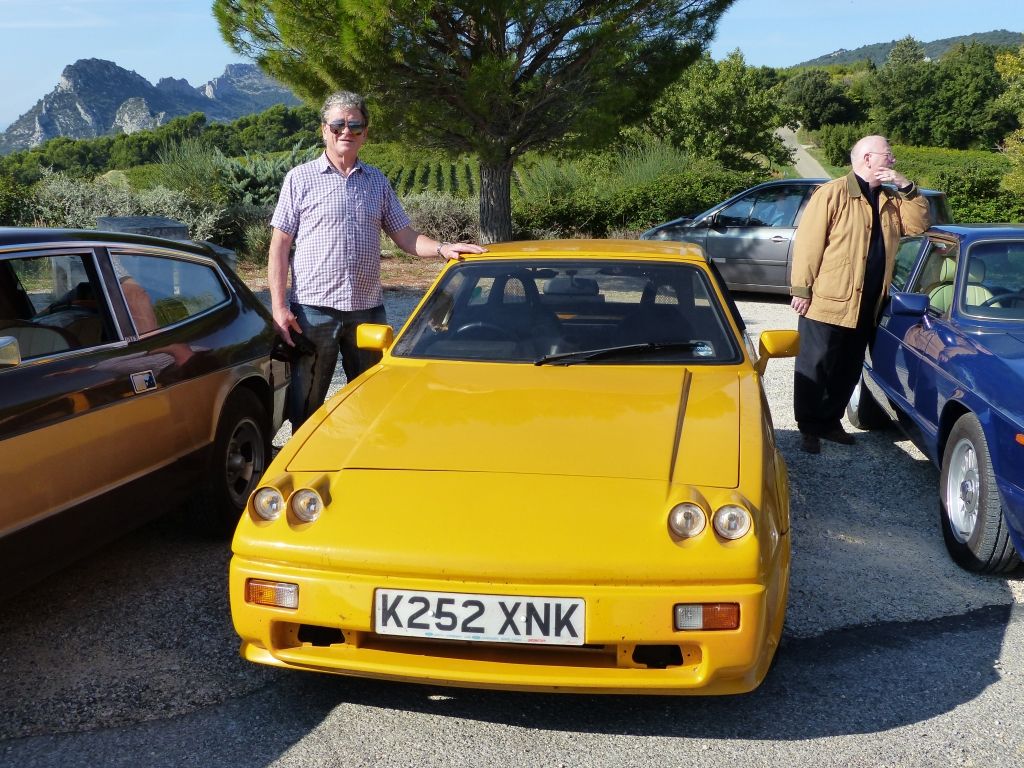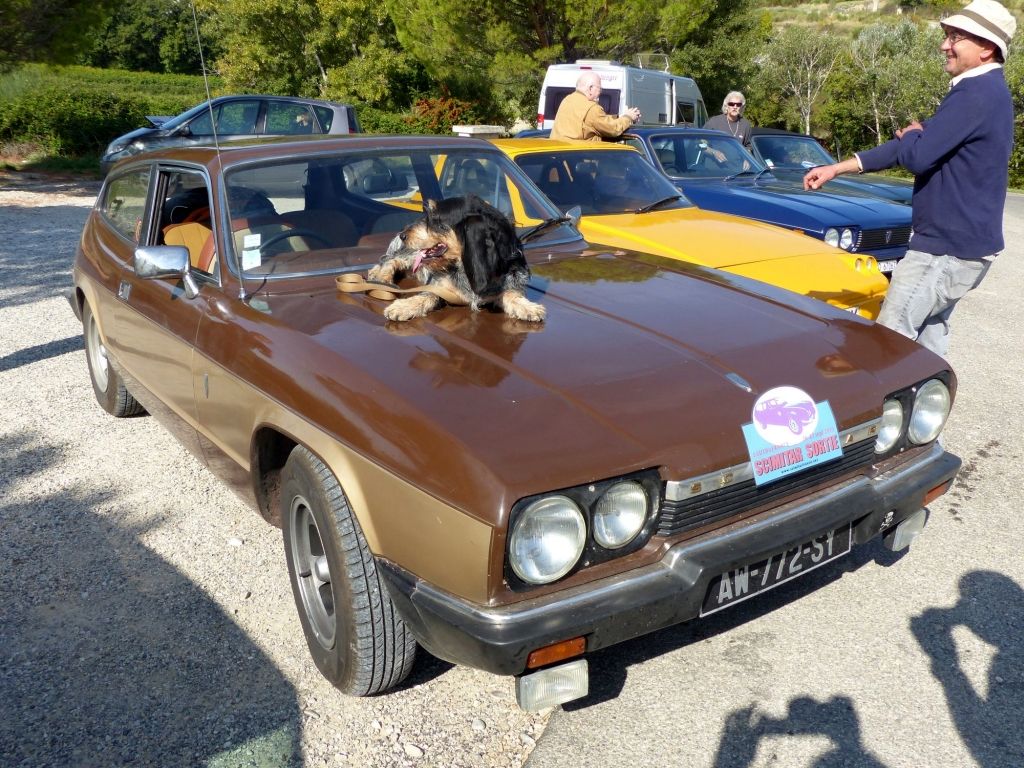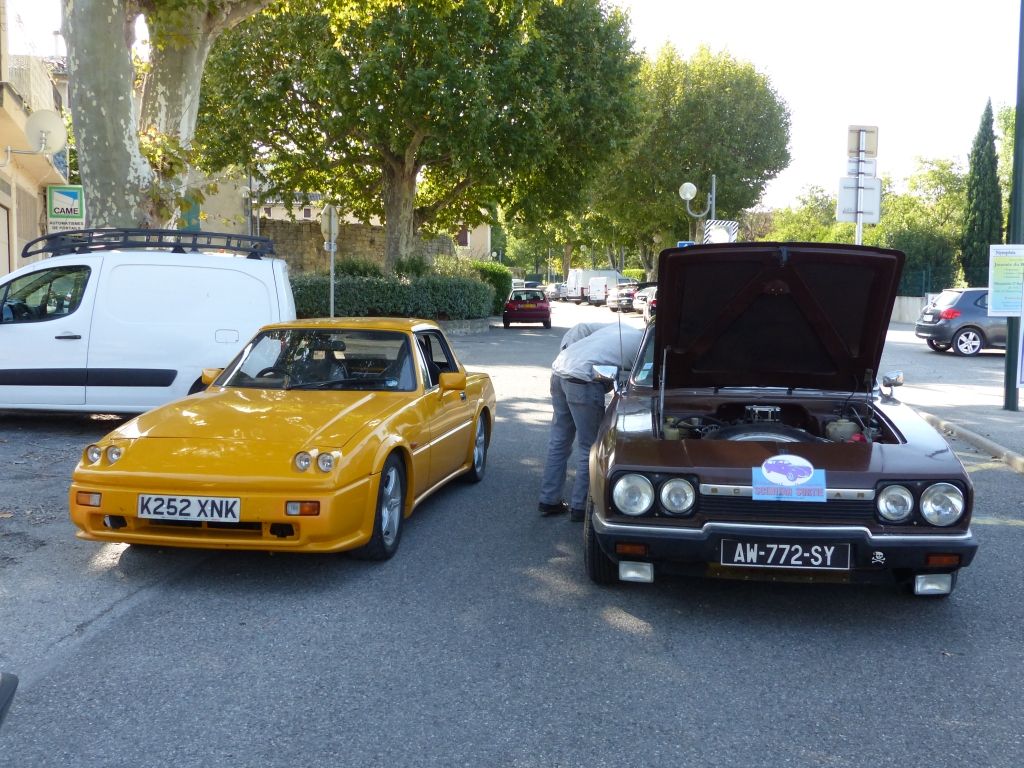 Photo courtesy of Jorg Schumbert: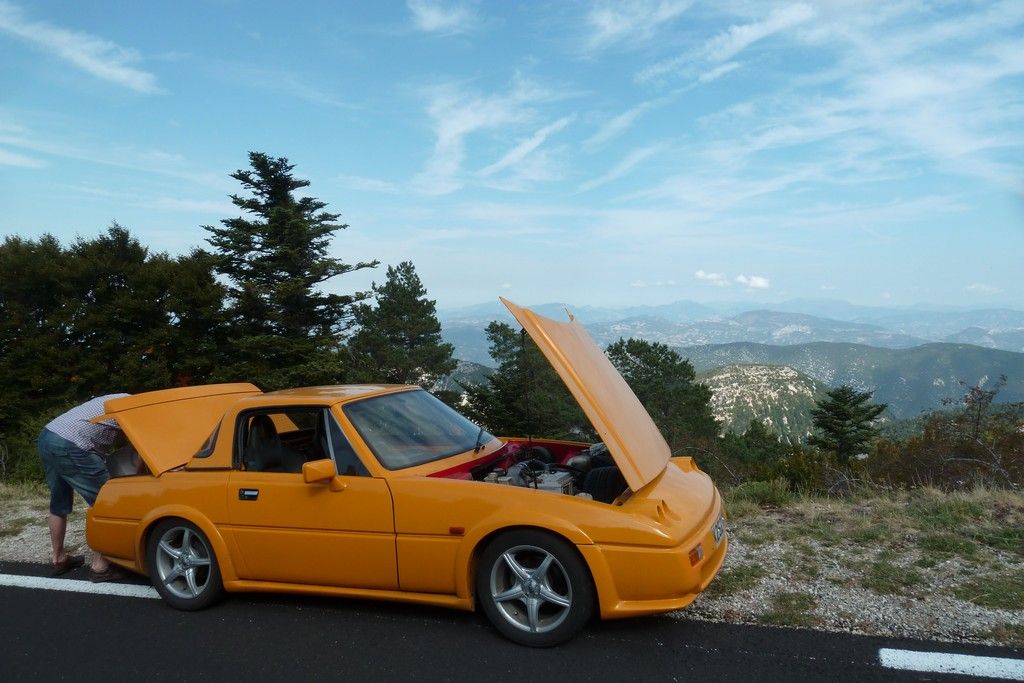 Photo courtesy of Jorg Schumbert: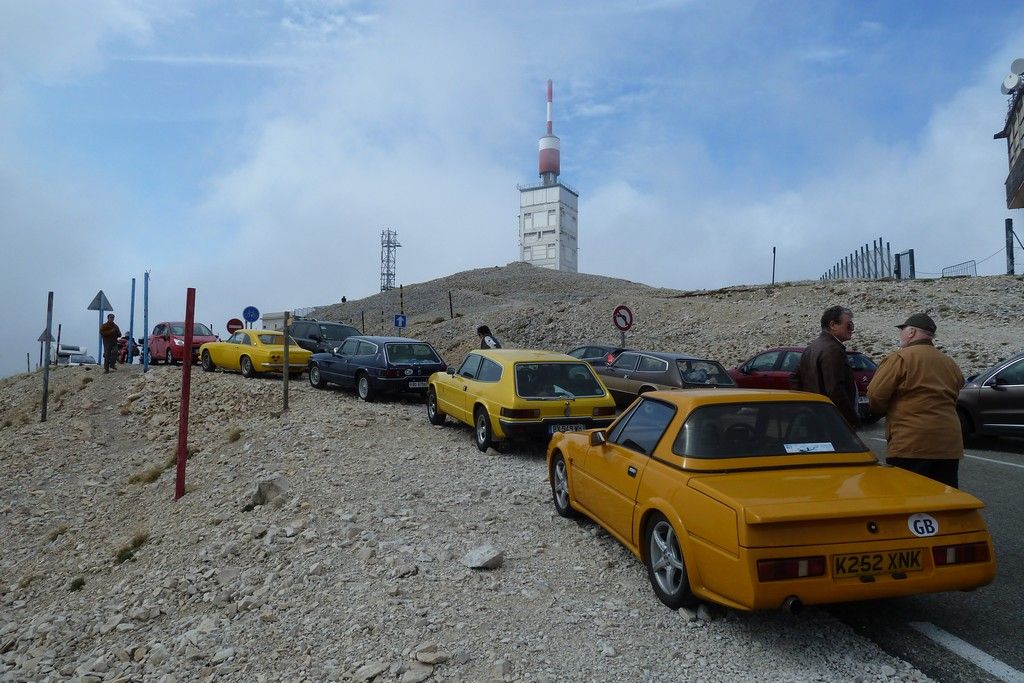 Photo courtesy of Jorg Schumbert: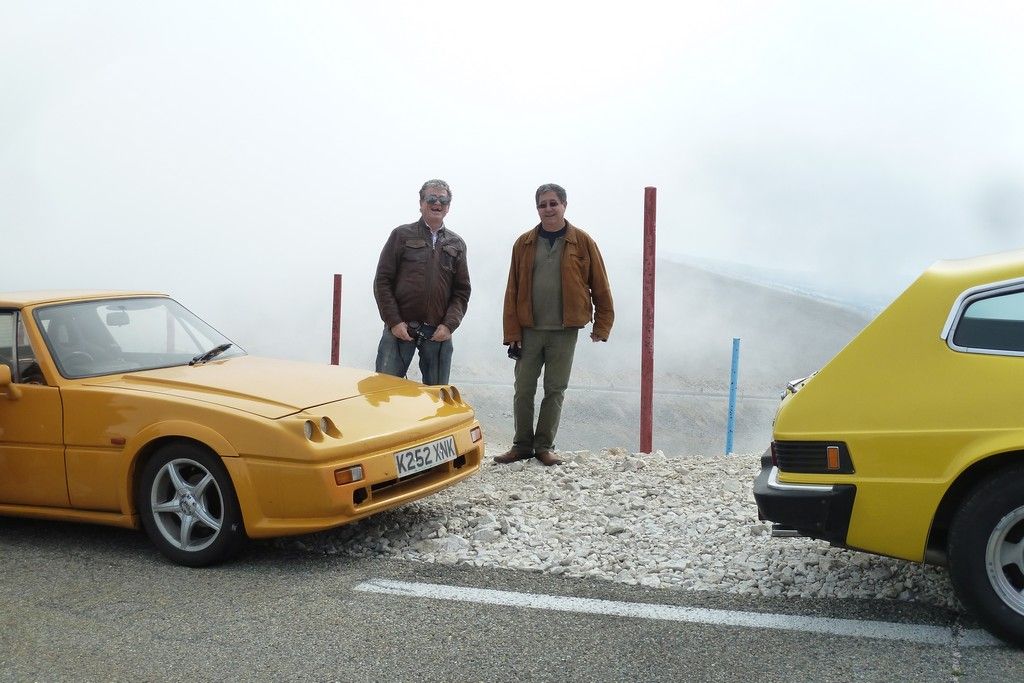 Scimitars started moving again and heading to the other side of the mountain to drive down to Bedoin where our lunch was waiting … but
FS
decided that she would not start (!) After a good dozen trials – and having reversed to try facing the road downhill just in case – we heard a 'clonk' from the tank (!) … aahh, how about pressure in the tank ? opening the cap let the pressure stabilize, and another couple of trials got her started, success (!) Jorg joined me on the trip down, and we managed to cover the ~ 10 km without major issue, except for brakes getting a bit hot and engine starting to 'hunt' the revs when we were crossing villages. Viv and
Kinky
followed without problem – still loud though – We met Chris & Louiza on the car park of a pub – they were waiting for brakes to cool down – and after another short break and talking to French tourists, we eventually arrived at the restaurant in Piolenc … phew. I managed to hit the road right in front of the restaurant because of some stupid bump not advertized
Anyway, it was time for an enjoyable meal.
The Sortie SouthoFrance being over just after lunch, we all split into different directions … Viv and I taking Jorg back to his car which was parked near the petrol station at Malaucene.
FS
started playing funny on the road, loosing power suddenly and with the revs hunting more and more as we arrived in the city … she could not keep up the revs and stalled a couple of times at stops and crossroads – oh the shame
– I managed to restart her each time, but each time being more difficult … and the last 200 m were covered with the engine stalled (!) as the road was gently going downhill. A quick push in the middle of the very last roundabout (cheered by the horns of a dozen VW beetles & buggies
) and
FS
was parked right in front of the petrol station. We spent almost an hour trying to revive her … checking all the usual suspects: coil, leads, plugs, carburetor, filters, choke, loose connections, etc. The car had been fully serviced before the trip so all fluids, sparks and filters should be OK … but the carburetor seemed to have been forgotten (only the air filter had been well cleaned) … so we checked all that and after removing the air filter and feeding the carb with a good flask of petrol,
FS
eventually willed to start again, yet hunting on the low revs again (…) We needed to jump-lead the battery of course – after so many trials -
Photo courtesy of Jorg Schumbert:
Photo courtesy of Jorg Schumbert: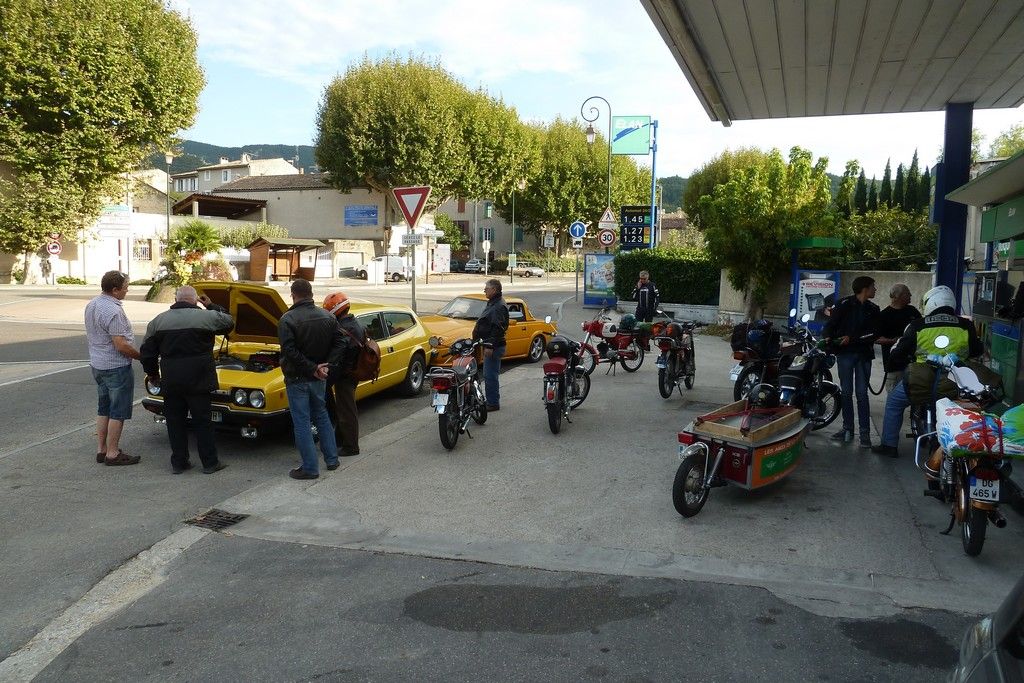 We decided to challenge the last section of journey for the day (another 120 miles !) and rushed before the sun would go down. Just one detail: I have owned a few automatic cars and rented many more in various countries … but never bothered learning how to drive with the two feet (left on the brake), so Viv drove
FS
while I slipped into
Kinky
's driver seat (!)
Needless to say, we were en route for a memorable journey … very tiring, but interesting !
Jorg followed us until Cavaillon before our roads split, and we kept driving to the East … no navigation system, just the section of map memorized – it helps to be a geologist sometimes – Apart from Cavaillon which was a bit tricky to cross, the rest of the road was not too hard to find … only a couple of stops were necessary on the final last 50 km, when we were in the middle of the bush at night, under the rain and looking for very small country roads (…)
Oh well, we made it at last … and we did not even get lost (!) The wild boars, the rain and the never ending winding roads were a bit of a worry for me driving
Kinky
for the first time, but apart from the exhaust sound and the low beams … I loved it very much !! I reckon that Viv has suffered more than me, driving the bloody
FS
Oh, by the way we had to refill petrol (again) on the way … and of course
FS
stalled at the station and needed to be restarted with the leads (!) which means I had to enter into the station of the shopping center from the exit, almost blocking traffic (…) Luckily no one called the police, but the old lady who was waiting beside us seemed a bit worried
Arrived at 23:00 at the Auberge de la Tour in Aups … parked both cars on the public car park in front of the church, and had a couple of beers to conclude the day !! The owner was waiting for us – I had called him on the way of course – and closed the hotel gate behind us, phew, what a day !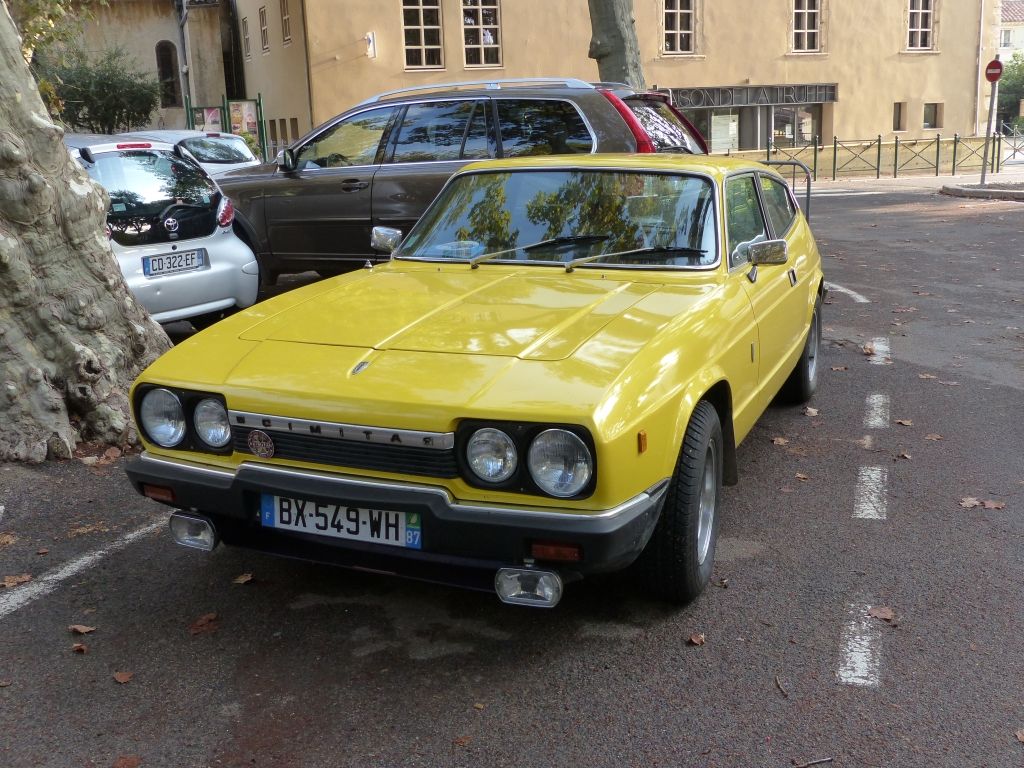 Day 5 (Monday 28th)
mileage: 660 to 675 ( 15 miles ! )
After a good night sleep, we enjoyed a typical french breakfast at the Auberge and called Phil Mason to ask if we could use his workshop in the day in order to fix the cars, rather than touring down the Gorges du Verdon as per the planning. Phil welcomed us and told us to help ourselves with the tools and facilities, as he was himself busy with work and away most of the day. So here we started evaluating the situation on both cars.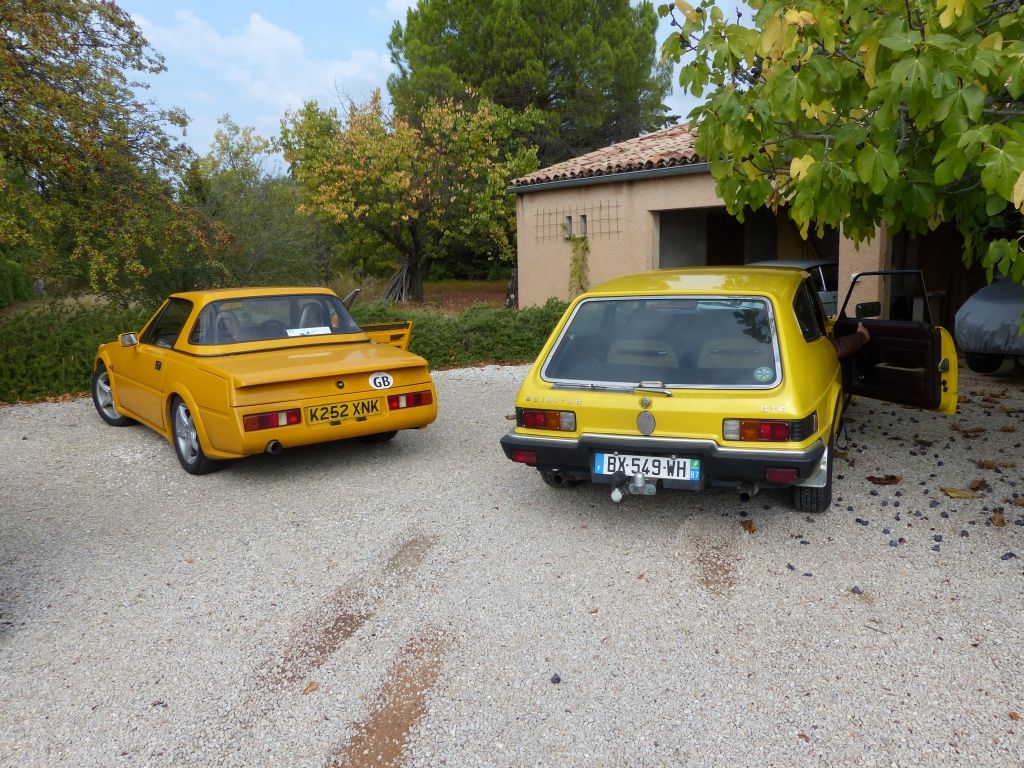 FS
was first put up on jacks in order to inspect the underneath, making sure that nothing bad had happened to her when hitting the bump on Sunday … fortunately nothing wrong with it, phew. While her battery was put on charge, Viv checked again all connexions, leads, and replaced the coil by a spare one borrowed from Phil. Later in the day, after enough charging we took
FS
downtown to go and buy some carb cleaner, but all we could find was injectors cleaner – well better than nothing – at the local Intermarche (visited two garages who said that they do not have carb cleaner but maybe we could find some in Draguigan, 40 miles away!).
Back to the worshop, cleaned the filthy fuel filter and put some of the injectors cleaner in the carb to see what happens … next trials on starting gave us huge clouds of black smoke, idle speed was OK (Viv set it high ~ 1000 on purpose) but when engaging drive or reverse she would still start hunting and stall unless reving up. We poured the remaining of the cleaner in the tank and test drived her on the near roads … while she was still hesitating at low revs, the engine was running fine above 2000 and pushing hard, no problem at high speed … fortunately there were no policemen around (er …) On that occasion Viv taught me how to drive with two feet instead of one, and after a bit of practice it's in fact very easy … but so unusual at the beginning – I made quite a few harsh stops at crossroads, ah ah - Conclusion of the day concerning
FS
: let the cleaner do its job and see what happens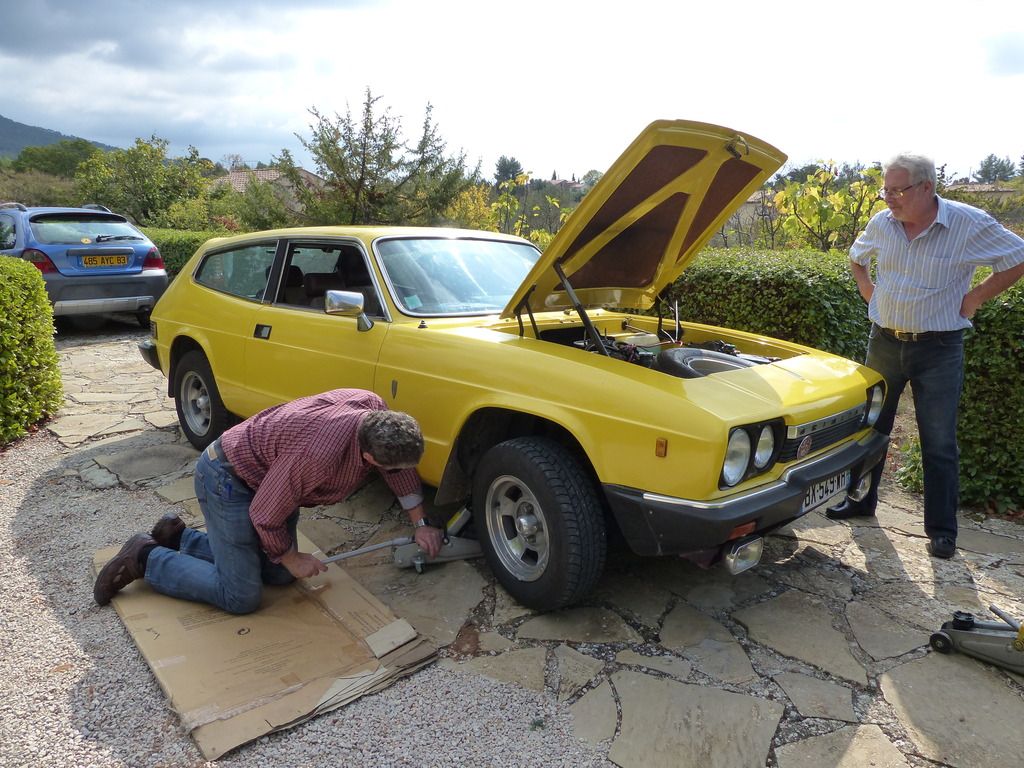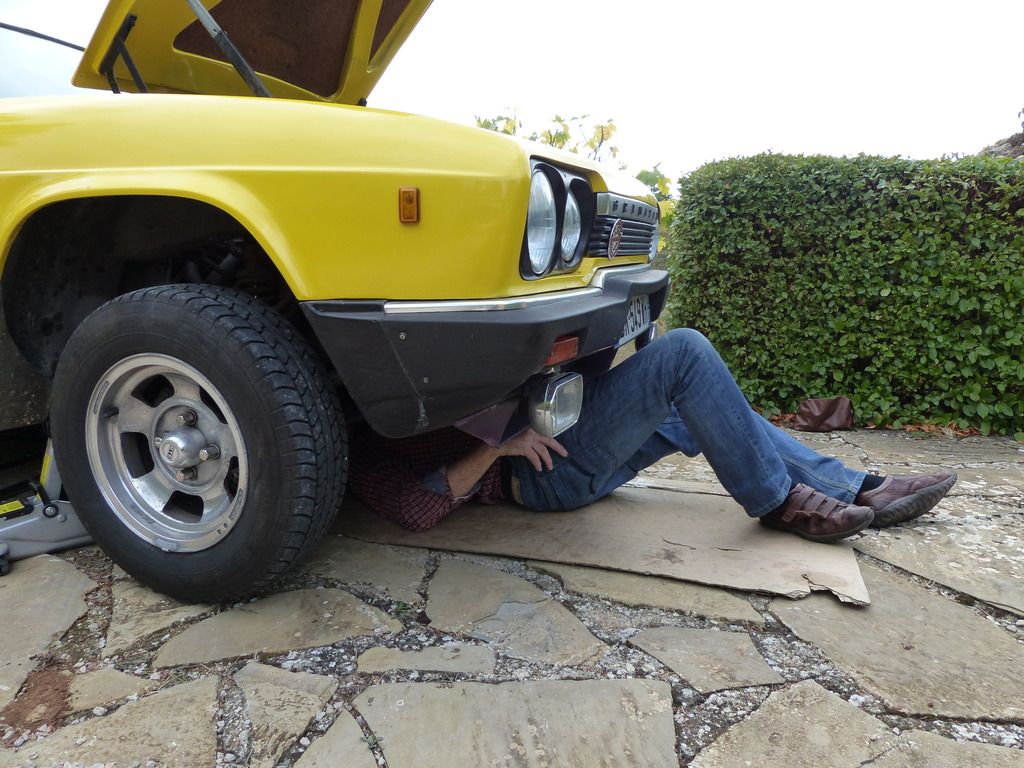 Kinky
was also put on the jacks so that Viv could check the exhaust line and turbo from underneath, nothing wrong apparently on this side … so it's got the be the manifolds ! After 10' of fighting with the 4 bloody nuts that were holding the heat shield above the manifolds, Viv discovered the disaster … well he probably 'knew' already but now he had the proof: two studs had broken in place, another was gone … and the gasket between manifolds and turbo had also gone (!) The heat had started to damage the bottom of the distributor and a few electric connections showed signs of melting. A bigger job than expected, and the main problem was … can we get the gasket in France ? A few calls to local Nissan dealers to find out, but no luck … only one guy understood what we were looking for, but he would have to order the part from overseas and it would take 3 or 4 days to have it delivered, too long !
So Viv called Nigel at QRG and had the gasket + set of studs shipped highest priority so that we would received them the next day (!) Knowing that he could only fix
Kinky
on Tuesday, Viv started preparing the job, i.e drilling out the remaining studs, making sure that the thread was still in place in the manifolds, etc. all this with the manifolds still in place as we did not want to challenge yet another problem by removing them … so it was a bloody fight in a tight place, with almost no room to use proper tools. By the end of the afternoon .. only one stud had been removed !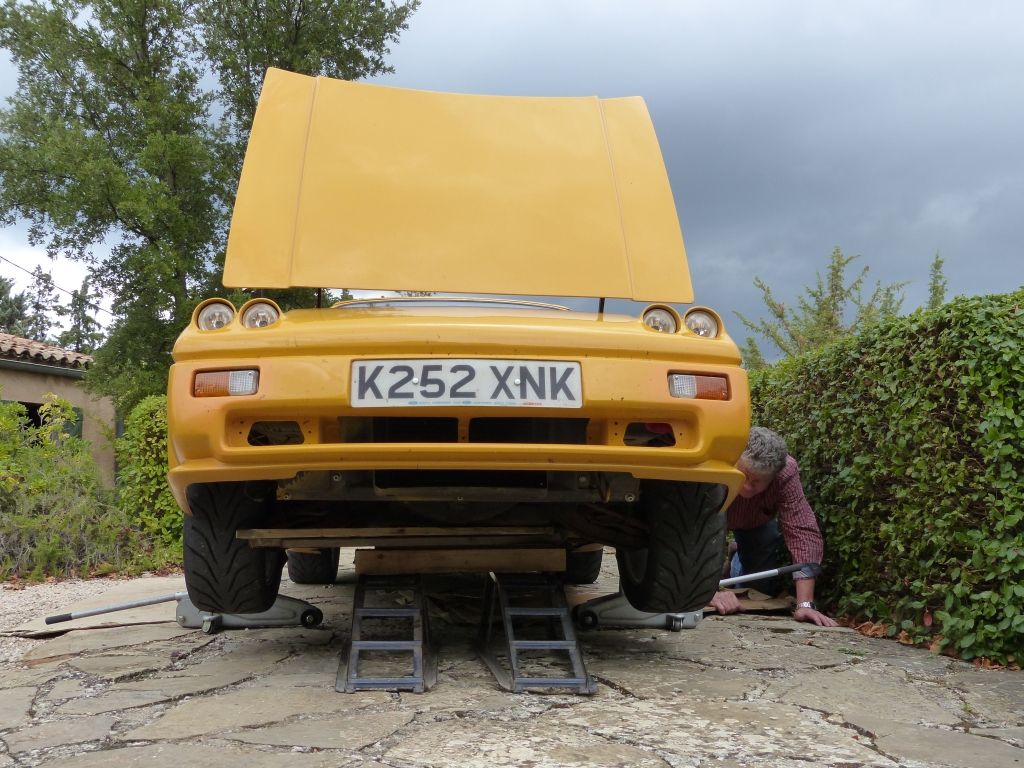 Since we had been living on apples and figs all day – the figs were literally falling on the cars as we worked – we enjoyed a nice aperitif with the Masons, and Ros treated us with a nice meal in the evening - thanks for those pastas Ros, they were absolutely superb ! –
We managed to drive back to the city in the
FS
, followed by a heavy black smoke … oops.
Fortunately I had booked two nights at the same place, so we were still on schedule even though we'd missed the Verdon. I enjoyed the day anyway, a good lesson in mechanics for me … learnt quite a bit
The day ended with the usual beer at the Auberge's bar !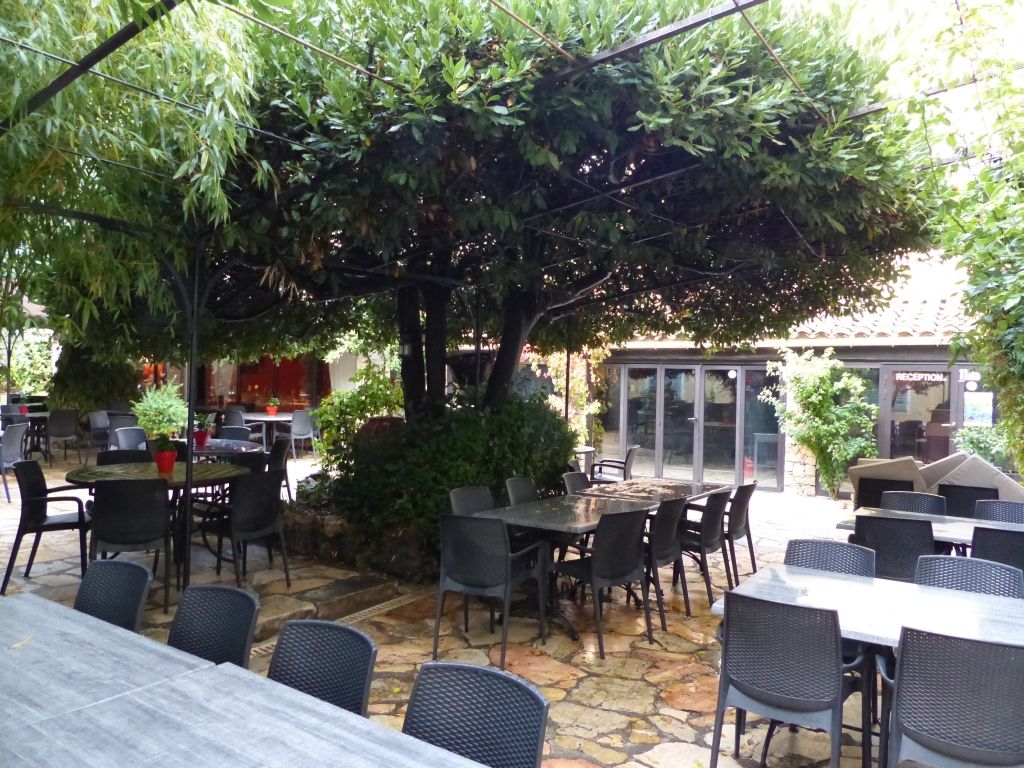 Day 6 (Tuesday 29th)
mileage: 675 to 680 ( 5 miles !)
After another good breakfast, it was time for checking out … I asked the owner if he would still have two rooms for the evening 'just in case', explaining about the situation. He was very understanding and said that he'd keep two rooms ready anyway – no charge if we do not show – but that hopefully we should be able to fix the car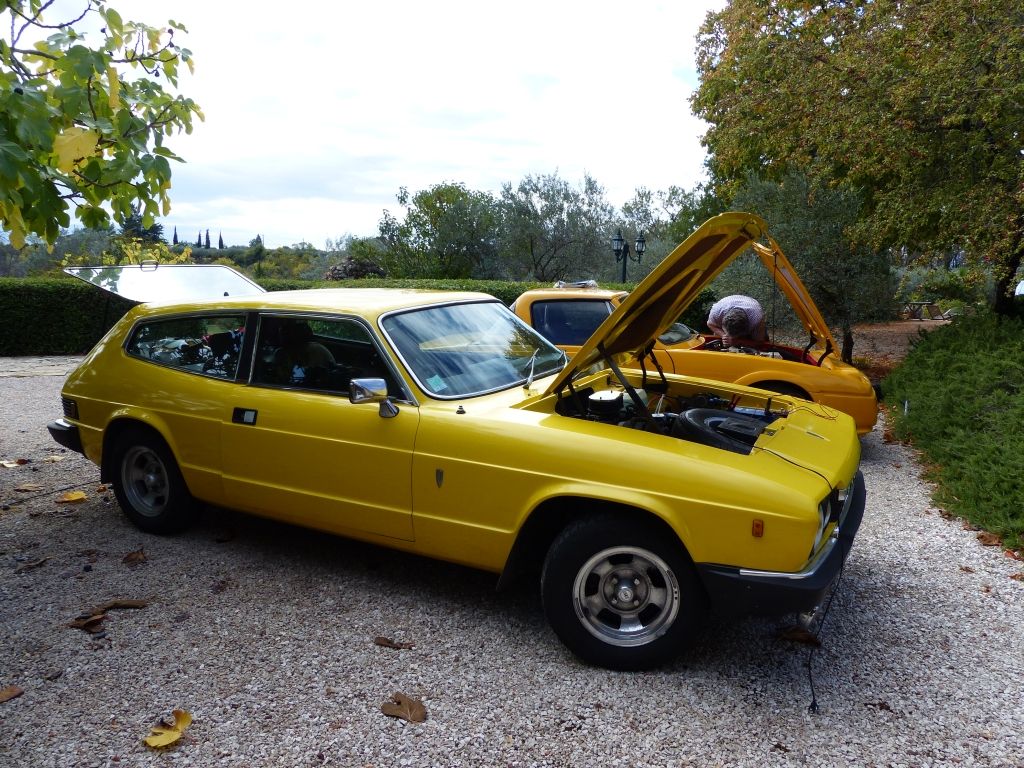 So here we were again at Phil's place, and I was starting to get used to driving two-feet … which was necessary since
FS
was still hunting on the low revs. Viv decided to proceed with another good cleaning & reset of the carburetor settings … to make sure that we get the idle right and possibly tune it up a little bit. Air filter removed, a bit of magic cleaner down the carb's throat with a toothbrush … and testing. Now for the big surprise !
a/ the settings were absolutely wrong: while the 2 screws should be about 3 and a half turns, they were actually at 5 turns (!) … way too rich !
b/ moreover, and Viv just could not believe it … the choke was fixed the other way around !! by the look of it, some PO or mechanic had removed the auto-choke – which is common practice – and replaced it with a manual choke … but put it the wrong way
So the car had been driving with choke ON ever since the auto-choke had been dismantled !! Which means that the engine is going to need a good cleaning ! Until I get the proper part and put back the choke in normal conditions, I'll make sure to pull the choke … which means turning it OFF
Lucky that Viv noticed that the 'butterflies' were in the wrong position when we did our tests !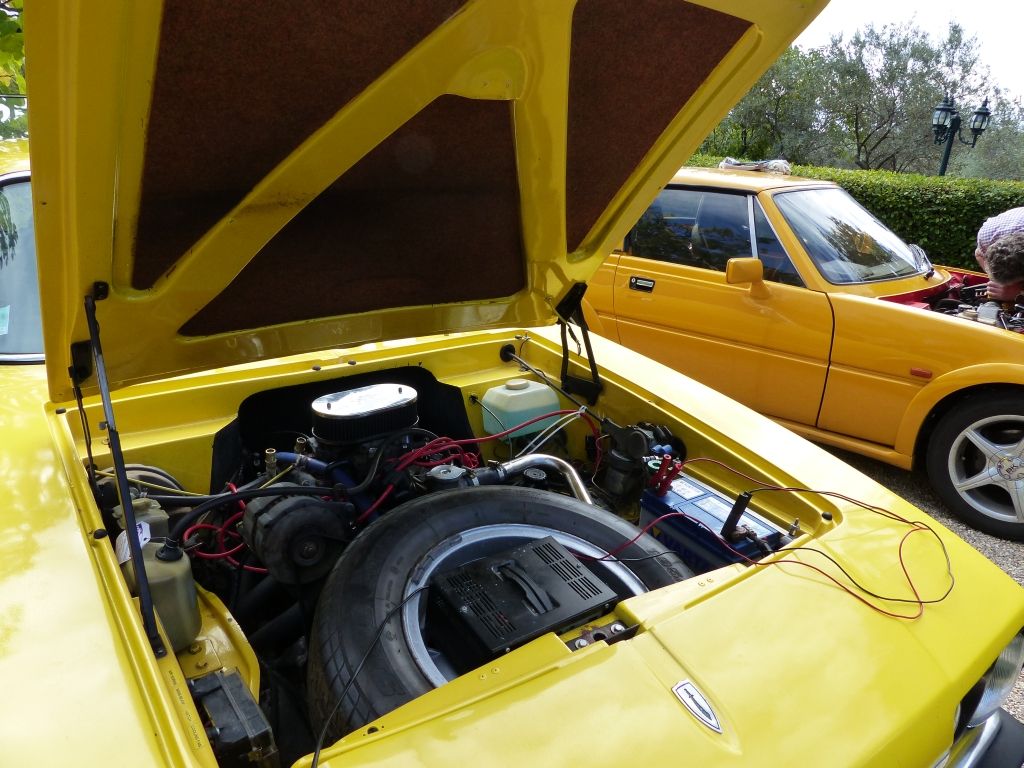 Now back to
Kinky
who still needed to have a couple of nuts/studs removed before the parcel arrives ! After moving a maximum of stuff away from the turbo (the distributor, the expansion bottle, the electric cables, etc.) to get a little bit more room … Viv started fighting again those bloody nuts ! Amazing what you need for this purpose: screwdrivers, spanners, pliers, driller, grinder, WD40 … and a whole bunch of curses ! A couple of hours later, the job was looking good and all we were waiting for was the bloody parcel … by now you have guessed, it would not make it that day
A quick call to Nigel, asking which courrier cie had been used (Fedex, TNT?) … oh no, it was sent by the post office in 1st class ! Which meant that it certainly left the UK quickly, but would probably be processed as standard mail on the French side … and the postman had already been here, so forget it for the day !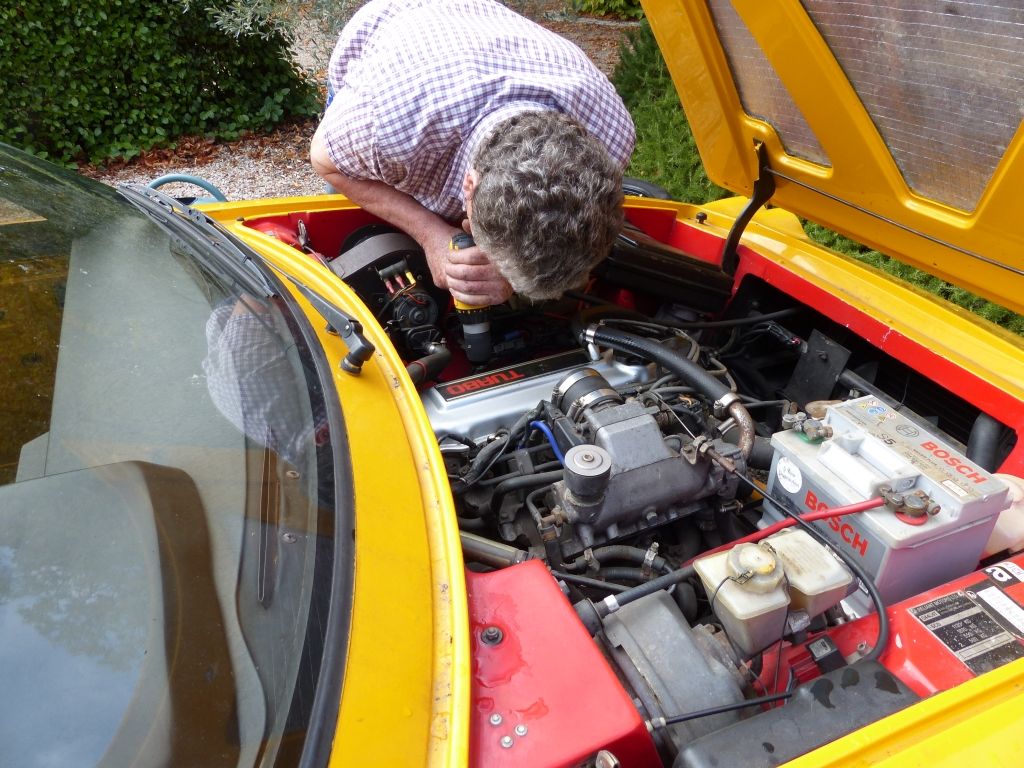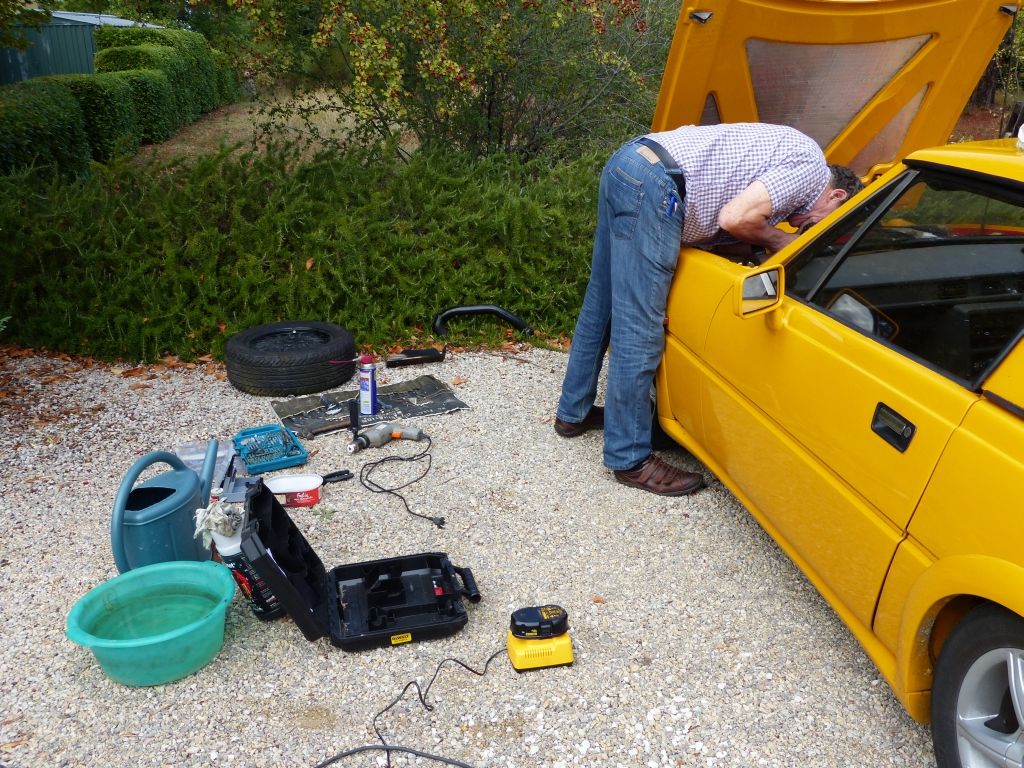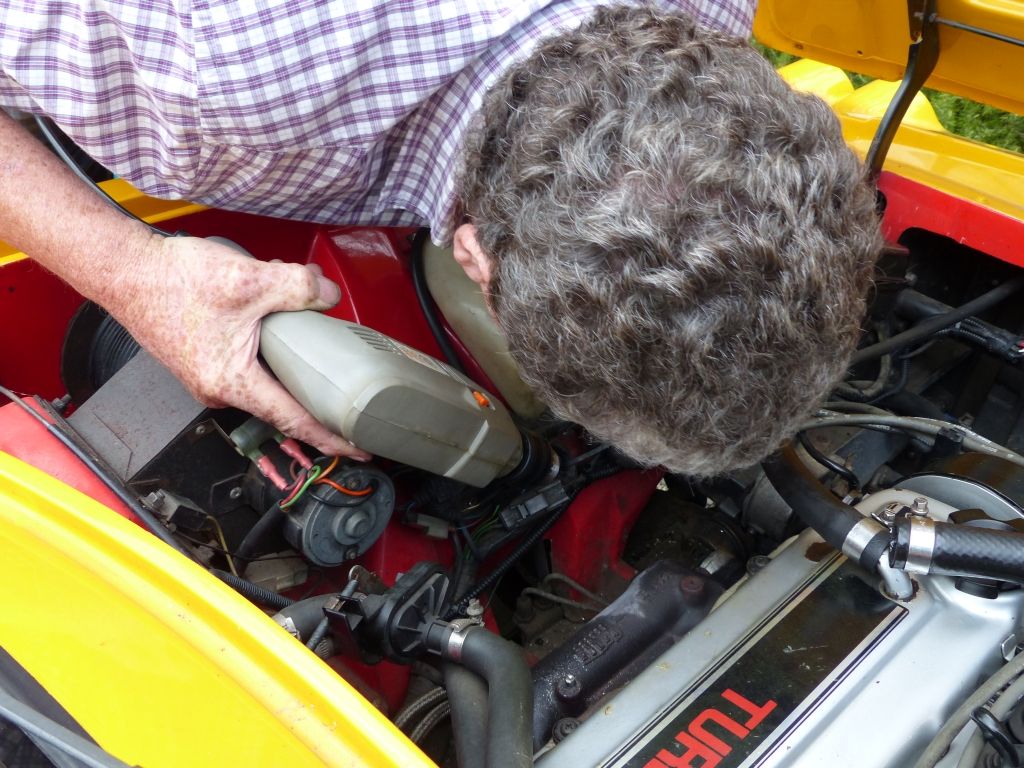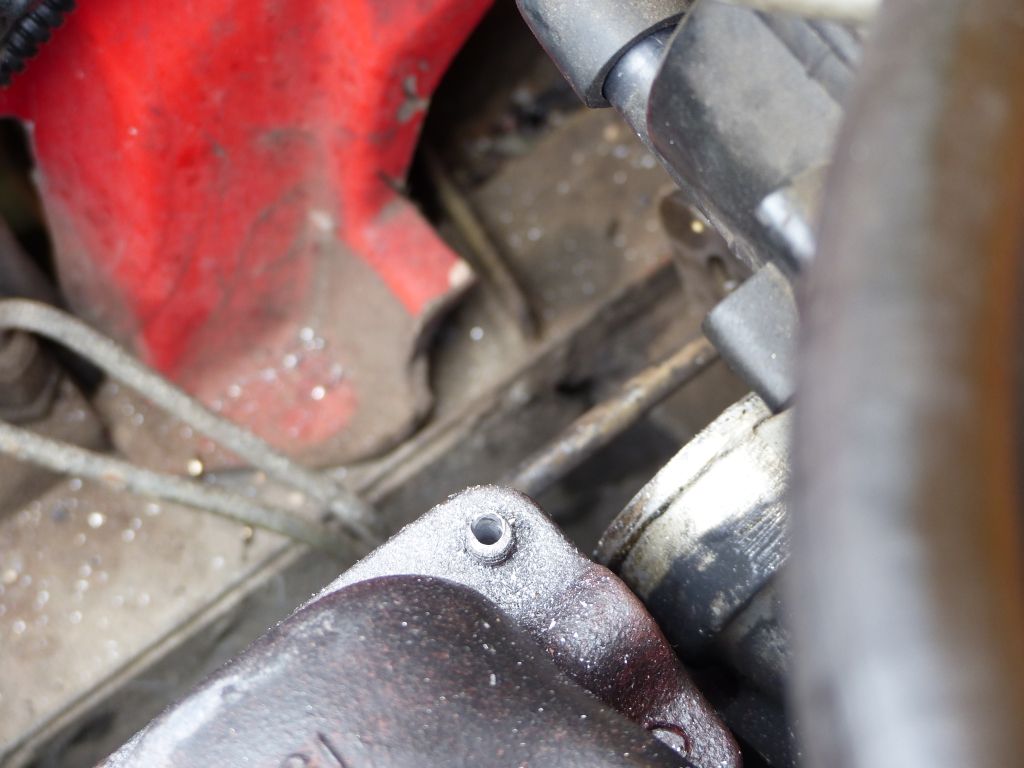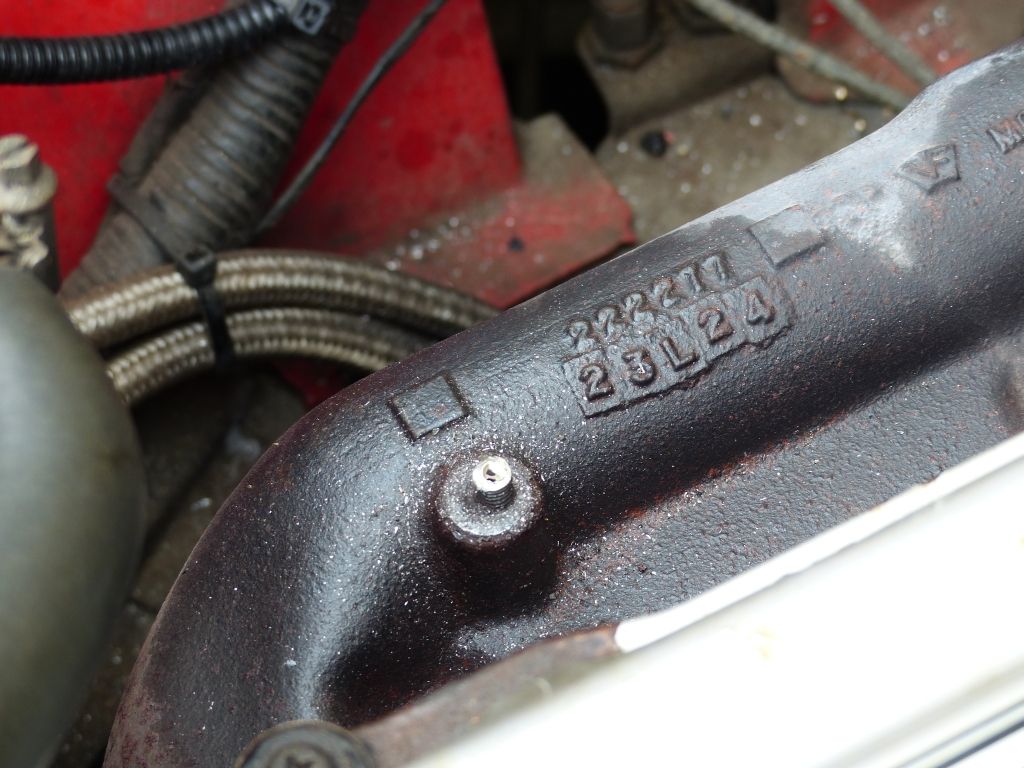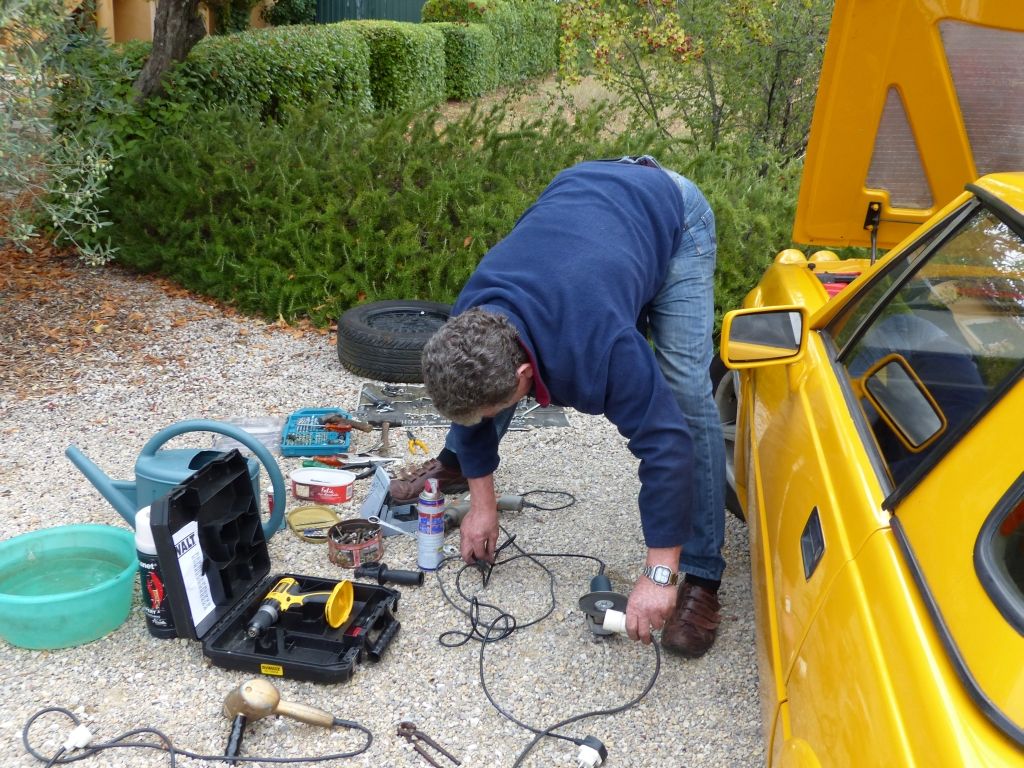 Another quick call to the Auberge to confirm that we'd be staying one more night, an attempt to cancel the next hotel that was booked near Nice, but that was too late (…) … and here we were again on the way to Aups. This night we treated us with a nice meal at the restaurant
Le Provencal
– highly recommended if you ever come in this city – and a nice bottle of wine
Day 7 (Wednesday 30th)
mileage: 680 to 719 (39 miles … wow)
Breakfast, check-out, book two rooms again 'just in case', start
FS
and make sure that choke is ON (well … OFF) and back to Phil's workshop … easy
I gave a quick call to Chris Johnson and let him know that we would not be able to come and see him as scheduled … instead we would wait for the postman ! I left a sign and message at the gate, so that we could safely work at the workshop and be warned when the post truck arrives, so we killed time in the morning by cleaning the cars … what else to do ? Once
Kinky
was shining, we visited Phil's huge garden, full of trees (apples, figs, almonds, quinces, kaki, hazelnuts … and of course plenty of olives !) … and also visited by wild boars !
Time was passing without news, and since the Masons were not at home, we payed a visit to the neighborhood … coming back every 20' to the mailbox which remained desperately empty.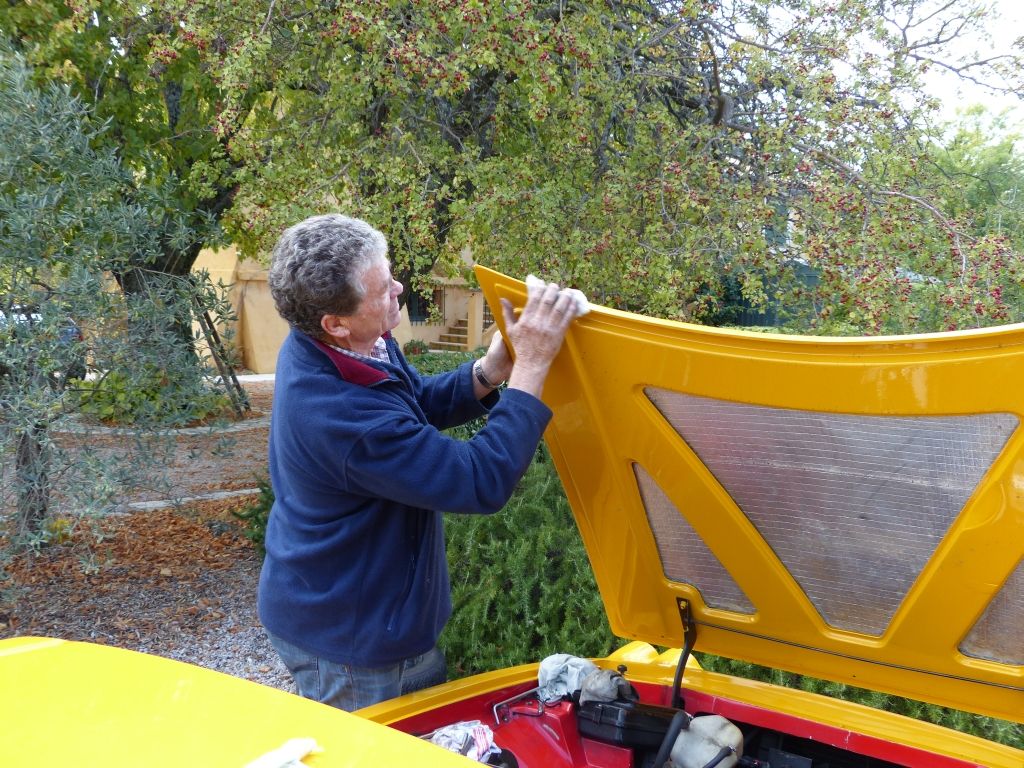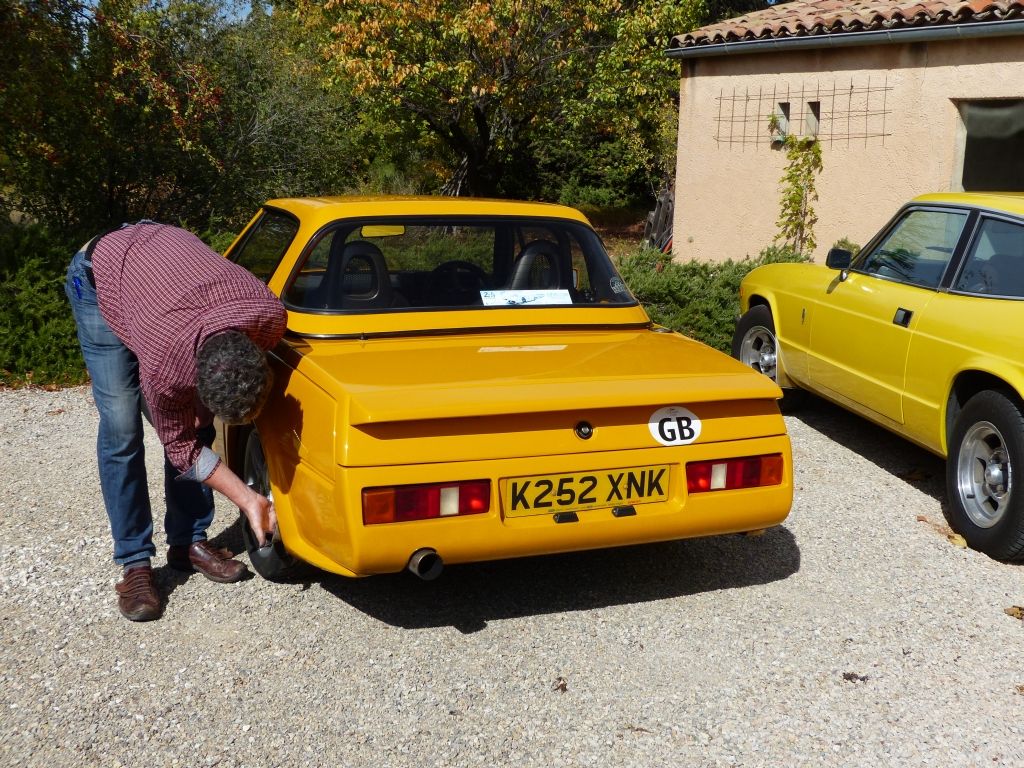 Nothing coming by 14:30 it became obvious that we would be stuck one more day … so we decided to go for a drive in
FS
, clean her lungs on the mountain road leading to the Lac de Sainte-Croix … and off we went ! Viv and I shared the driving, but I was now getting good enough – not really good, but efficient – at driving with the two feet
We stopped at a bar by the lakeside and spent a couple of hours just relaxing, enjoying beers and talking to the tourists (Austrian, French and English) … time was flying and we happened to stay at the same place for dinner, sharing our table with an English couple … By 10:30 it was time to head back to the Auberge in Aups, and that was an interesting night drive with a huge boar standing firm and not moving right in the middle of the road … luckily I spotted it easily thanks to the high beams of
FS
According to the planning we should have been at the heart of Camargue this evening … oh well …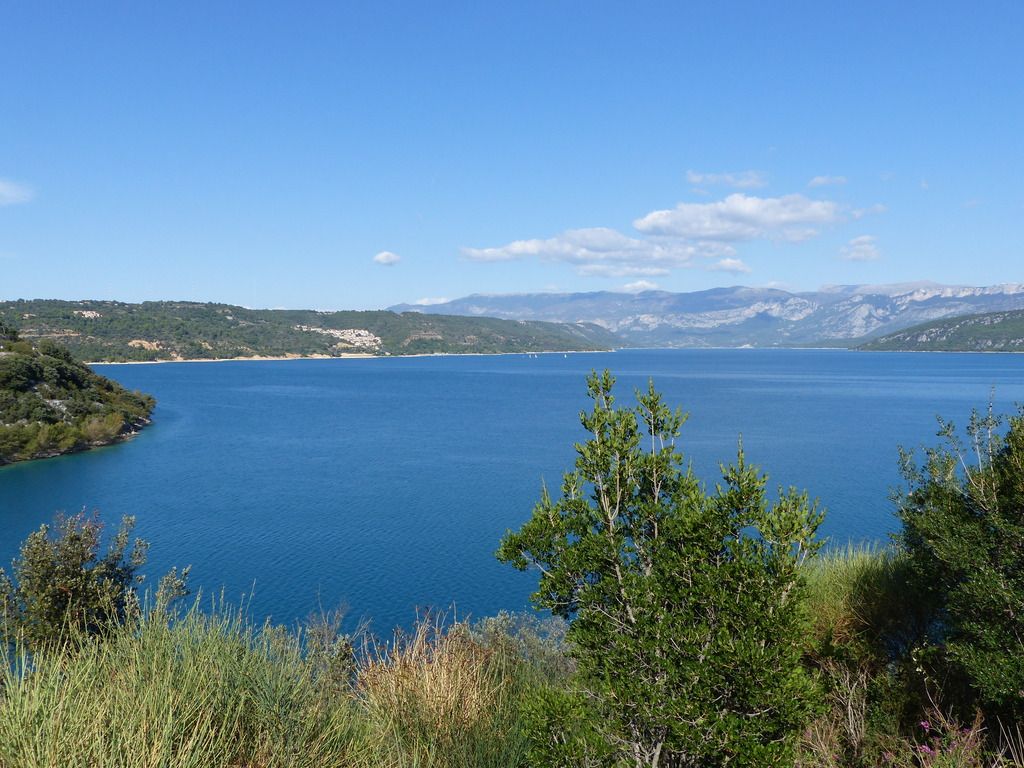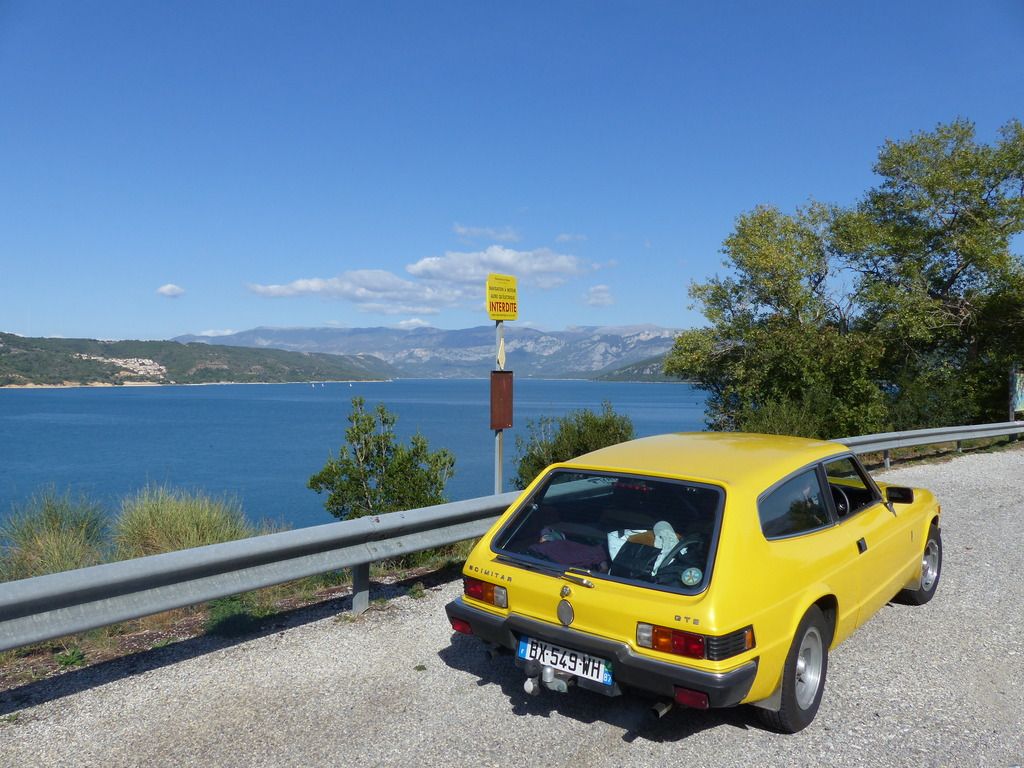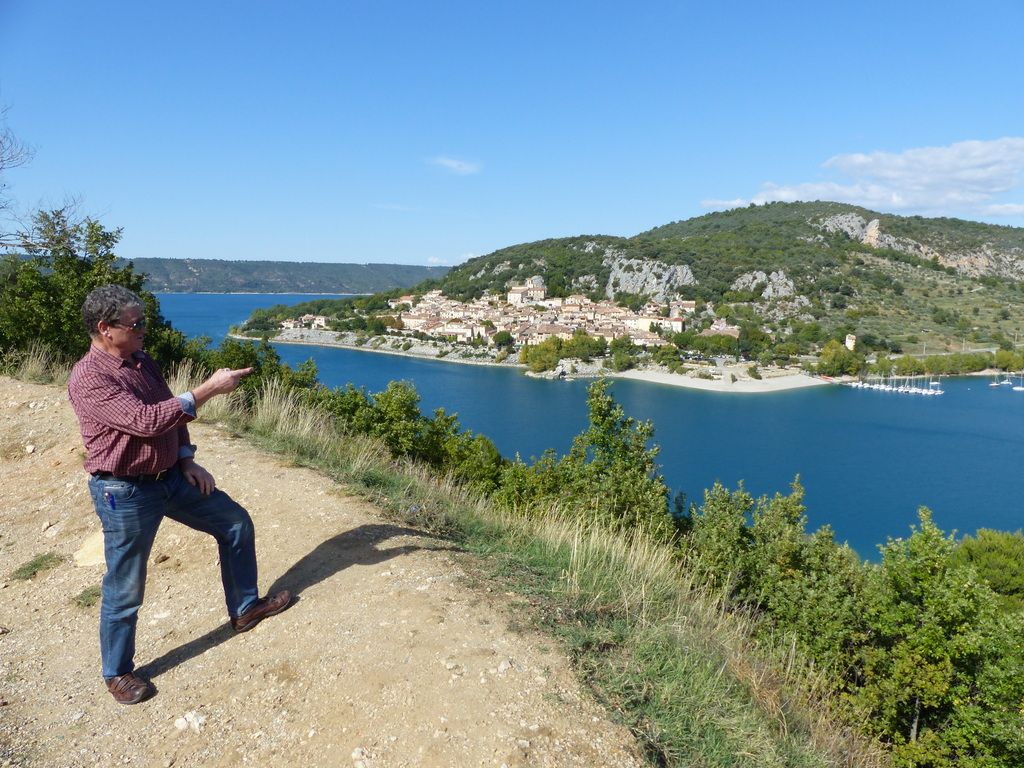 Day 8 (Thursday 1st )
mileage: 719 to 855 (136 miles)
This time, it was the 4th and last check-out at the Auberge !
First thing in the morning, we rushed to Phil's place … who must have believed that we would stay for the whole winter
Another quiet morning actually, still waiting … and then came the postman down the road. He must have been worried when he saw us dancing in the alley leading to the gate !! But yes, he had the parcel with him, so we were back in business … at 12:30
After nearly 3 hours of work, Viv managed to put the gasket on – had to cut a corner though as one last stud was broken inside the manifold and could not be removed – and thightened the whole thing with 1 new stud + 2 new nuts & bolts … not an easy task, but after much sweating everything was in place again … and
Kinky
started immediately, with a much nicer sound … the first time that I could hear its normal purr actually
A quick call to the next hotel to confirm that we should make it 'almost in time' for check-in, and we left Phil's place, refilled both tanks in Aups to be safe, and drove south towards the nearest freeway. Viv was happy to have
Kinky
back on the road and fully operational, unfortunately he had to refrain on the throttle as he was following me
The tollgate at the entrance of the freeway was a challenge,
FS
stalled one more time despite my attempts to keep her reving … but she agreed to start again with a HUUUGE cloud of black smoke in the nose of the car behind! As soon as we were on the freeway, she was happy with the pace … and cruising nicely at 80 to 90 mph
The 100 miles of freeway at that pace did help in cleaning the engine and exhaust pipes, Viv told me that many times big black clouds came out … and that he laughed at looking the face of the other drivers that
FS
had overtaken
Crossing Avignon was a bit of a worry to me as we got stuck half an hour in traffic jams, but my skills improving I managed to keep her running, and as soon as we hit the outskirts of the city,
FS
was happy to catch 3000rpm again … on D roads this time, in the middle of vineyards and forests. After all the whole drive from Aups to Uzes turned out to be most enjoyable, mostly when we came across other classic cars and easily overtook an old Mustang convertible that was cruising at (only) 60 mph ...
We safely arrived at our apartment in Uzes just about 19:30 … they were waiting for us
We then met my friend Jean-Paul – who was with us last year on the Sortie with
Purple
– who lives in Uzes, he was just coming back from the airport since another friend, Martine, was also visiting at the same time ! So we all ended up at a restaurant on the central place of Uzes which is simply beautiful. Nice place, nice food & drink, and nice company … that was the perfect ending for this long & busy day ! finally we were back on schedule, even if we had missed Camargue, ah ah …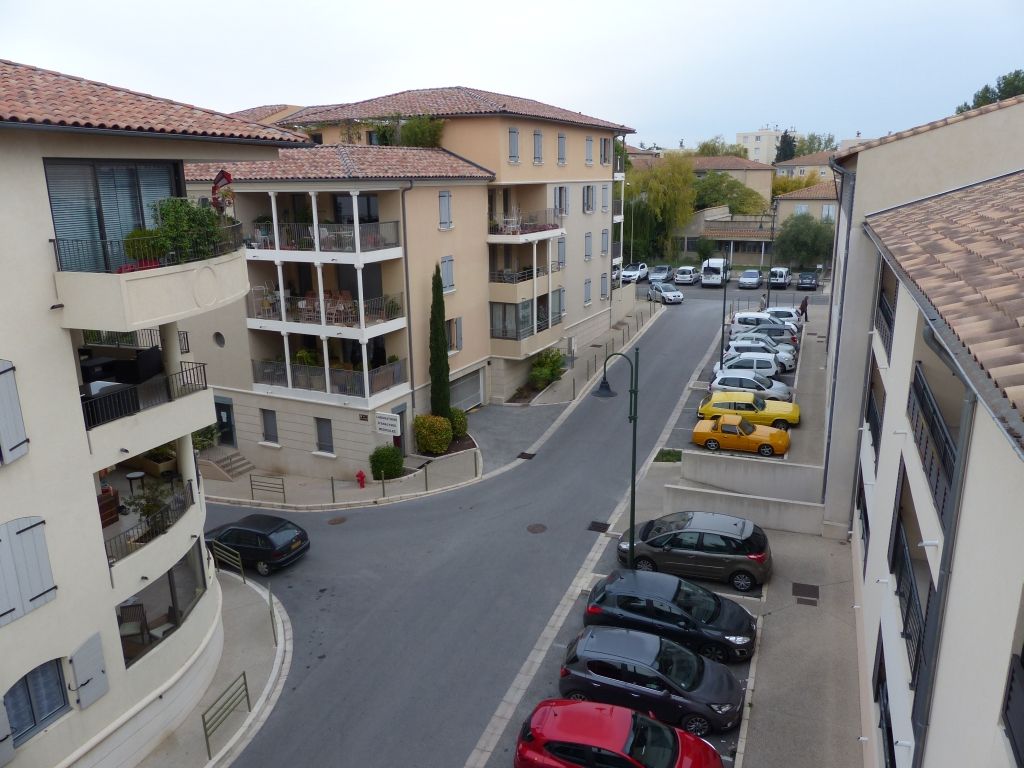 Day 9 (Friday 2nd)
mileage: 855 to 1040 (185 miles)
This morning we really played tourists ! Jean-Paul & Martine came to pick us up at the apartment with the Renault Clio – oops – and we drove 10 miles to go and visit the famous roman
Pont du Gard
. Simply superb … and what an amazing piece of engineering and architecture !! The scenery is beautiful as well, impressive to see how high the river can go during the floodings … you would not like to be there at all, still the bridge had been holding for nearly 2000 years (!)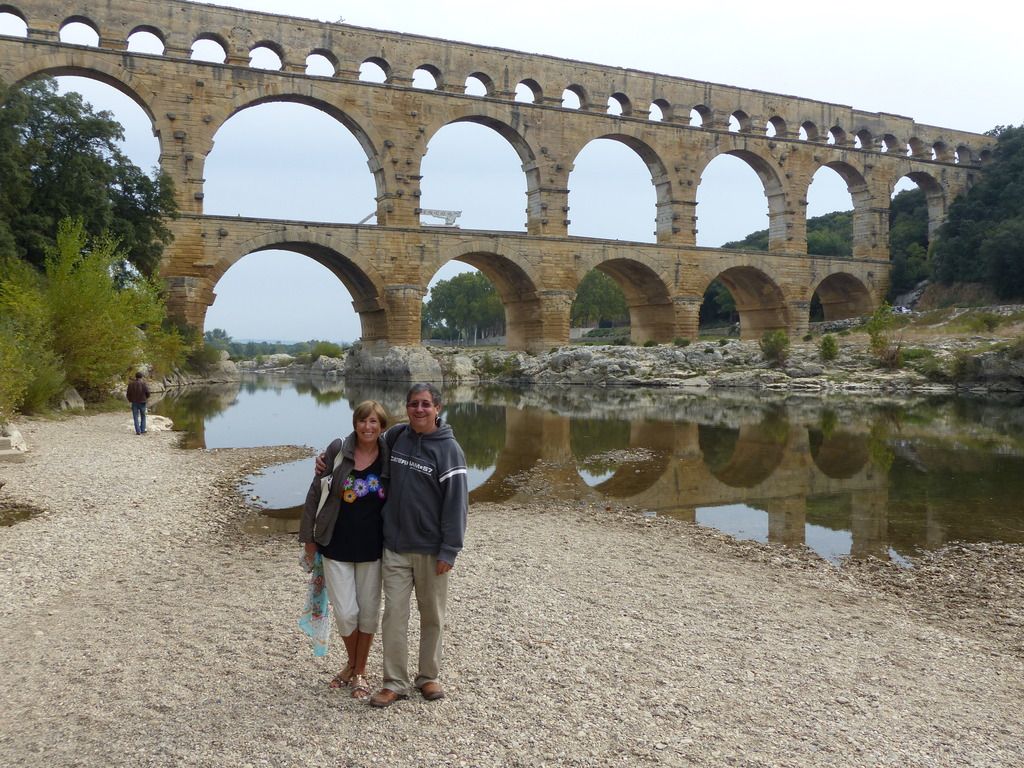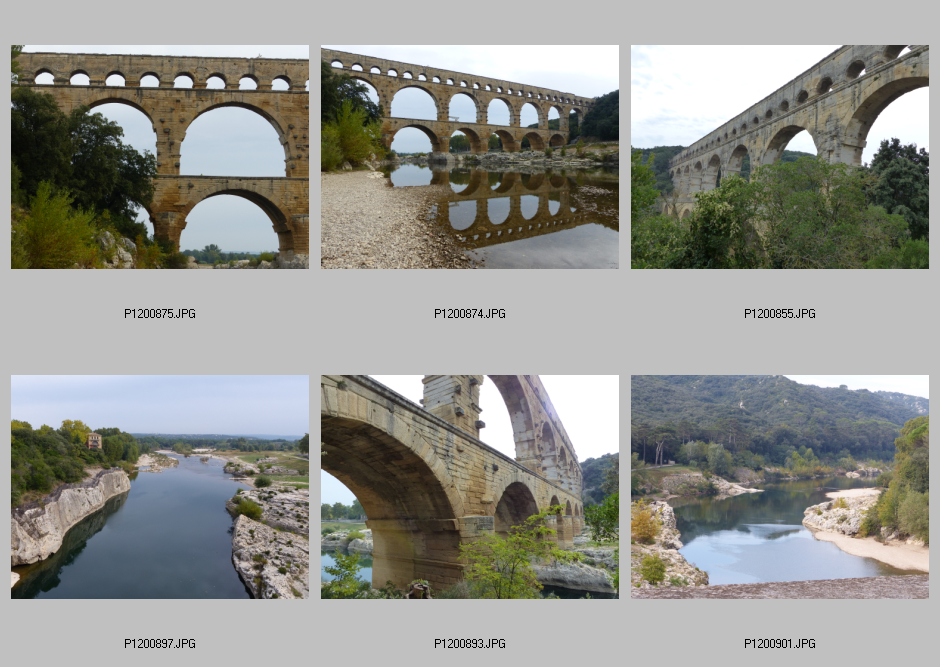 Back to Uzes to pick up our Scimis, we waved good bye to our friends and stopped at the local Carrefour supermarket to buy food for a picnic, and also refill petrol … and I treated
FS
with one extra bottle of carburetor cleaner – which they had at Carrefour ! –
After about 20 miles we found a spot by the roadside to have picnic … right beside a huge field of grape trees … the harvest was over, but several trees still had grapes left over, so dessert was fixed
Actually we saw an old german guy bringing several large plastic bags full of grapes back to his campervan ! Anyway, we made ourselves some easy yet tasty sandwiches with salami and pate, drank some juice and had one glass of Gigondas to finish up the bottle that we had opened on the evening before
A nice break on our way to Lyon, a little rain starting but bothing serious … we were impatient to reach my parents' place and relax before the big day … on Saturday we would have a meeting with Ian and other Scimitarits in Morges !!
Back on the road, crossed Avignon again … and reached the freeway (A7) without any problem. As the rain was starting again and traffic was pretty heavy we drove quietly at about 70 mph … easy pace. All of a sudden I saw
Kinky
rushing ahead of me and thought … "
I knew he could not resist, this is too slow
"
But then Viv was waving at me indicating that we would stop at the next rest area … oh well, maybe he just needed another pit stop
Unfortunately I saw him opening the bonnet of
Kinky
after stopping … and with not an happy face at all … got it, the gasket had blown again
!! While we let the engine cool down, we had a quick drink (of juice) at the shop and starting to make new plans … called Nigel again to order yet another gasket and have it delivered to my office on Monday (…) then started to take off the heat shield again and assess the damages: studs had been holding but got loose, and the bloody gasket – remember that we had to cut a corner because of one stuck stud – had broken in half and came out on the side … one small section of it was gone, but the rest could possibly be aligned again and tightened again (?!) … A couple of hours later, a temporary fix was achieved and Viv was confident enough to drive the remaining 130 miles at low pace.
The traffic was heavy anyway, so we steadily headed back to my parents' place which we reached around 19:30 … avoiding the huge traffic jams in Lyon by taking small roads in the suburbs.
FS
was still grumpy at the traffic lights, but we managed
There was no way that we could possibly join the meeting at Morges, so I warned Ian Lambert that we would be missing, and I tried to cancel the hotel as well for the Saturday but it was too late of course (…)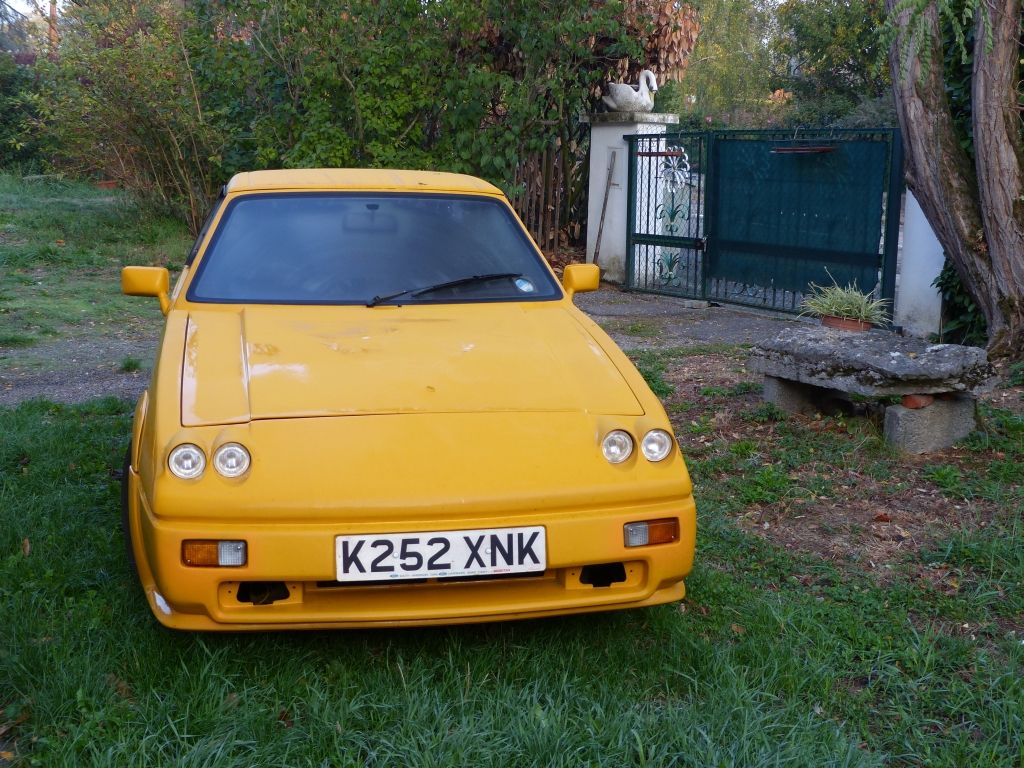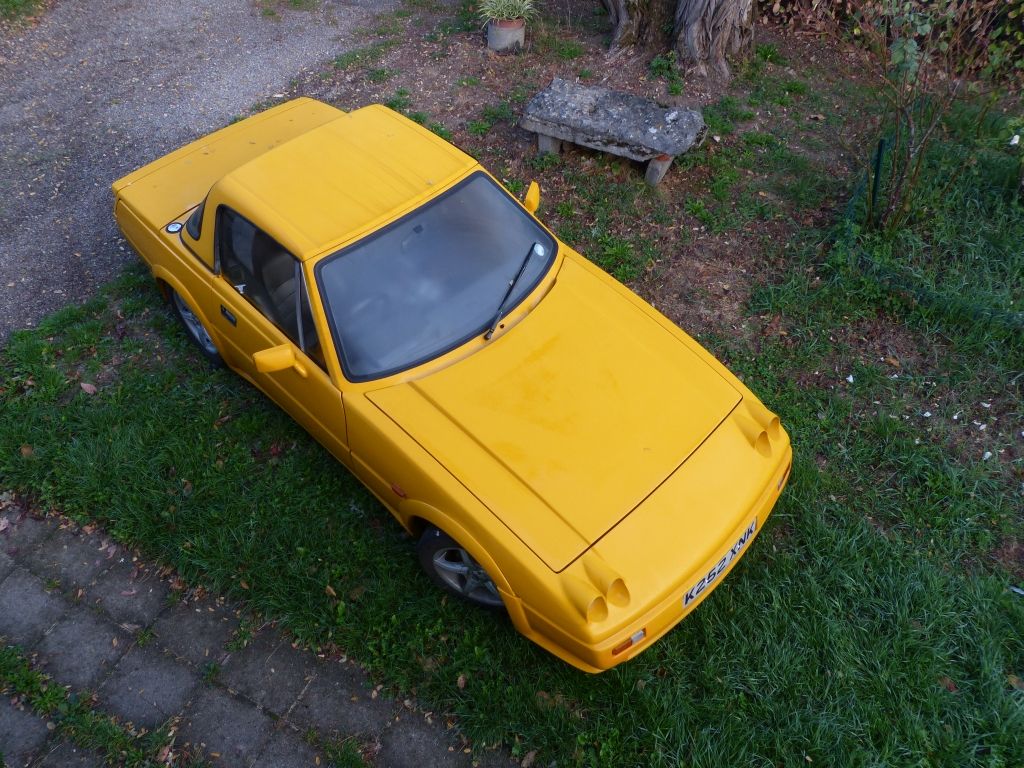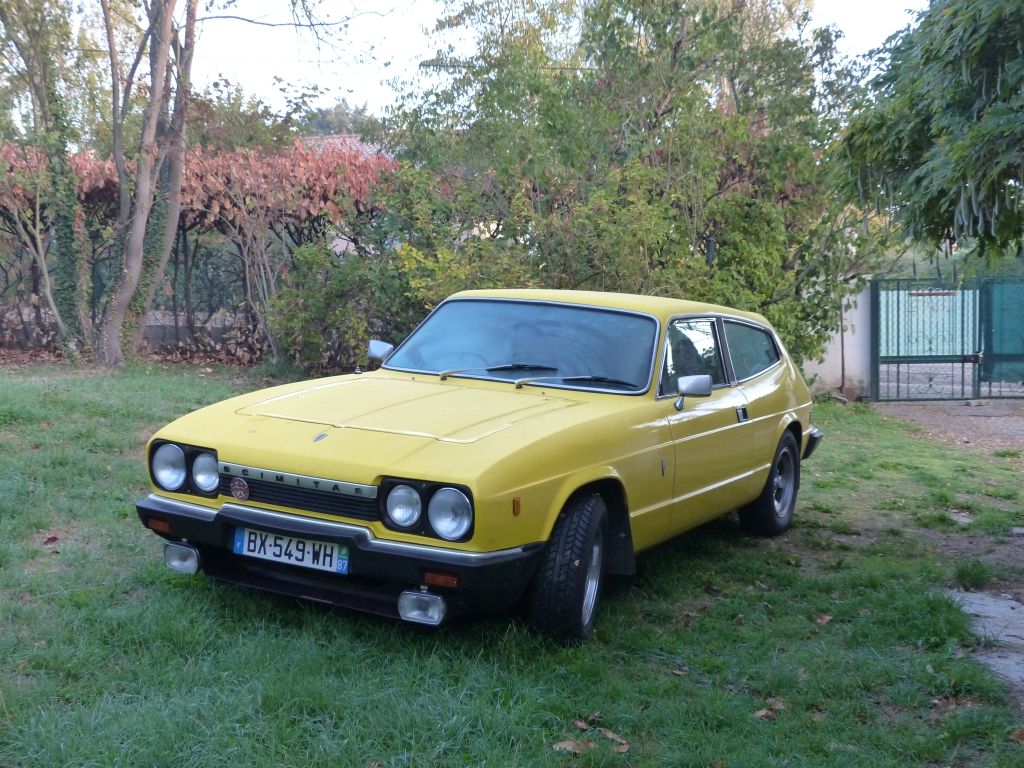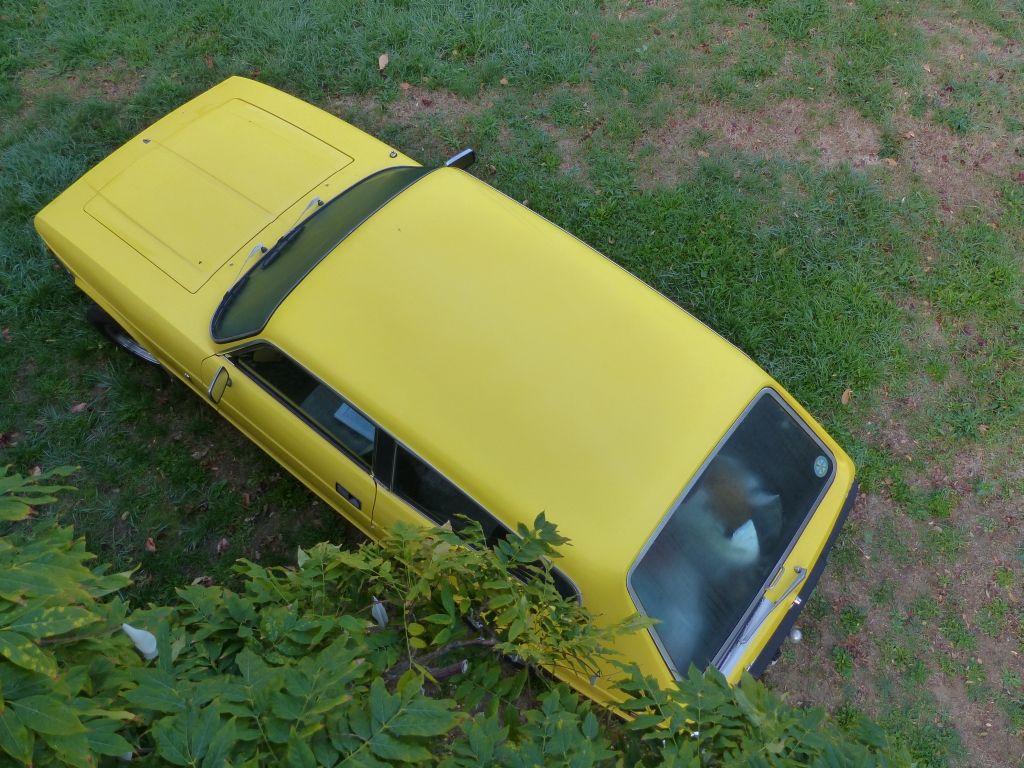 Day 10 (Saturday 3rd)
mileage: 1040 to 1050 ( 10 miles … again)
By the look of it, this was going to be a long week-end at the workshop again !
Viv was wondering if the temporary fix would hold until Fontainebleau – another 250 miles – where he could replace the gasket – if the new one would arrive on time – OR if we should try to make our own gasket out of a piece of copper (!?)
So we headed to the local Castorama shop – a huge place where you can find all sorts of tools and building material – and found what was needed: a few tools that were missing for the planned job, and a nice thick plumber tube in copper (1 m long, 30 mm wide, 2 mm thick, good too make 10 gaskets out of it !) . Back home we started taking out again all that was in the way to access the gasket: pipes, heating shield, distributor … and this time the manifolds were also dismantled since Viv needed to drill out the piece of stud stuck in the manifolds.
This time we would make a complete gasket and fit properly all 4 sides, not just 3 out of 4. Most of the afternoon was spent on preparing the manifolds, and turbo on the other side … and of course making the gasket itself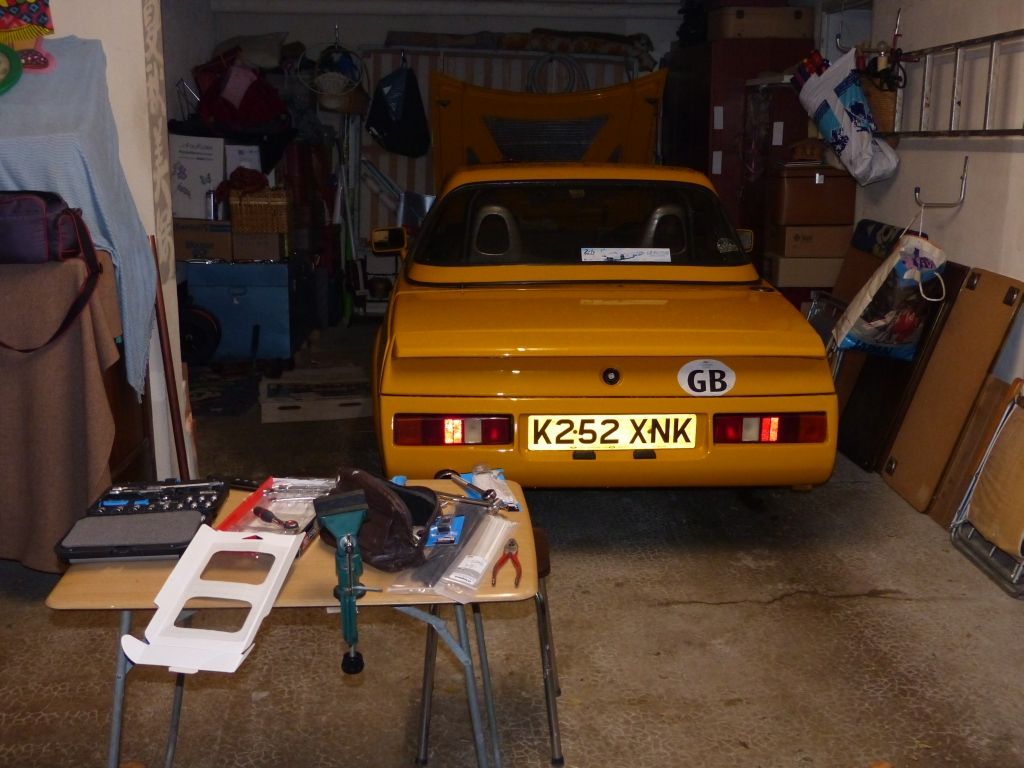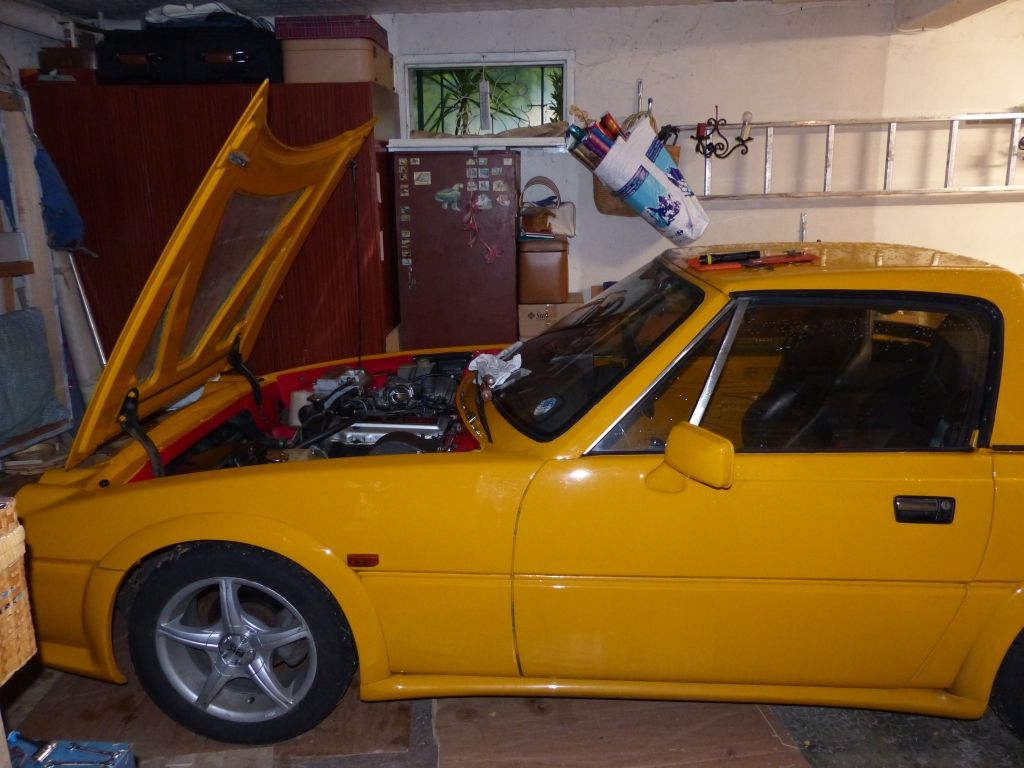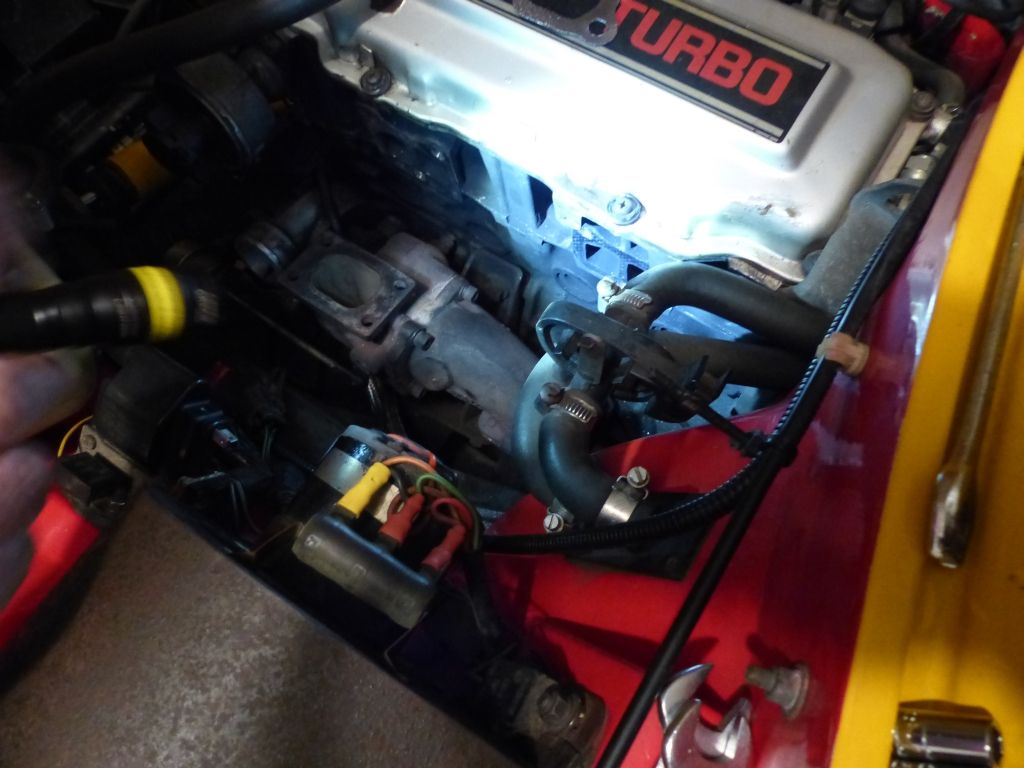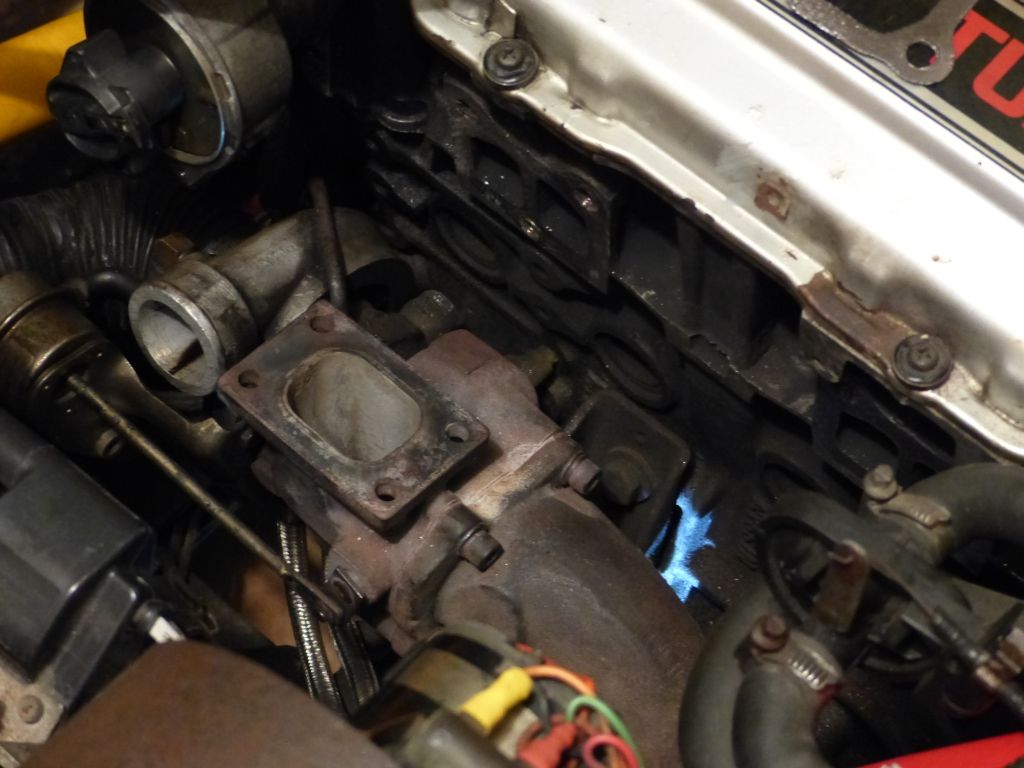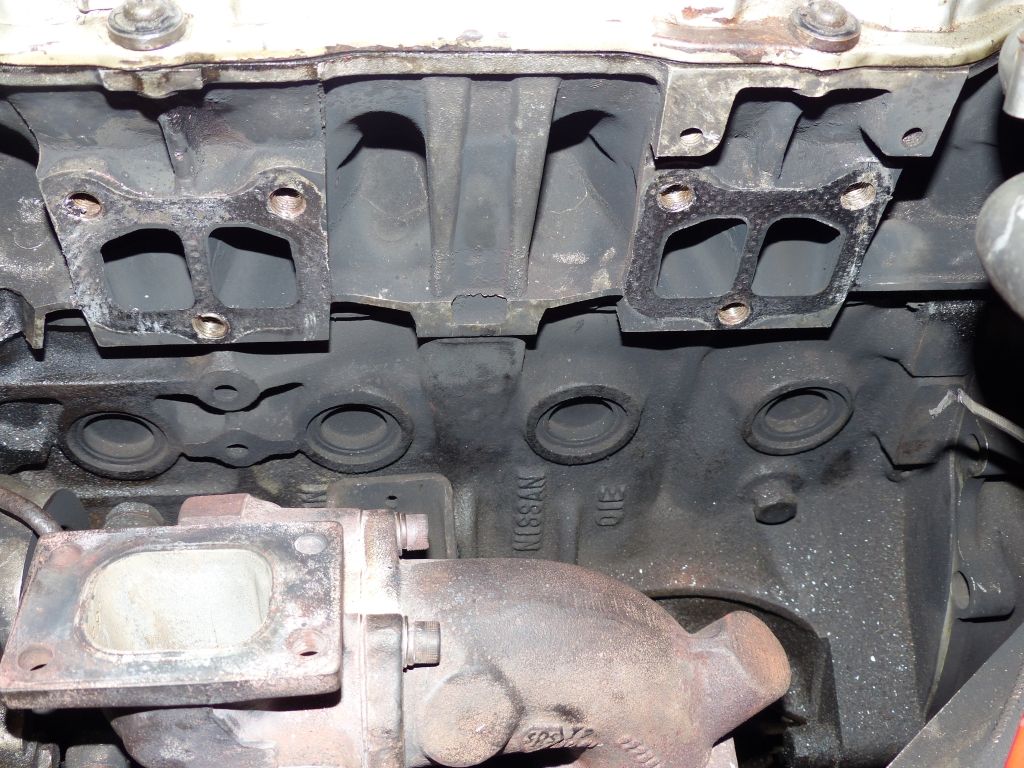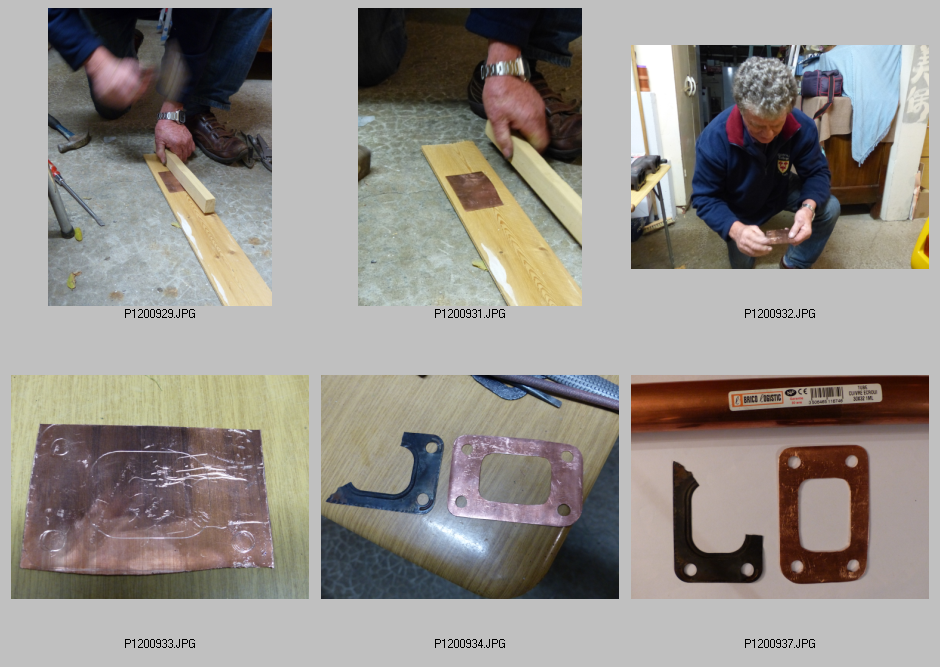 Beside a couple of breaks for a quick lunch and watching a bit of rugby, we had spent most of the day at the garage. We reserved the evening though for watching the game between England and Australia – no comment … - with a couple of tasty Leffe Ruby
That was another busy day, too bad that we could not go to Morges …
Day 11 (Sunday 4th)
mileage: 1050 to 1300 ( 250 miles )
We were nearing the end of this journey, therefore started in the morning with putting back the manifolds first … and that was not as easy as expected … threads in the engine gave us a hard time. Putting back the nuts in place while holding the manifolds and making sure that the gaskets would not fall down was an interesting exercise for me, fortunately I have small hands, which proved useful in those circumstances ! I managed though to make a bloody stupid thing which could have ruined our efforts … I dropped a nut and spring washer a couple of times on the floor, and once … inside the turbo (oops) … fortunately a magnet and a piece of string made a nice fishing rod, but for 10' I could see that Viv was not happy with my learning curve, er … Oh well, everything could be sorted out, but it was not until the end of the afternoon that we got
Kinky
back in order …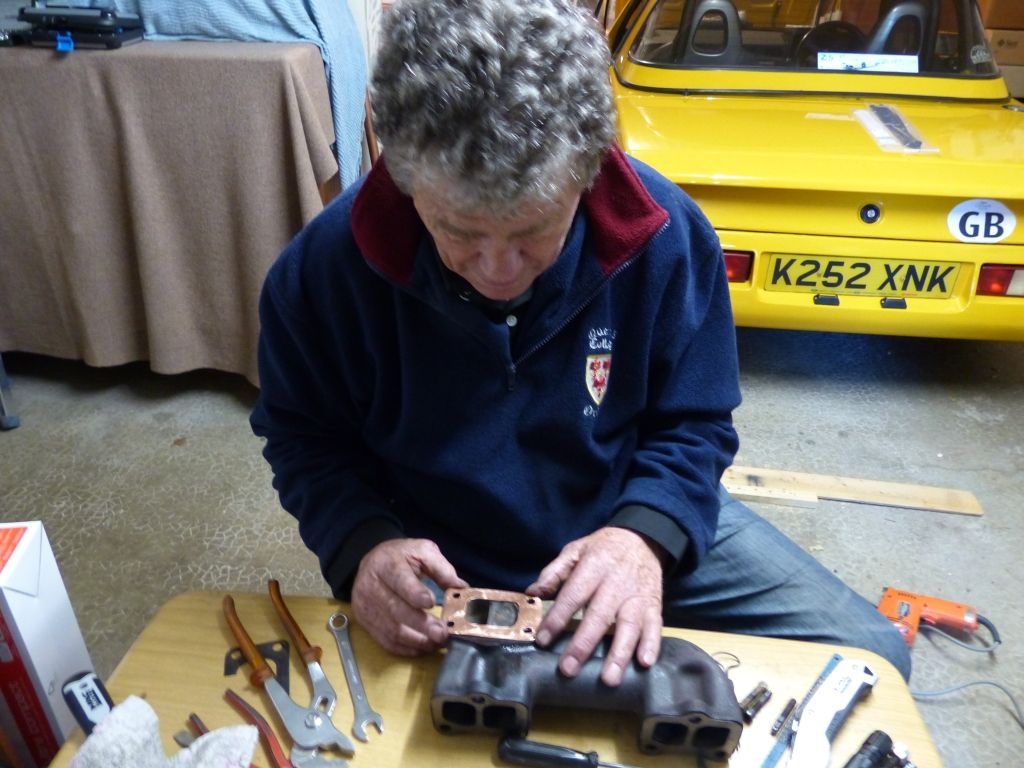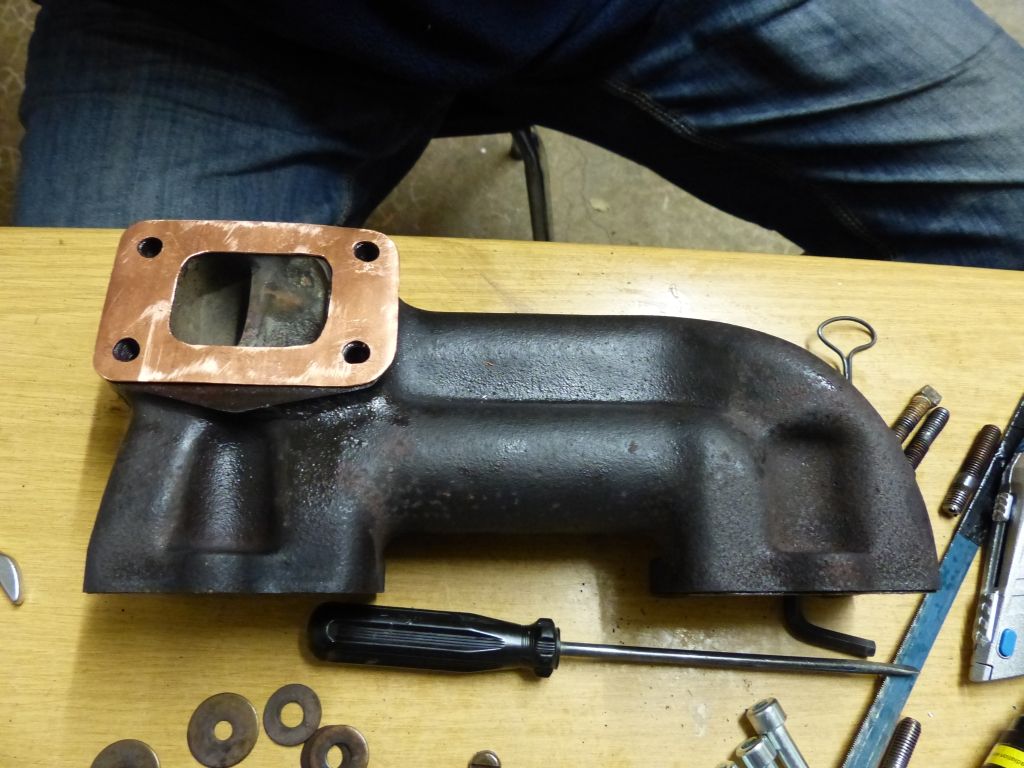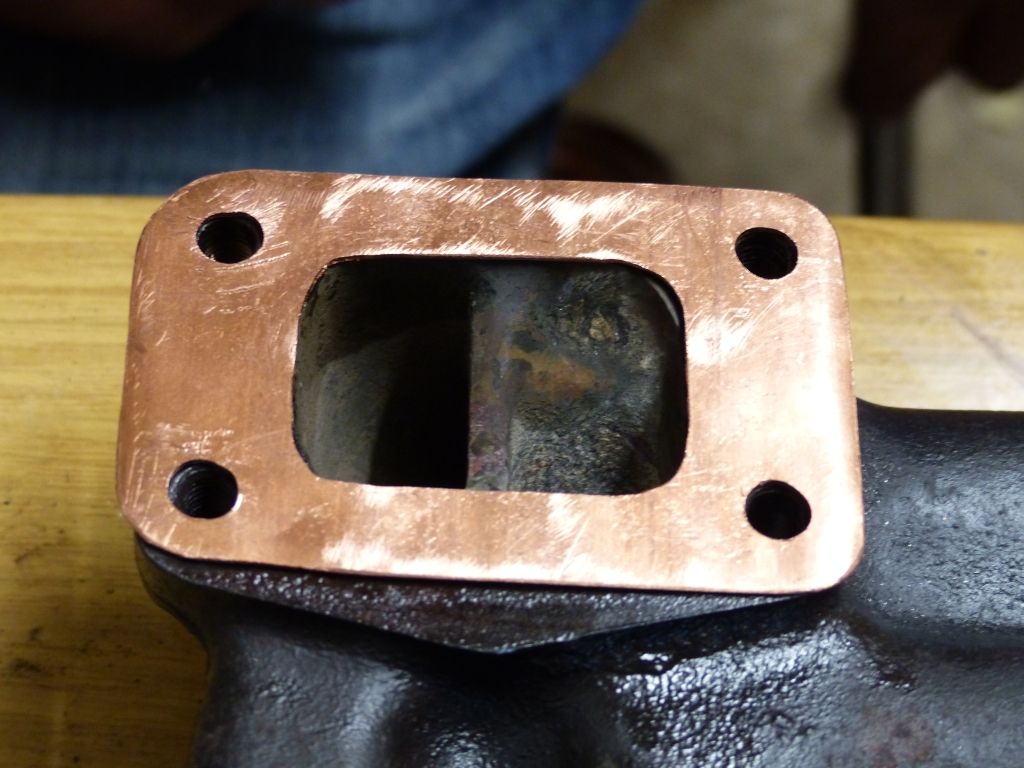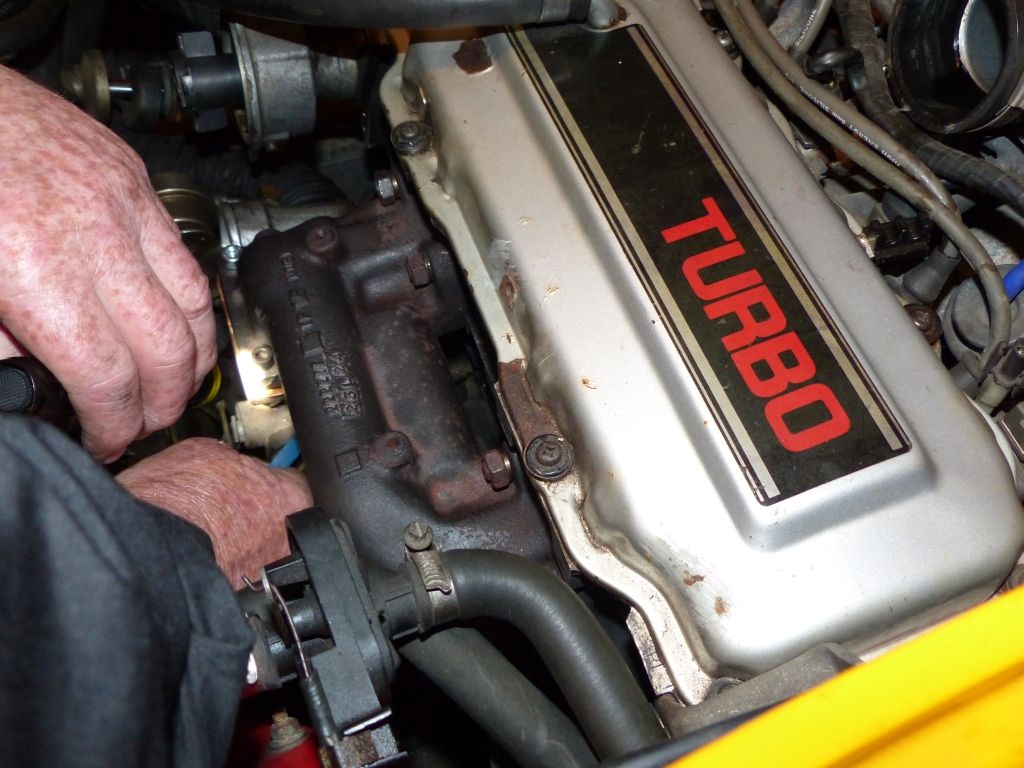 Just when we thought that nothing else could happen … we found some oil dripping on the garage floor when
Kinky
was taken outside (!) For a moment I feared that Viv would grab the nearest hammer and bang
Kinky
for being so naughty, but instead he calmly opened the bonnet again and searched for the leak with his torch – well, night was beginning to fall already - … back in the garage, another 30' or so crawling under the engine … and finally Viv gave us the green light for departure ! 21:00 it was, so we rushed to the nearest petrol station, right before the entrance of the freeway … and took the fastest and safest route back to Fontainebleau ! One stop on the way to eat something and for me to refill the tank (again) and we eventually arrived at 02:00 am at Viv's hotel … which nicely has a 24h reception.
By that time I was fully awake and could not sleep until 03:30 … thinking over the many adventures of
Kinky
& the
Flying Sub
on this trip !!
Day 12 (Monday 5th)
The last time I met Viv was in the morning around 09:00 am - shortly before I went to the office – and he was ready to complete his last section of the journey … heading back to his ferry and back home at Portsmouth in the evening. So that was yet another long day for him !
Conclusion
Well, some of my friends would think that it was a crazy trip … and that by now I should have enough of it with those old cars
On the contrary, I really did not mind and I actually enjoyed going through all this … The mountains are still there and there will be other opportunities to go back on the same route, but this time I have learnt a lot with the help of Viv … and we've attended a superb event with other Scimitar friends at Mt Ventoux …
Never mind their quirks, I like those Scimitars even more .. aren't they gorgeous on the road ?
I just feel sorry for Viv because it would have been such a nice drive if our cars had behaved themselves, but never mind … we have agreed to do it again some other time, maybe with
Seb the Scimmy
and
Purple
(two purple SE5/a !).
Thanks Phil & Ros for your warm welcome at Aups, without your help and workshop facilities, we'd be really stuck on the roadside and dealing with our insurance companies (…)
Thanks Fred for the invitation at your friend's place in Ambert, and for touring with us in convoy until the Mt Ventoux … We need to organize other 'sorties' together, not to forget Dyna (!)
Well that's it with the adventures of
Kinky
& the
Flying Sub
… hope it was not too boring - it sure was long enough - … I tought it was funny to keep track of it for the records, and Chris reckons that it could make an article in Slice … I would need to make it shorter though …
Cheers !!
Fred Rambert